This will exist minimum in 3 flavours, but only two of them are applicable for enterprise architecture. We can find the 3rd flavour in the CIO office. So Enterprise Architects will at least have an interface to it.
The Three flavours Are As Below.
Project Portfolio Management: This is an extensive portfolio management of all the three. It takes the self-responsibility to check how the money is spent by the company, even though the company doesn't care. It is not unusual that a company has to deal with a project which demands twice or thrice more budget offers than it has to spend on projects. This is an example to recognize the importance of a mechanism for project prioritization, installed in almost all enterprises. Project portfolio has an interface to the Enterprise IT architecture as it has told before, but cannot visualize as a part of it.
Application Portfolio Management: The majority of Enterprises has a substantial number of applications that support their company processes. Listed below you will learn why it is necessary to have a stack of applications as well as what objectives "handling" they pursue. Application Portfolio Management is usually viewed as a part of critical Enterprise IT Architecture Management
Infrastructure Portfolio Management: It is observed fact that the most of the enterprises do not have appropriate IT inventory. Some of the companies are capable to manage their infrastructure portfolio even though they do not have 100% precise IT inventory, because in most of the cases the cost savings by standardization. Which can be stated as, the lesser technologies you use, cut down the cost of maintenance and the administration.
What is Application Portfolio Management?
Let's understand each term. The Portfolio is a collection of investments clutched by a private individual or an institute. That indicates, in a usual enterprise, there will be both IT infrastructure portfolios as well as a set of IT applications. Usually you might have invested a lot on them. If there is a higher risk, there will be higher gain. This indicates the end of the analogy and the several reasons are as below.
Measuring Returns:For financial possessions, it is somewhat easy to determine a financial return. You obtain returns, interest or various other kinds of repayments and the value of your property might transform. For an IT application, it is tough to determine the return because it is tough to identify which part of your firm's success can be associated with the IT application and which to other variables.
No exchange:it is a usual thing that there will not be stock exchange for IT applications. Certainly the investments in a financial firm will be traded on a stock exchange. There exist the dealers who always prefer to deal with the used IT infrastructure, but in the case of individual used applications, it is nowhere similar to a stock exchange or other markets. The custom made IT applications, more often make up the lion's share of your IT investment in application systems, tend to have low compatible.
Covariance:did you ever thought to sell an Austrian IT application for the cadastral land register to say the US Government? You will certainly experience troubles that originate from the use of various other applications that your cadastral land register application is interfaced with or is based on. As an example, possibly, the neighbourhood authority's register of locals. Frequently a venture application has to have an entire ecosystem of other applications it collaborates with. In a financial investment profile you could offer ABC, stock and replaced with DEF stock. In an application portfolio such as button usually results in expensive and long-lasting projects. Then what is the reason behind naming their applications as "Application Portfolio Management" if the examples are restricted?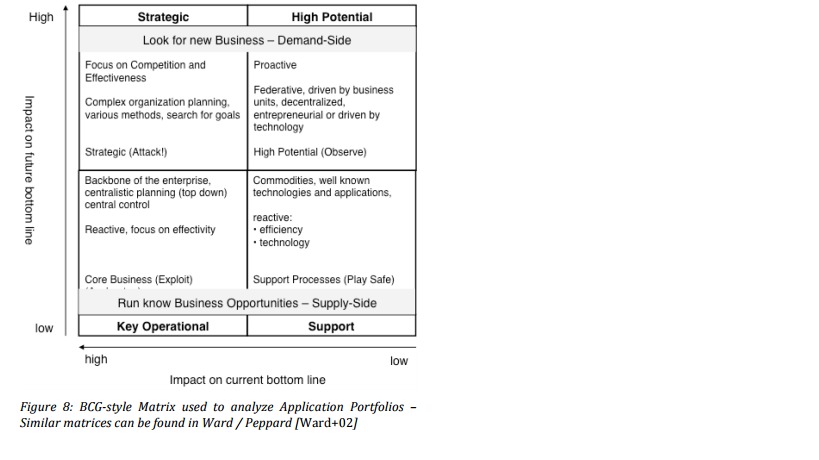 The categories shown in the above figure are just one of the options to see your collection of applications. Nevertheless, this is a usual and special, the applications present in the each quadrant require a distinct treatment, and this is recognized as a usual procedure for all the applications which are exist in the quadrant.
Dogs (Support Applications): when compared to the other applications this application provides a less contribution to both present and the future business results. For instance, a common ledger system never recognized as a critical success factor and won't be for most of the companies. So this can be used as a common strategy to find out such systems and make an analysis, whether the company will be benefited if you outsource such systems to core of full. This will become constraint not only to the development, but also for the operations.
Cows (Key Operational Applications): our current bottom line relies on these operations. In most of the organizations these would be used as a large singular software system with a heavy investment bound by them as well as very traditional measures to change them. In such cases, there will be a direct effect on the bottom line. So companies cannot afford, hence we have to have a lot of attention to make those systems up and running. Another rare option is to outsource the whole system.
Question mark (High Potential Applications): Normally there should be a research team in all the organizations to take care of the innovation of the companies' products. If you invent new products it is not essential for the systems that came along with them to stay stable, but make sure that the systems need to be the demonstrators that allow your management or clients to review the possibilities in a product or system. You might have experienced such test systems as may be 1 out of 10 are used by the market.
Stars (Strategic Application): These applications can keep in a list of future cash cows. Such items ought to be in a heavy development stage with small absolute numbers sold, however high development rates, often in extremely competitive and also growing markets. The focus below is typically on speed as well as features. In a lot of cases you would certainly wish to keep the systems that sustain such products besides the systems that support the cash cows. However, there are also markets like Telecoms where you need to test-drive your advancements with the large iron systems, as there is only one system that enables you to make a payment– for all sorts of items. Making use of such results in some interesting other perspectives on a profile, e.g. which quadrants make your task cash go to? The anti-patterns are so useful that a lot of analysis below is straightforward. E.g. if you invest 60% of your whole task, spending plan in the "Question mark" quadrant on three huge projects, the encounter must inform you that something is wrong, as spending in the Enigma quadrant ought to be relatively modest. Or if you have a significant variety of jobs in the Dogs quadrant, then you should ask for your own, whether it makes sense to support the "poor dogs " by extra tasks instead of outsourcing them.
Putting It Together:
From Turmoil to a Master Plan If you get designated to the new work of "Chief Enterprise Architect", you will often find no supply as well as no analysis. The question in such a scenario is: how do I construct an appropriate To-Be state of my application landscape and how produce
The master plan that obtains me from my As-Is state to a correct To-Be state.
Application Handbook: Normally you start by developing an inventory of all your applications. In most of the cases you draw process support maps that indicate how the business processes are supported by applications. So you can have an overview in your hand. But the bitter truth is that it is not sufficient to assess what is good and what is bad with respect to your business goals.
Heat Mapping: This is a next step, available as a service offering known as "Motion" from Microsoft for the most of the industries. A professional will bring a listing of possible capabilities for your industry and, together with a team of professionals, you mirror possible capacities against your company strategies and you will certainly discover which are the vital capabilities that you need to specifically look after in order to execute your strategy. You could assess the real quality of the abilities as provided by your application profile and will certainly obtain a heat map that is suited to show the locations for possible activity quite with ease.
Reference Models: Most of the time it is very informative to map your application countryside against domain specific reference models. In most of the cases you will get bunch of improvement and portfolio Analysis as well as you can also get the help from portfolio Analysis to huddle your applications into classes that usually ought to have some kind of standard treatment like "outsource", "stabilize", "renovate" and other actions.
The blending of those 4 streams of analysis will come up with the ideas for the actions, like
You might have noticed a critical capability; you may have five different systems and 9 locations that support it. In such situations you might need to combine the applications and replace them with the best application that supports your critical capability.
You find that a reasonably substantial system supports 8 abilities, 3 of them crucial and 5 of them non-critical products. You might intend to develop ideas on how to divide the commodity part of the critical path and construct better-suited system support at lower costs. The insight here is instead generic. The factor for this is that you can define a common technique like heat mapping or use of process assistance, maps—however, it is hard to predict the result for every possible enterprise and also explain a deterministic cookbook that demonstrates how to strike any type of trouble the globe of application preparing needs to offer. Your "To-Be" style will be a selection of transformations put on your "As-Is" architecture. The selection and also amount is determined by your complete budget and priorities. The selection procedure can be replicated from the common project portfolio administration. Figure 10 shows agents for both additional artifacts that your master plan will certainly contain.
You will be owned "To-Be" application maps of your target application landscape.
A Note on Application Portfolio Management In TOGAF
It is impossible to understand about strategic IT management with the help of TOGAF. The infrastructure portfolio Management is capable to manage applications as well as your infrastructure components, it consists of:
• WAN, LAN and other network components and severs (PC, server cluster- mainframe computers)
• Infrastructure services like operating system services (real or virtual) and other basic services like archiving, printing etc.
• Almost all the infrastructure components are commodities in most of the enterprises. You will be more concerned about the cost reduction while you have a responsibility to provide a guaranteed service. So there will be chances of skipping a lot of dimensions that you would deal within Application Portfolio Management and go primarily for dimensions like cost, homogeneity and simplicity of a portfolio.
As described in the reference model, one can use the TOGAF terminology on infrastructure. It basically provides the terms and taxonomy of classes of infrastructure as well as infrastructure services.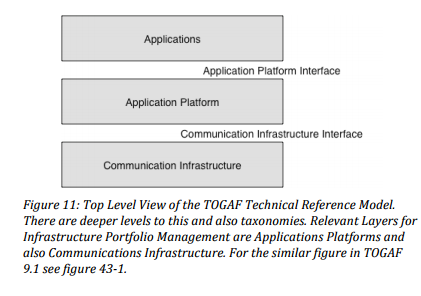 TOGAF And Developing Architectures
The Architecture Development Method (ADM) of TOGAF offers a verified and repeatable process for creating architectures. The ADM includes setting up an architecture framework, developing architecture, changing, content and governing the realization of architectures. All these noted activities are taking out within an iterative cycle of constant architecture definition and a realization that permits organizations to transform their enterprises in a forbidden manner in response to business goals and prospects.
The TOGAF describes a cyclic process for architecture development. The below given figure portrays the whole process.
• Preliminary Phase: gives an idea of training and initiation activities required to generate an Architecture Capability comprising tradition of TOGAF and definition of Architecture Principles.
• Architecture Vision: it is being used to elaborate the initial phase of an architecture development cycle. It comprises the details of defining the scope of the architecture development initiative, finding the stakeholder, developing the architecture vision and getting permission to proceed with the architecture development.
• Business Architecture: helps to explain the growth of a Business Architecture to support the approved Architecture Vision.
• Information Systems Architectures: the task of this phase is to explain the growth of Information System Architectures to hold up the approved Architecture Vision.
• Technology Architecture: helps in describing the development of the Technology Architecture to hold on the approved Architecture Vision.
• Opportunities & solutions: In this phase the initial implementation planning will carry out and the identifications of release vehicles for the architecture defined in the previous steps.
• Migration planning: It speaks about how to move from the baseline to the Target Architectures by finalizing the thorough functioning and Migration Plan.
• Implementation Governance: it helps in finding the architectural oversight of the implementation.
• Architecture Change Management: it will be helping in setting up the procedures for managing change to the new architecture.
• Requirements Management: helps in examining the process of managing architecture needs all through the ADM.