Top Cognos Interview Questions And Answers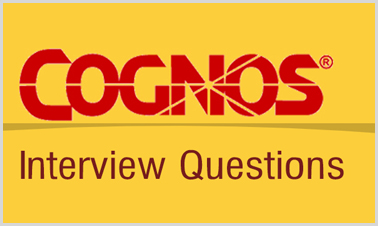 Top Cognos Interview Questions And Answers
Here are top 50 objective type sample Cognos Interview questions and their answers are given just below to them. These sample questions are framed by experts from Intellipaat who train for
Cognos training
to give you an idea of type of questions which may be asked in interview. We have taken full care to give correct answers for all the questions. Do comment your thoughts. Happy Job Hunting!
Wish to Learn Cognos? Click Here
Top Answers to Cognos Interview Questions
1.Define Report item?
It's nothing but a query item when it is drag and drop into the work area.
2.Define query items?
It's mainly used in Reporting and for BI Authors it is the most essential object from the framework manager. These have lot of properties associated with them and are present in query subjects. They are similar to subsets of query subjects.
3.Give the advantages of Cognos?
The advantages of Cognos are:
1) Planning
2) Analysis
3) Forecasting
4) Score carding
4.Name the types of report?
1) List report
2) Cross report
3) Blank report
4) Repeater report
5) Chart report
5.Define Cognos Reporting tool?
It's a reporting tool of IBM which help us in reporting and analysis of different data from a data warehouse.Read this
blog
to find out why Business Intelligence tools are critical to today's enterprises.
Wish to Learn Cognos? Click Here
6.Name the types of gateway?
There are three types of gateway:
1) CGI (Common Gateway Interface)
2) ISAPI (Internet Service Application Interface)
3) Tomcat
7.Define dimensions?
It defines the structure of a cube. Any dimension must have at least one key attribute and other attributes so that it may define hierarchies.
8. Name the types of hierarchies?
There are two types of hierarchies in Analysis Services:
1) One is Attribute hierarchies
2) Second is User defined hierarchies.
9.Define framework manager?
it's a development tool which is used to create the end-user layer used by authors to build their BI objects.
10.Define drill through?
It permits one to move from data at the bottom level in a cube to the data in the operational systems from which the cube was derived. 
Interested in learning Cognos? Well, we have the comprehensive Cognos Training Courses to give you a head start in your career.
11.Name the three important fundamental themes which are in data warehouse?
1) Drilling Down
2) Drilling Across
3) Handling Time
12.Which security module used in Cognos?
Cognos Access Manager
13.Name the types of studio?
1) Metrics Studio
2) Report Studio
3) Event Studio
4) Query Studio
5) Analysis Studio
14.What are the initial page components of Cognos connection?
1) The Studio Toolbar
2) The Utilities Toolbar
3) The Tab Navigator
15.Differentiate between prompt and macros?
Prompt
It provides a way to do dynamically changes in the reports.
Macro
It's a set of instructions to run the report.
16.Define model?
It is a complete set of query subjects and query objects that are used for reporting.
17. Differentiate between standalone and embedded filter?
Standalone Filter
It is used to reuse the expressionEmbedded Filter
To use the filter with only one dimension or query subject.
18.Define DTM
It transforms the data received from the reader buffer and it moves transformation to transformation on row by row basis and it is uses the transformation caches when necessary.
19.Can you delete Cognos Namespace?
No
20.What are Fact Tables?
It is a table that contains summarized numerical (facts) and historical data. It has a foreign key – primary key relation with a dimension table.
21.Differentiate between physical layer and presentation layer?
Physical Layer
It provides the physical query layer and is made up primarily of
data source and stored procedure
query subjects. It acts like a foundation for the presentation layer
Presentation Layer
The Presentation layer is made up primarily of model query subjects that you create.
22.Name the types of facts?
• Additive
• Non Additive
• Semi Additive
23.At what time default data source query subject will be created?
At the initial metadata import operation, a default data source query subject is created for those each object you have select.
24.Name the types of Query subjects?
1) Default
2) Model
3) Stored
25.What is the way to restrict the tables retrieved by a query Solution?
 By setting governors we can restrict the tables retrieved by a query solution.
26.Define the term Business Intelligence?
27.Name the responsibilities of Cognos Administrator?
1) Creating the Repository
2) Performing the task of backup and recovery of the Meta Data.
3) Tuning the servers.
4) Installations and configurations in distributed network environment
5) Developing the user Administration
6) Deployment
28.Name the components which get installed at the time of installation of Cognos Report Net Software?
1. Window Based
2. Web Based
29.Name the phases of Cognos report net workflow?
The phases are:
1. Plan
2. Manage
3. Model
4. Author
5. Consume
30.Define the work of Group and Roles?
It represents the collection of users that performs the similar task.
Take charge of your career by going through our professionally-designed Cognos Training Videos.
31. Define Package?
It is a container for models, reports, and so on. Modelers can create packages in Framework Manager to publish the models to the Report Net server.
32. Name the types of filter in framework manager?
Model and Query
33. What is Model Filter?
It is used to restrict the data displayed on the Report. Model filter are reusable.
34. Name the types of filter in the report studio?
Tabular Grouped
35. Name the types of Tabular filter in the report studio?
• Summary
• Detailed
36. Define confirmed dimension?
If any dimension will be connected with multiple fact tables then it is called confirmed dimension.
37. What are the steps to import the two data sources in framework manager?
It can be done in the Run Metadata Wizard.
First of all Go to Run Metadata Wizard–>Select another database ( ex. suppose SQL Server is choose in prior attempt, then you can choose Oracle as new data source). At the last import it.
38. Where the Determinants are used in Cognos framework manager?
A query subject that behaves as a dimension has multiple levels of granularity and it will be joined on the different sets of keys to fact data.
39. What is the way to generate cube in framework manager?
After creating the
IQD file
from the framework manager that IQD file will be used by the transformer to generate the cube.
40. What is the way to generate IQD file from framework manager?
1. Create a Query Subject
2. Using properties pane select externalize.
3. We have four options in that select IQD
41. What is the difference between static and dynamic conditions?
Static Condition
Whenever you run the report the condition will not change.
Dynamic Condition
Condition which keep on change whenever you run the report.
42. Define Parameter Map?
It is a key value pair used in creation of conditional Query Subjects. It sub situates the values at the query at runtime.
43. What is the meaning of scrubbing at the Project level?
According to the requirements of the report derive the new items with the help of existing Query Items.
44. Define Slice and Dice?
An operation that allows one to select a portion of the data of a fact on the basis of specified values in one or several dimensions.
45. Name the types of SQL?
1. Cognos
2. Native
3. Pass-through
46. What are the advantages of using Cognos SQL?
1. It can contain metadata from the multiple data sources.
2. It has fewer database restrictions
3. Provide the facility to interact more effectively with Cognos applications.
47. What are the disadvantages of using Cognos SQL?
You can't enter non standard sql.
48.What actually a project contains?
1. Models
2. Namespace
3. Data source
4. Parameter Map
5. Packages
6. Folder
7. Query Subject
8. Query Item
9. Relationship
49. How a project does looks in framework manager?
A project in the framework manager looks as a folder that contains a project file (.cpf) and the specific XML files that define the project.
50. Name the types of OLAP's?
1. DOLAP
2. ROALP
3. MOLAP
4. HOLAP
A Cognos Certification can help you get ahead in your career. Get an in-depth Cognos Certifications now.