Jobs in Big Data
Career Opportunities in Big Data
This is indeed the era of Big data revolution. Whether it is healthcare, IT, Industrial, Manufacturing, Food Corporations, Agriculture or any large scale or small scale industries, there are terabytes and petabytes of data generated each day.  The daily functioning of all the companies in all sectors relies on the extracting meaningful information from structured and unstructured data.
Watch this trending video on Top 10 Highest Paying Jobs in 2019
With this veritable explosion, Big Data is going to have an effect on every business in this Universe. Data is expanding at a much faster rate than before, and it is predicted that after five years, around 1.7 megabytes of novel information will be generated every second for every human being on this planet.
Simply put, we sincerely need Experts to analyze and handle these immeasurable volumes of data. Keeping up with the spirit, most top notch technical brands have discovered complex and intricate technologies, platforms and softwares to administer and employ converting bytes into structured, readable information. Most MNCs using Big Data technology in their operations are on a recruitment spree looking out for skilled workforce in various platforms like Hadoop, NoSQL, Cassandra, MongoDB, HBase, Data Science, Spark, Storm, Scala and others.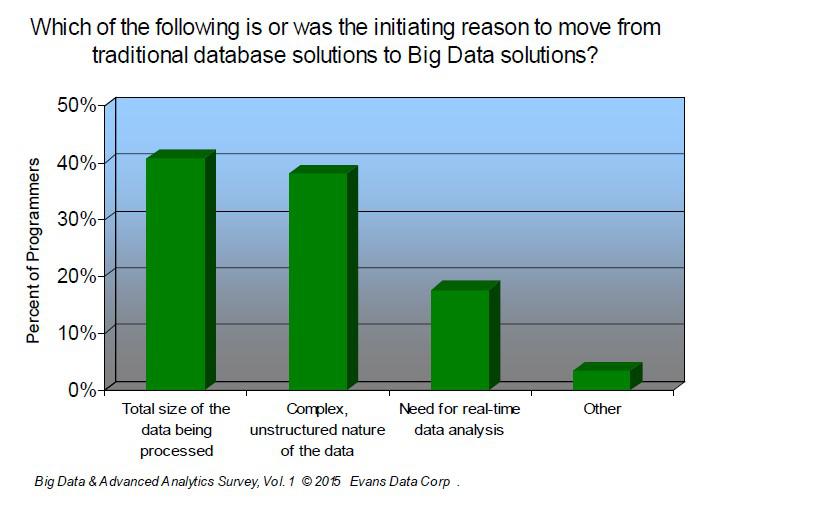 Individuals, aiming to excel in their technology careers, can't overpass this data eruption and need to prepare now for the bigger and better.These nice platforms can't be self-learned and require learning from adroit trainers.The current trends involve integrated learning of Big Data + Data science courses as it helps individuals expand their scope of getting identified by top-paying companies. 
Present and Future Outlook
A recent report by Gartner reveals that more than 75% of the world's companies are preparing to invest a considerable capital in Big Data and related platforms in the next two years. According to the survey, the organizations aim at improving customer services, rationalizing current business processes, acquiring more traffic and optimizing costs using big data. In 2015, most big data projects are initiated by CIO (32%) and Unit Heads (31%).
A study conducted by Forbes in association with McKinsey and Teradata lately declared the indispensable urge for data-learned professionals. Forbes questioned around 300 global executives and found that 59% of the respondents appraised big data among the top five ways to gain a competitive edge over others. Most of them, in fact, ranked big data on number one.
The Teradata-Forbes Insights' survey of top-decision makers further announced that big data analytics enterprises have had a considerable impact on ROI.
Jobs in Big Data
While Hadoop, MapReduce, Cassandra, HBase, MongoDB, Spark, Storm and Scala are the most in-demand platforms for processing of Big Data, there are thousands of jobs generated every month.  Most companies across the globe are seeking for Specialists and Professionals who can be productive from Day 1 and hold proficiency in managing high data volumes.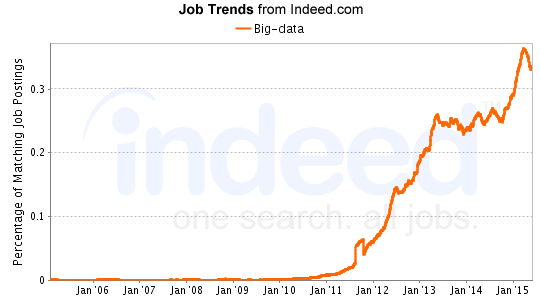 Searching millions of skilled individuals for various job profiles, Indeed.com generated a job report for Big Data Specialists most top-paying companies are searching. The number of jobs has shown a remarkable upsurge in the last five years and is anticipated to increase with a similar or more percentage in the forthcoming years.
It was correctly estimated last year by the Senior Vice President of Gartner and Global Head Research that there would be 4.4 million IT jobs all over the world to drive Big data, creating around 1.9 million IT open positions in the US.
The average Salary of big data-related skills is over $120,000 per annum.  According to Payscale.com, this figure is calculated as Rs. 607,193 per year.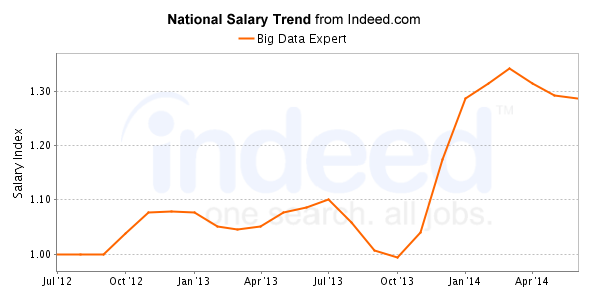 The most cherished and worthwhile technology skills in big data and their average salaries are:
MapReduce: $127,315
Cloudera: $126,816
HBase: $126,369
Pig: $124,563
Flume: $123,186
Hadoop: $121,313
Hive: $120,873
Zookeeper: $118,567
Data Architect: $118,104
Solr: $117,394
Needless to mention, you can earn more if you have a combination of these skills. A Big Data – Data Scientist Expert is a gem to the companies.
As of June 2015, "The top five industries hiring Big Data-related expertise include Professional, Scientific and Technical Services (25%), Information Technologies (17%), Manufacturing (15%), Finance and Insurance (9%) and Retail Trade (8%)."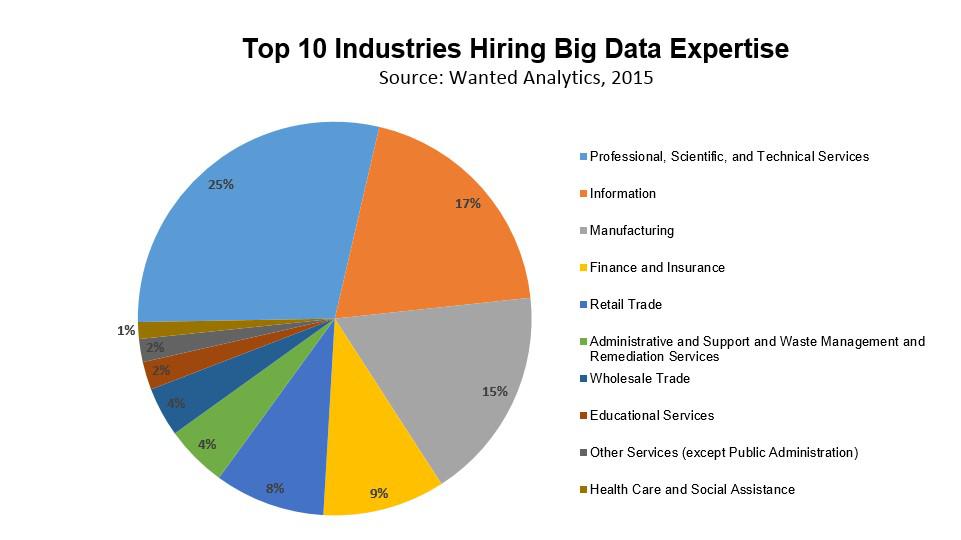 The key job roles available for learned individuals in various companies are listed below:
Data Analysts
Data Scientists
Data Architects
ETL Developers
Hadoop Developers
OLAP developers
Data Warehouse applicant Specialists
Information Architects
Predictive Analytics Developers
Interestingly, top companies that use big data and related platforms on a frequent basis include Google, Hortonworks, Cloudera, LinkedIn, Facebook, Twitter, IBM, PWC, SAS, Oracle, Teradata, SAP, Dell, HP. 
Prerequisites for learning Big data skills
Experience and mind bend towards any object-oriented Programming language will help learners grab the curriculum faster and easily. Basic Command knowledge of UNIX and SQL Scripting can be an added advantage.
Courses at Intellipaat
From Hadoop to Cassandra to MongoDB to Data Science, Intellipaat offers training on most in-demand platforms in Big Data Analytics. Together with independent courses, there are exceptionally designed combo courses that are worth learning. Multiple Hadoop courses allow individuals to opt for Administration, Development and Testing courses. There is yet another all-in-one combo of Big Data and Data Science providing training on 16 training courses at once on single course purchase.
Sales Offer
To avail this offer, enroll before 23rd January 2020.
This offer cannot be combined with any other offer.
This offer is valid on selected courses only.
Cashback will be accumulated in Intellipaat e-wallet
Please use coupon codes mentioned below to avail the offer

Sign Up or Login to view the Free Jobs in Big Data.