Jobs in Mobile Development
Career Opportunities in Mobile Development
"Global Internet users are set for explosive growth in the coming years- Majority of them will be mobile."  It is no wonder to say that the world is turning mobile and how rapidly everyone is switching their needs and luxury to smartphones, most widely Android and iPhones.
From a five-year old kid to a teenage to a professional to an elderly individual, all are demented about mobile phones and keen to understand the internal working of the most-recent technology adopted by various cellular companies lately. The latest Mobility Report from Ericsson calculates the number of current mobile users worldwide as 2.6 billion, and it is expected to grow by 6.1 Billion by 2020.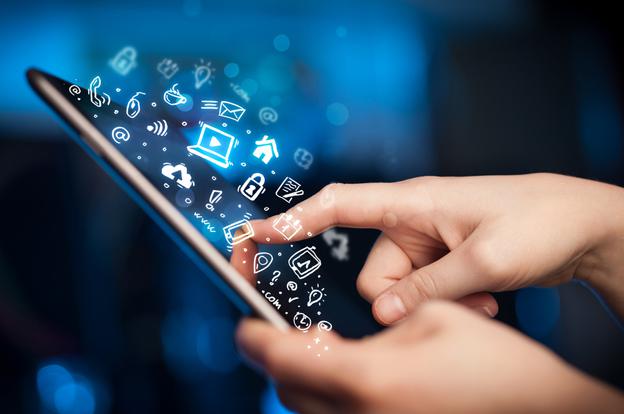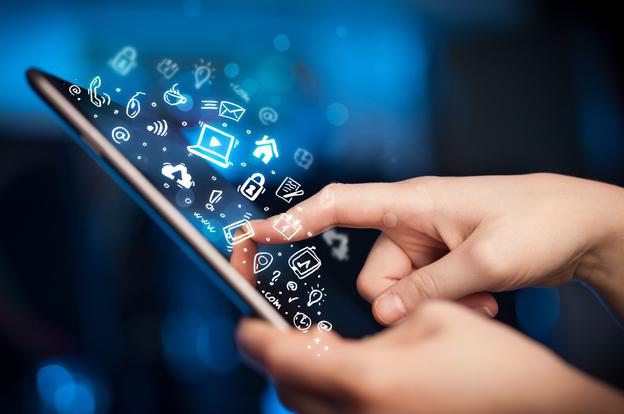 It is interesting to note that despite the emergence of new mobile-based services like tablet, iPads, smartphones are leading the industry and will cover 80% of the mobile market in the next five years.
Approximately, 70% of the world's populace is using smartphones for anything and everything they do in their professional and personal life. Keeping up with this spirit, there is a whopping demand for the number of Skilled Android and iPhone developers in the market. Not only core IT industry, but the sales and marketing departments of almost all sectors also hugely require talented pool that can manage and check the mobile functionality of the E-commerce companies.
Looking at the present scenario, you can't deny the fact that each organization in each industry is taking their business online for costumer's convenience and thus, capturing a larger customer base and boosting sales. It is a wakeup call for all those enterprises, "If you're not using mobile marketing to attract new customers to your business, don't worry – your competitors are already using it and getting those customers instead."
Mastering Mobile Development
Apart from the extensive usage of smartphones by businesses and commoners, there are significant benefits of learning Android and iPhone development.
What can be better than knowing more about the most important device of your life? These days, mobile phones have influenced us so much so that they have managed to acquire in the list of 'top 10 important things.' Along with the internal circuitry and functioning of your mobile phone, you can learn the most popular App development. The next big thing is creating an App for your business and service.
App development adds panache to your professional summary as a Mobile Developer.
Since the globe goes mobile, the skilled professionals are excessively desired in each department and industry. According to a study "Living and Learning with mobile devices," 51% of high school and 28% of middle school students use smartphones. The study further reveals that much of the learning in schools, colleges and institutes is conducted through mobile, in order to save paper and promote Eco-friendliness all around.
If this is the condition, you can imagine how importantly and urgently companies are looking forward to hiring Mobile Developers and Engineers. Responsive web design, advanced mobile app development, cloud-based mobile development, ensuring security, wearable technology and IoT (Internet of Things) are few significant areas that stimulates for Expert Mobile developers.
Career Opportunities for Mobile Application Developers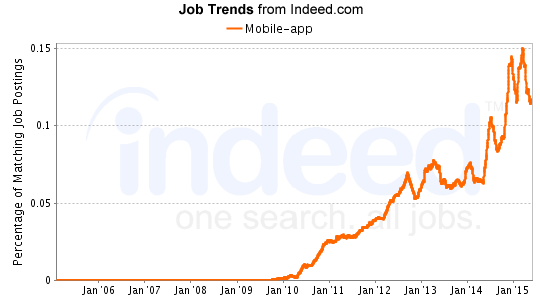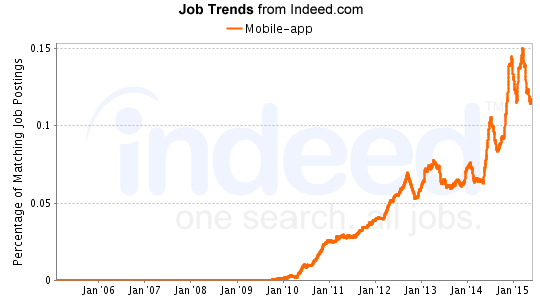 The graph says it all. A phenomenal growth in the number of open job positions, which will continue to increase in the years to come.
As per Glassdoor, the average Mobile Developer salary is $73,959, which is subject to increase exponentially with experience and skills.
Indeed.com states, "Average iPhone Developer salary is $137, 000."
Needless to mention, every company in this world is on a recruitment binge for talented and proficient Mobile App developers. Google, Apple Inc., Amazon, Flipkart, eBay, Facebook, LinkedIn, Pinterest and every e-Tailer for that matter. The related job titles include IT Developers and Engineers, Product Development Managers, Software Architects, Gaming Developers, Project Managers, Programmers, System Designers, Web Developers
Essential skills
If you are eager to have an in-depth understanding of Mobile development: Android and iPhone, it's the perfect time to enroll for a course now. Remember to refurbish your OOPs concepts and basics of Programming in C, C++, Java and PHP.
Conceptual knowledge of MySQL and similar DB management.
Sales Offer
To avail this offer, enroll before 18th October 2019.
This offer cannot be combined with any other offer.
This offer is valid on selected courses only.
Cashback will be accumulated in Intellipaat e-wallet
Please use coupon codes mentioned below to avail the offer

Sign Up or Login to view the Free Jobs in Mobile Development.