Jobs in Tableau
Career Opportunities in Tableau
Tableau- Leading BI for Visual Data Analytics
Integrated learning of Tableau with R Programming and Hadoop is a popular trend among Professionals and Business/Data Analysts who are aiming to excel in their careers. Revered as the global leader in rapid-fire business analytics software, Tableau technology is becoming stronger and producing a family of interactive data visualization products on Business Intelligence. It has certainly exceeded user's business expectations in the BI world having an extensive visual-based data library.
Tableau is one of the easiest softwares to use and deploy for all BI and reporting functions and thus, most organizations are adopting the technology in their data-related functions. This, in turn, raises the demand for professionals skilled in Tableau software including both development and Server operations.Every company who aims at gaining a better understanding for the data available is opening immeasurable job positions for Tableau experts.
Learning Tableau is the must-have for all the aspirants who are aiming to build their careers and foresee a substantial growth as Business Intelligence Architects and Data Analysts.
Facts & Figures
Tableau scored the winning goal in 2013, when it was crowned first in Business Benefits and Business Achievements in World's largest Survey of Business Intelligence Users (Business Intelligence Survey 13) conducted by the Business Application Research Center (BARC).
In the second quarter of this year, a report demonstrated by world's leading IT Research and Advisory Company, Gartner- Market Share Analysis: Business Intelligence and Analytics Software also ranked Tableau Software as the fastest growing BI Software vendor.
Further, the Gartner's recent Magic Quadrant for Business Intelligence and Analytics Platforms reveals that business-centric platform like Tableau is used far and wide for most BI and analytic operations like reporting and expanding use cases.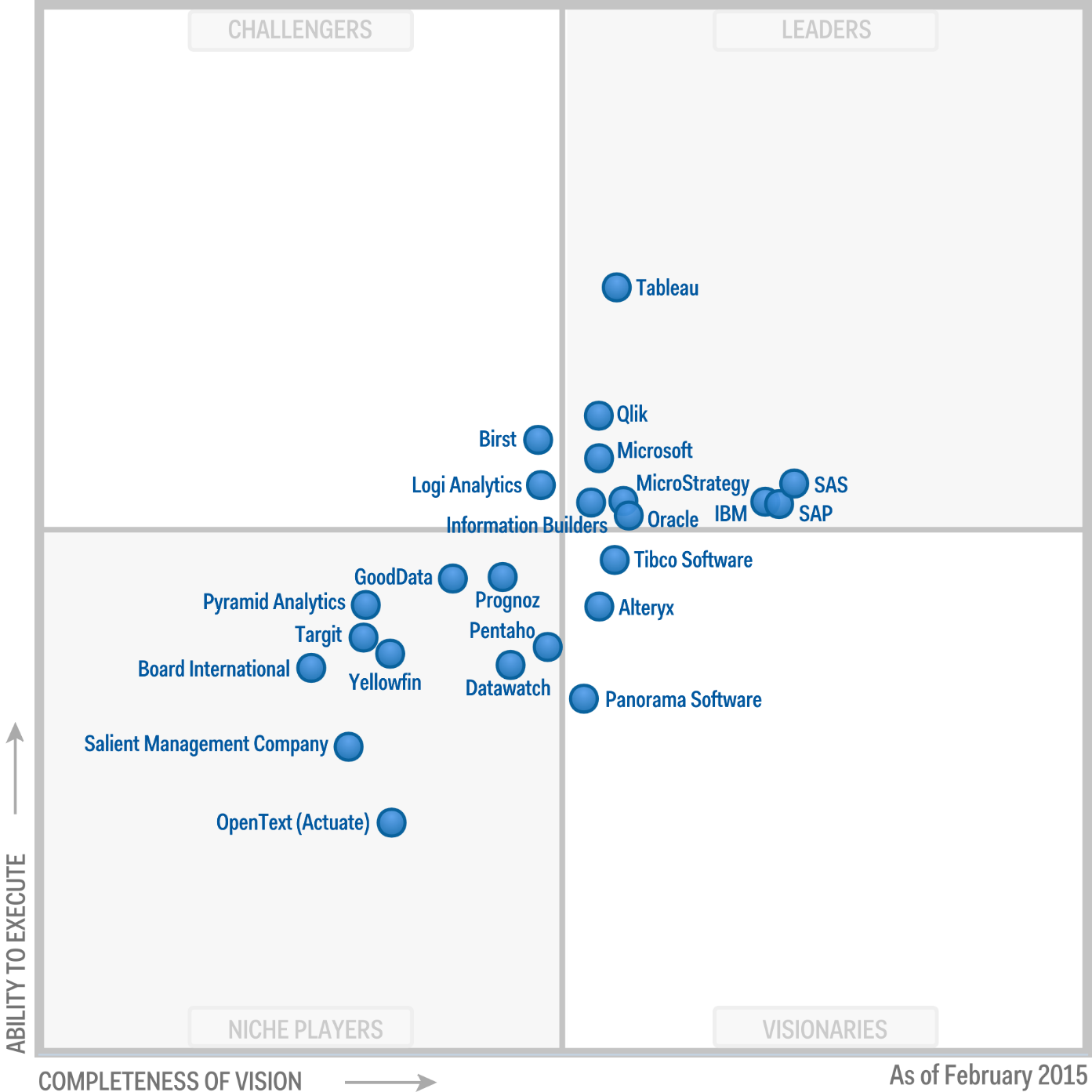 Job Reports
As per the recent job reports generated by Indeed.com, there has been a rapid jump in the numbers of job opportunities for Tableau skilled professionals across the globe. According to the statistics, the average salary of a Tableau professional in the US is $102,000. The data also reveals that the average Tableau Developer salaries for job postings in San Francisco, CA are 35% higher than average Tableau Developer salaries for job postings nationwide and the average salary is $139, 000.
As of now, Payscale.com also estimates the average salary of a visual data expert in India (expertise in Tableau) as Rs.536,661.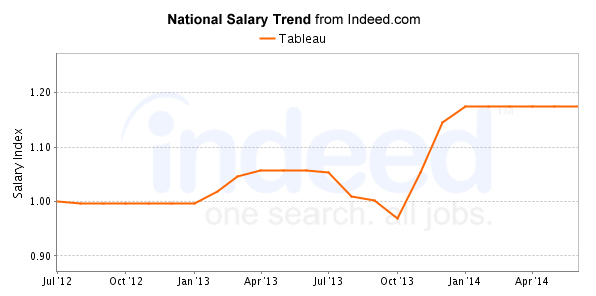 In California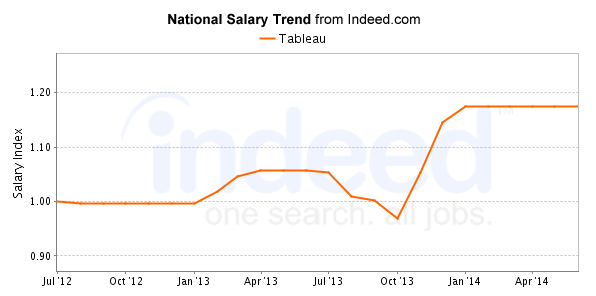 In India
Who's using Tableau?
The company acknowledges that it has a user base of more than 32,000, which is continuously growing. From Banking & Finance and Healthcare and Medical to Media and Finance and Education, companies in all sectors are transforming their business with Tableau. The World Bank, LinkedIn, The Coca-Cola Company, Kimberly-Clark Corporation Discovery Communications, EY, Hong Kong, EB Games, Barcklays Global, Nike are just a few to mention.
Preferred Job Titles
Providing amazing data visualization giving business users the ability to perform intricate data visualization in a very instinctual, drag and drop manner. The enterprises can perform multiple actions like drilling into charts and highlighting sections in an impressive way. Most companies today are looking for the following job titles having expertise in this visual BI tool:
Tableau Developers
Data Visualization Developers
Business Intelligence Data Analysts
Business Intelligence Architects
Data Analytics Consulting Managers
Data Analysts
Prerequisites
Primary knowledge of database can give learners an advantage to mastering Tableau.
Technical Benefits of learning Tableau
After mentioning the popularity of this software and number of open job positions with bigger salaries, it is evident that learning Tableau will bring a stupendous difference in your career and future growth with respect to the job designation and salary hikes.
Nevertheless, you can't deny the technical benefits that individuals receive from mastering the concepts of Tableau developer and server.
Users can gain the most interactive skills to perform data visualization through advanced graphs and clean dashboards.
While many companies and users claim it to be the best data visualization tool in the market, learning will allow you to see minute dots in maps and graphs of interesting tables.
The Software automatically calculates the conversion rates and other important calculation functions that you have to manually perform in Excel sheets or other reporting systems.
Learners can master the beginner and advanced-level concepts of Tableau and can prepare for Tableau Software Certification Exam through hands-on exercises, assignments and project work.
Intellipaat is one such platform creating most skilled Tableau Professionals through excellent online training courses in Tableau, preparing individuals for the Certification with 24*7 customer support and guaranteed job assistance.
Sales Offer
To avail this offer, enroll before 23rd January 2020.
This offer cannot be combined with any other offer.
This offer is valid on selected courses only.
Cashback will be accumulated in Intellipaat e-wallet
Please use coupon codes mentioned below to avail the offer

Sign Up or Login to view the Free Jobs in Tableau.