Qlikview Video Tutorial
In this lesson we will learn about QlikView.
Introduction:
Qlik is a software company based in Radnor, Pennsylvania. Qlik is the provider of QlikView and Qlik Sense, business intelligence & visualization software.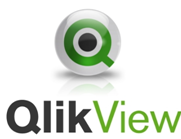 QlikView's success is unique, award winning in-memory associative technology. In memory analysis and reporting means one-click access to visually rich, interactive dashboards anyone can build quickly and modify easily.
History of Qlikview:
Qlik  was founded in Lund, Sweden in 1993 as a software company in business intelligence (BI). Its PC-based desktop tool was called QuikView. Its growing revenue is $388.5 million in 2012-2013. "Quik" stood for "Quality, Understanding, Interaction, Knowledge." Initially the software was sold only in Sweden. It is now based in Pennsylvania.
Måns Hultman became CEO in 2000 and Lars Bjork became CFO. The company focused on the area of Business Intelligence (BI), growing from 35 employees in 1999 to 70 in 2003. At that point, QlikTech needed more capital and a broader vision to continue its growth. To that end, QlikTech selected a syndicate consisting of venture capital firms Accel Partners and Jerusalem Venture Partners (JVP), and raised $12.5 million in capital Alex Ott of Accel and Erel Margalit of JVP devised a growth strategy that resulted in a 35% annual growth rate and $13 million in revenue by 2004.
Organisation:
Management team, consist of executives from SAP, Siebel, Oracle, PA Consulting, Mactive, Intentia. It consist of more than 1000 employees.
Key features:
In memory analysis and reporting Driving simplicity and performance. With an in-memory data model, Qlikview allow data to be analyzed at both an aggregate and a detailed level without the time-consuming and costly step of building multi-dimensional OLAP cubes.
Since data is kept in-memory the response time of any calculation is lightning fast even on extremely large data sets analysed by multiple concurrent users.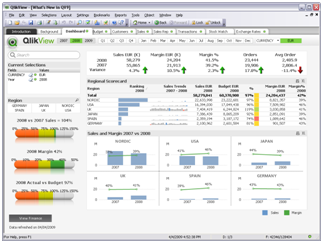 Qlikview_screen
Single architecture for dashboards, analysis and reporting.
Qlikview is all about simplicity, as it provide all the features of traditional BI tools in a single architecture. It has ETL functions to extract, transform and load data from one or several data sources. It is click-driven and provides state-of-the -art visualization capabilities using dashboard-style gauges, graphs and tables. It is extremely fast to deploy.
Flexibility in analysis, Qlikview model everything from a simplest total to statistical and fincial trends to comparisons of an end user's viewpoint with benchmarks and indices particular to any given scenario. Application dimension or measure modifications can be created in seconds, ensuring rapid response to the changing BI needs of an organisation.
Fast to deploy, QlikView  platform integrates smoothly with an organisation's existing infrastructure making QlikView extremely fast to deploy. Sophisticated analysis is made accessible through the most advanced web techniques providing the interactivity, flexibility and speed for the QlikView user interface.
Easy-to-learn, easy-to-use; Because of its color coded, point and click user interface, QlikView is extremely intuitive and easy to learn for any employee. Changes to Qlikview applications are done in seconds, which make it easy to respond quickly to the changing BI needs of an organisation.
For more information on Qlikview Training please see the video…Go ahead and get started.