Tableau Server Video 1 Tutorial
Here we will go through some lights on the dashboards of tableau server, which contains
1. How we can publish different dashboard on server?
2. How we schedule different dashboards?
3. How we can access to individual dashboards?
With using one sample dashboard we will perform all those activities:-
Publishing of dashboard on Server
After you create a workbook, you can publish it to Tableau Server by following the steps below.
1. Select Server > Publish Workbook.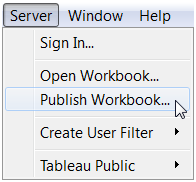 If you are not already signed in to Tableau Server, you will see the Tableau Server Sign In dialog box.
2. Enter your user name for Tableau Server or your email address for Tableau Online, enter your password, and then click Sign In.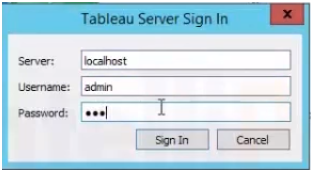 3. After signing, it will ask you for selecting site. One default site is present that you have to select.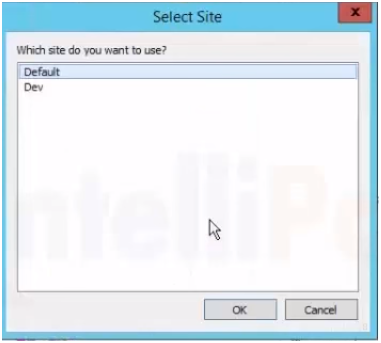 After selecting on site, publish workbook window will be open.
4. In the Publish Workbook to Tableau Server dialog box, that contains:
Project: Select the name of the project you want to publish into. A project is like a folder that can contain workbooks and data sources. The default project on Tableau Server is named Default..
Name: Provide a name for the workbook in the Name text box.
Description: Provide the description that you want to display the workbook on the server.
Add Tags: Enter one or more keywords that describe the workbook into the Add Tags text box. Tags help users find related workbooks when they browse the server.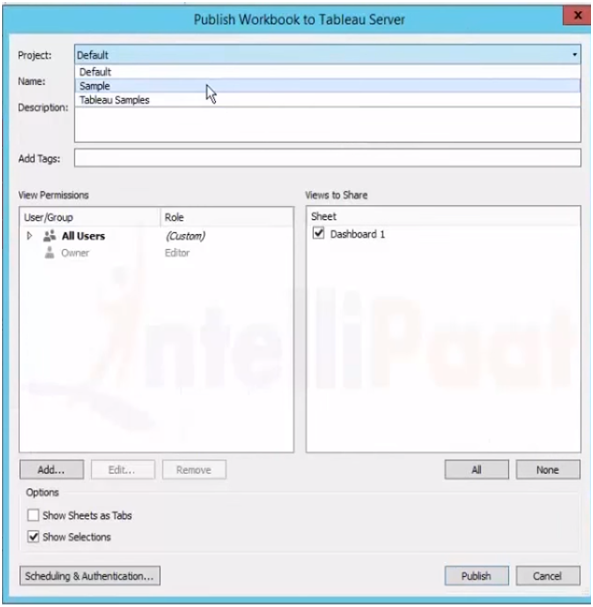 5. Whenever we connect TABLEAU to different data source, we have two types of database functions
Life connection
Tableau data extract.
6. For Scheduling and authentication we have to click on that button. One dialog box will appears.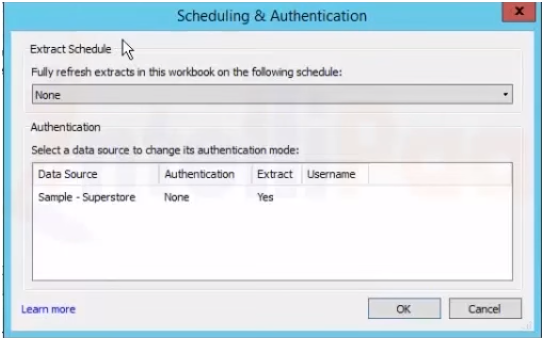 This will help you to extract the schedule. There are two methods of extract
1. Fully refresh
2. Incremented refresh
This dialog box show the fully refresh extracts, which shows the schedule criteria and frequency of schedule.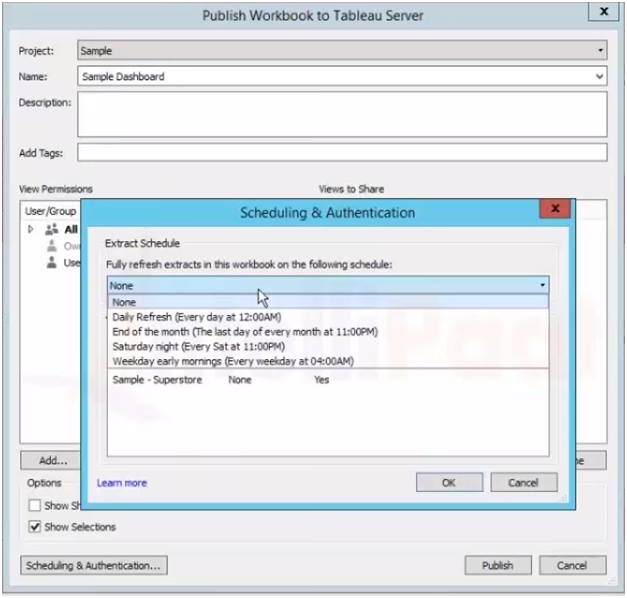 For creating new schedule, open tableau server, then click on new schedule button.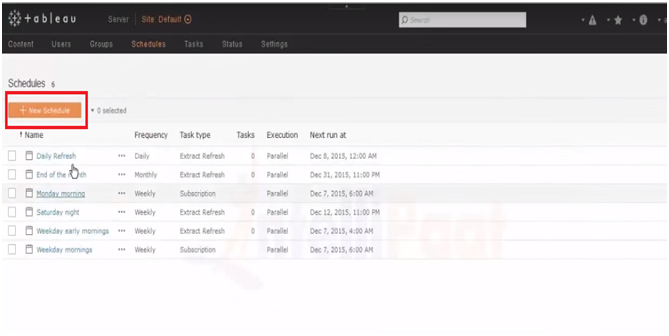 It will open one new dialog box, for creating new schedule.
Specify a descriptive Name for the schedule (for example, Every Saturday Morning, End of the Month).
Choose a Task Type the schedule will handle—either refreshing extracts or delivering subscriptions.
Optionally define a Default Priority from 0 to 100. This is the priority that will be assigned to the tasks by default. If two tasks are pending in the queue, the one with the higher priority runs first. 1 has the highest priority and 100 will be least priority.
Choose whether the jobs in the schedule will run at the same time (Parallel, the default) or one after the other (Serially).
Finish defining or editing the schedule. You can define an hourly, daily, weekly, or monthly schedule.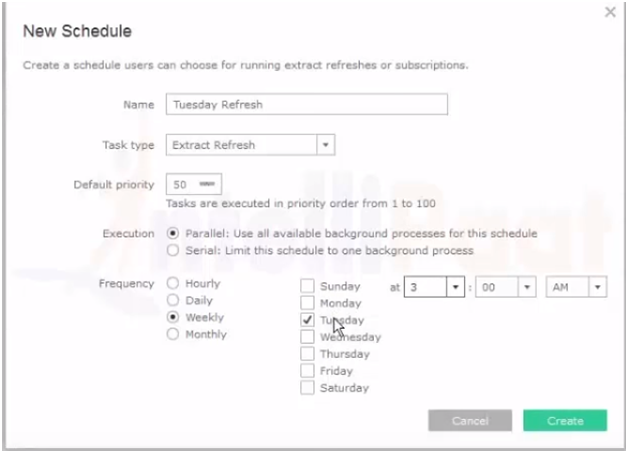 So the schedule will be created accordingly.
Again on dashboard, on scheduling and authentication dialog box, We have to choose that schedule that we have created earlier.
For updated refresh site, we have to sign in again through server menu.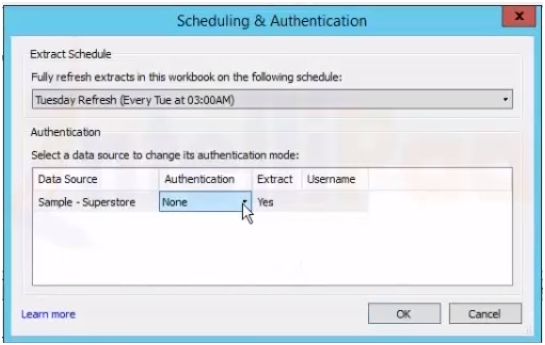 The current database we are using is excel, if we use oracle or Sqlserver then we may need username and password, to connect to that particular data source, that gives you more credentials and security and also provide authentication. That on authentication we can use that credentials that will be embedded to the dashboard.
9. If the workbook uses extract connections, you can add the workbook to a refresh schedule. For more information, see Scheduling Extract Updates.
10. Click on publish.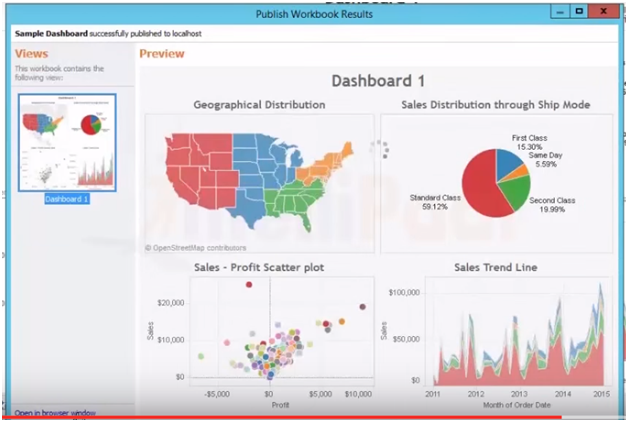 This database we can see in our tableau server. And according to schedule this dashboard will be updated on the server.
Edit in Scheduling
1. To modify an existing schedule, select it then click  It will give you the same window that we have shown while creating that schedule.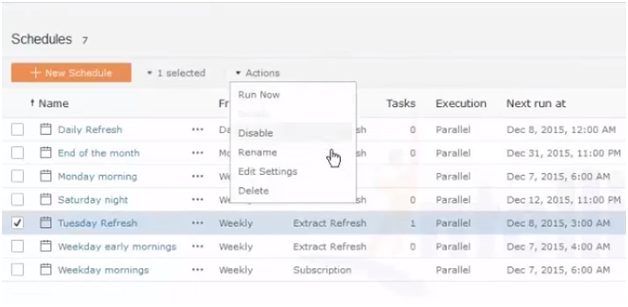 2. In case if you want to refresh the scheduling, then we have to click on Action button and then run now.