Jobs in Spark, Storm, Scala
Career Opportunities in Spark, Storm, Scala
Spark and Storm are Spiking in the Cloud
Undoubtedly, the significance, share and curiosity in Apache Spark and Storm are continuously increasing among organizations, cloud clients, customers and big data professionals. While cloud and business computing have seen a terrific upsurge in the last five years, Storm and Spark are one of the buzzwords in the business and e-commerce sector. They are the recent big data sparks that are gaining immense popularity worldwide.
These platforms have emerged to transform the real-time data processing to an extensive range of potential users. Proving to be most promising technologies lately, Spark and Storm are creating massive job opportunities and higher salaries than ever before. More and more companies are seen devoted to these distributed big data systems for handling their large datasets, real time and batch events.
Organizations have excess job opening for individuals skilled in Spark and Storm, so that they can reliably and effectively process their unbound streams of data for real-time processing.
Top Companies Using Spark and Storm
Spark offers a top-notch in-memory data processing component that attends to real-time and batch actions. Interestingly, it provides a flavorsome ingredient for the cloud business with or without Hadoop.
Microsoft: Including Spark support to Azure HDInsight (its cloud-hosted version of Hadoop).
IBM: Contributes its SystemML machine learning algorithm construction technology to Spark.
Amazon: Its MapReduce services will be able to run Spark apps developed in Scala, Python and Java
Yahoo!: Having origin in Hadoop to analyzing big data,Spark is the next cornerstone at Yahoo.
Having the scalability, simplicity and flexibility, Storm is not only improving company's current services and products but revolutionizing the way they handle huge data. Instead of keeping data static and crunching it once a while, The organizations are able to constantly move data all around, using different technologies, evaluating new ideas and building new products. The top companies using Storm topologies include Yahoo!, Twitter, Alibaba, Baidu, Groupon, The Weather Channel, Spotify, Cerner, Verisign
Scala in the Enterprise
Scala programming is used by many companies lately to produce commercial softwares and systems. LinkedIn, Twitter, Novell, Xerox, Sony, Siemens, FourSquare, OPower are the business giants using the functional programming language for their mainstream business critical applications.
Jobs on the Rise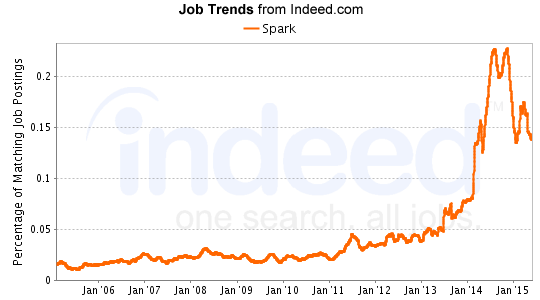 For Spark, there has been a tremendous rise in the number of job positions across the globe. Similarly, Storm job openings are on the highest in the last five years.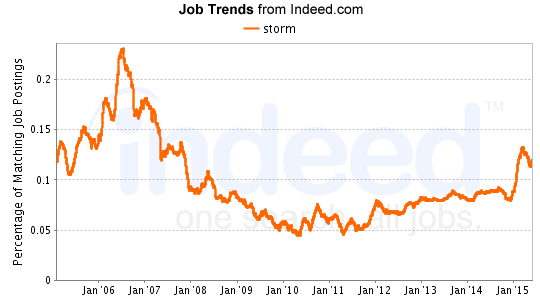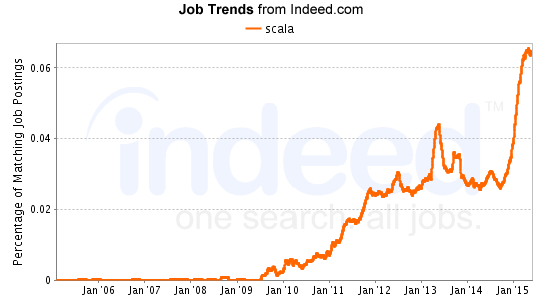 Further, this is the most prosperous time for proficient Scala Programmers as it has shown the highest % growth in the past decade. Business groups are expecting a never-than-before jump in the years to come.
Average Salaries and Job Profiles
As per Indeed.com, the average salary for Scala Spark Developer is $180,000.
The avg.pay for Big Data Scala Storm Developer is $173,000.
com reveals the average salary of professionals with Scala programming skillsas $130,000.
The job titles for the big data specialists in these technologies are:
Lead Software Engineer- Big Data
Big Data Developer
Software Specialist- Big Data- Spark, Storm
Software Developer
Principal Software Engineer
Data Scientist/ Engineer
Software Developer/ Architect
Prerequisites to learning
To gain expertise in working with Spark and Storm systems, one needs to understand basic programming language concepts and have insights into Java programming.
Spark, Storm and Scala-The Benefit of Learning
Each company in each sector desires to have strong and technically-established and stable workforce. The demand of today is for skilled professional, and honestly, there is huge scarcity of skilled employees while there are surplus big data jobs in the market.
This is certainly the perfect time to empower your education and grow as a business leader by mastering the concepts of these nice frameworks. With the similar vision, Intellipaat brings to all learners a complete package of   Spark,Storm and Scala training along with separate courses to learn anywhere, anytime and on any device (Laptops, desktops and mobile phones-Android and iOS).
With a growing community of 250,000+ learners and 40+ Corporate clients, we believe in excellent services like 24*7 dedicated customer support to solve your queries, preparing for Apache Spark Certification exam, Apache Storm training organized by any agency and providing job assistance.
Sales Offer
To avail this offer, enroll before 22nd January 2020.
This offer cannot be combined with any other offer.
This offer is valid on selected courses only.
Cashback will be accumulated in Intellipaat e-wallet
Please use coupon codes mentioned below to avail the offer

Sign Up or Login to view the Free Jobs in Spark, Storm, Scala.