Windows 10 brings out a long list of many important changes which any IT pro should will look forward to, this change includes an improvement in the user experience, security enhancements, and new web browser.
Goal: To deliver new features when they're ready, instead of saving them for the next major release.
It's a personal computer operating system, which was released by Microsoft and was officially unveiled in September 2014.
First version release: October 2014
Consumer version release: July 2015
Volume licensing release: August 2015.
Windows 10 introduces "universal" application architecture. It expands Metro-style apps that are designed to run across multiple Microsoft product. Its user interface was revised to handle transitions among a mouse-oriented interface and a touchscreen-optimized interface. Microsoft also released an avalanche of news along with multiple events over the past few days, amending its colossal audience on advancements pertaining to its productivity offerings, big data projects, and Windows 10.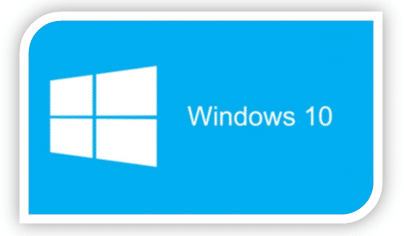 Figure 1: Windows 10
The evolution of the Windows user experience
Windows 10 Start button opens a menu a one shown is in Figure 2.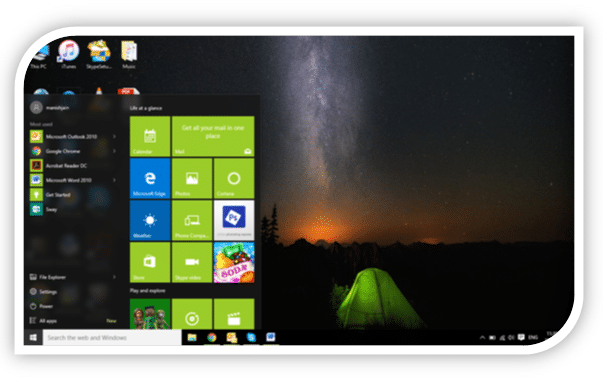 Figure 2: User interface and desktop
Start menu
It has a list of places, other options, and tiles that represent the application on the left and right side respectively.
The items present on the right are live tiles.
The virtual system was added.
A new feature called Task View displays all open windows that allow users to switch between them.
Windows Store apps can now be used in self-contained windows.
Program windows can be snapped to quadrants by dragging it to the corner.
Icons were changed to a minimalist design.
Charms have been removed and has been replaced on the right side of the screen by an Action Center, which display notifications, settings toggles and shortcuts to common tasks.
It offers two separate user interface modes, which are user interface optimized for mouse and keyboard, and a "Tablet mode" that are designed for touchscreens.
It contains links to common locations.
A list of frequently used apps and programs, and power controls.
A Search box, which is present in the right of the Start button, offers an easy and quick access to the local file system and to the web.
Cortana, a voice-powered personal assistant is newly introduced feature.
Double-headed diagonal arrow which is present at the top-right corner of start menu expands the Start menu which fills the full screen.
Tablet Mode, present as another option will also expand the Start screen.
Navigational elements have been removed from Windows 10.
User accounts and synchronization
It provides a feature of Signing in with a Microsoft account instead of signing in with a local account.
It provides integrated support for cloud-based services.
It also provides an easy synchronization of settings and apps among the devices.
Previously purchased apps can be downloaded automatically.
Applications can be easily installed from the Store when you sign in with a Microsoft account on a new device, thus by using this feature user can easily roam among the devices.
Windows 10 includes provisioning features in its enterprise edition, which allow IT pros to manage this process.
Windows 10 is provided with a feature of integrated access to cloud-based file storage in OneDrive and OneDrive for Business.
Windows apps
Windows 10 provides support for virtually all kinds of desktop applications which are compatible with Windows 7, like the latest generation of Windows apps.
In Windows 10, modern apps can run in a window.
Deploying and managing Windows Store apps.
Microsoft has been provided Windows 10 a new default browser, called "Project Spartan."
This browser has a touch-friendly interface.
It has few hidden features which include the ability to explain webpages and integrate them with Cortana.
Internet Explorer will continue to be available in Windows 10, with Enterprise Mode available as a feature for ensuring that older apps work properly.
Security enhancements
Windows 10 has multi-factor authentication technology, as its operating system includes improved support for biometric authentication.
For security purpose, Windows 10 uses the devices' camera or a fingerprint scanner. Once a user has authenticated itself with Windows Hello, then Windows Passport gives the user access to a third-party sites and products. Now there is no need for the user to log in again and again.
Windows Hello: This feature uses biometric authentication including facial recognition, an iris scan, or a fingerprint for unlocking the devices.
Microsoft Passport: This feature is based on a new API which works in combination with biometric authentication on an enrolled device to sign in to any supported mobile service.
Windows 10 provides an information-protection capability to protect corporate data.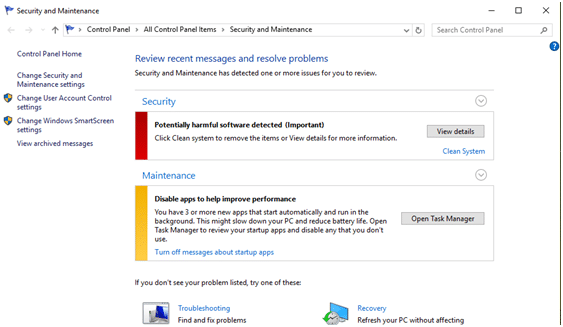 Figure 3: System and security
Deployment and manageability
Deploying Windows 10 in an organization is faster and easier.
Wipe and load option is available for Windows 10 upgrades, which provides an ability of capturing data and settings from an existing device.
Windows 10 also adds a new provisioning option, that transforms a device with an OEM installation of Windows 10 into an enterprise-ready device.
Virtualization
Windows 10 includes a robust, built-in virtualization platform called Client Hyper-V.
It uses same hypervisor, which is found in Windows Server, for creating a virtual machines (VMs) which is capable of running on 32-bit and 64-bit versions of Windows client and server operating systems.
It leverages the security infrastructure of Windows 10 that can be managed easily.
Windows 10 also supports a Virtual Desktop Infrastructure (VDI).
Remote Desktop client in Windows 10 allows users to get connected to a virtual desktop across any type of network.
Virtual desktops
Virtual desktops can be obtained by:
Click Task View button present on the taskbar –> bird's-eye view of all apps get open –> Drag any one app on the "new desktop" button  –> it will move independently on a workspace.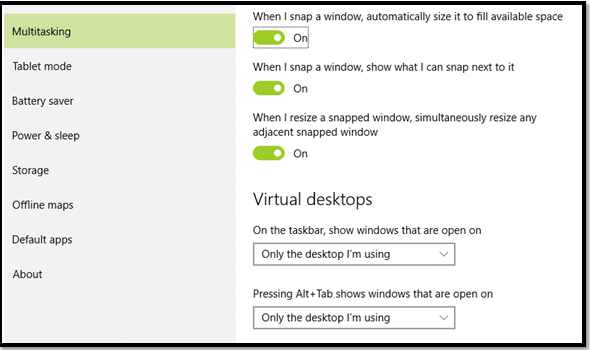 Figure 4: Virtual desktop
Virtual desktops help you spread your apps across several workspaces.
The user can move their apps across virtual desktops by simply dragging them, or by right-clicking.
Windows 10 Settings menu
The setting menu of Windows 10 Includes basic setup, network settings, and privacy settings.
Features:
Clean interface
Bit
Touch-friendly icons
Toggles
Simple descriptions
Start
Charms –> Settings –> Change PC settings
It can be located prominently on the Start menu and also it more functionality.
In Windows 10 menu, a user will find settings that never existed in the Control Panel, and these settings are touchscreen, tablet. Also, it includes that have been migrated from the Control Panel.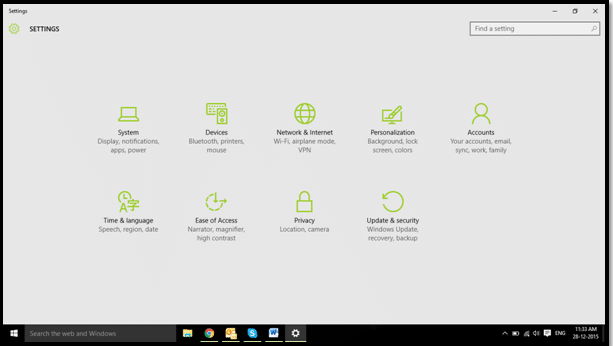 Figure 5: Setting menu
Sections in the new Settings menu:
The System tab: In Windows 10 computer's basic settings can be changed in the new Settings menu. Its menu is robust, Control Panel-like version. Prompts such as system, devices, network & Internet and Update & security can be seen in system tab.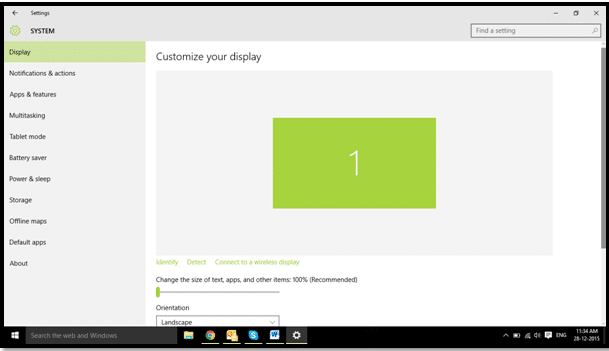 Figure 6: System tab
The Devices tab: Devices tab is a place where you can manage and fix any device issues. To find the Devices tab:
Start menu –> Settings –> DevicesàDevice tab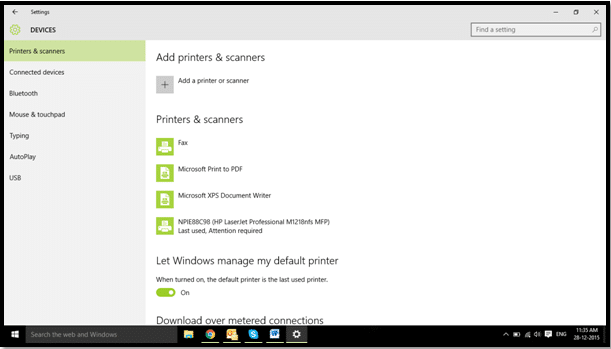 Figure 7: Device tab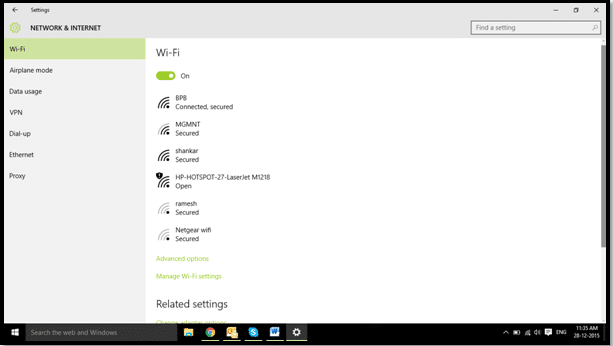 Figure 8: Network & Internet tab
The Network & Internet tab: It combines the traditional Network and Sharing Centre from the Control Panel. Networks & Internet tab can be accessed:
Start –> Settings –> Network & Internet
Or
Network icon –> Network settings.
The Personalization tab: By using this User can change desktop wallpaper, a color that appears throughout in Windows 10.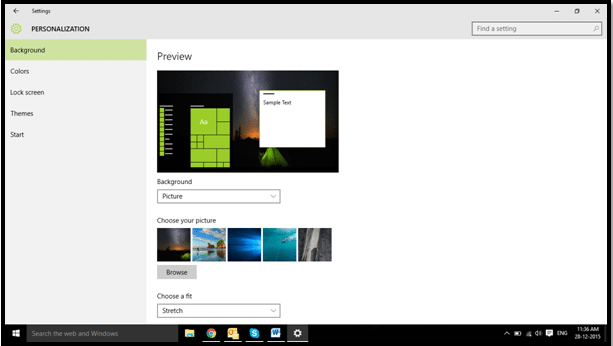 Figure 9 : Personalization tab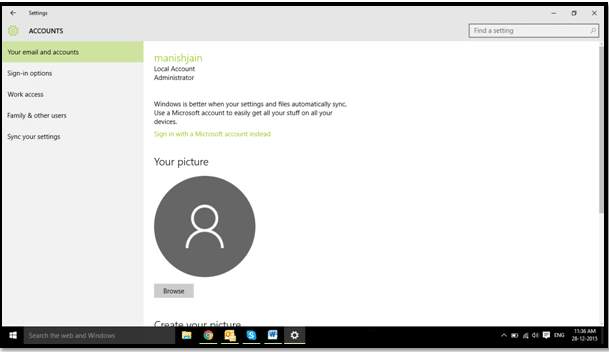 Figure 10: Account tab
Accounts tab: Accounts tab has five options: "Your email and accounts," "Sign-in options," "Work access," "Family & other users" and "Sync your settings."
The Time & language tab: By using this user can change the time and date, add languages, and adjust the speech settings.
          To go to Time and language tab:
Go to Settings menu –> click Time & language.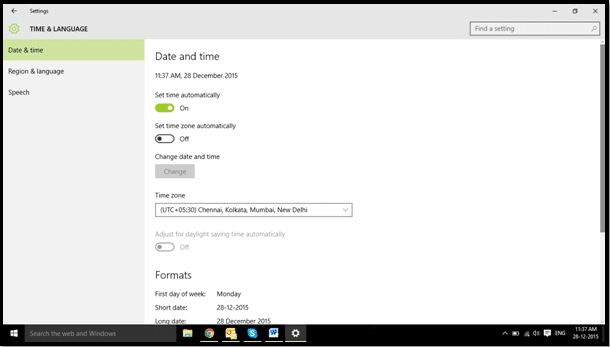 Figure 11: Time & language tab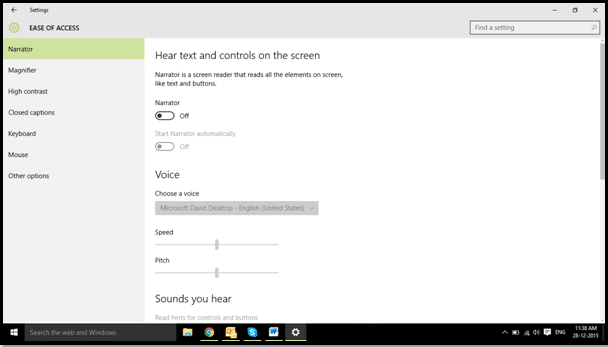 Figure 12: Ease of Access tab
The Ease of Access tab: In this a high-contrast theme, voice narration or closed captions can be found.
          For getting to command ease of access, go to:
Charms bar –> Settings –> Change PC settings –> Ease of Access
The Privacy tab: In this most of the device's basic privacy settings including location settings and diagnostic information can be found.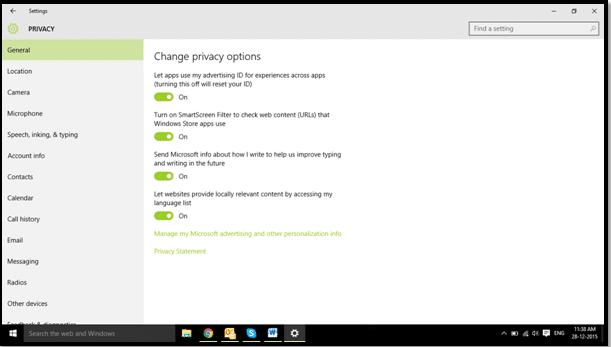 Figure 13: Privacy tab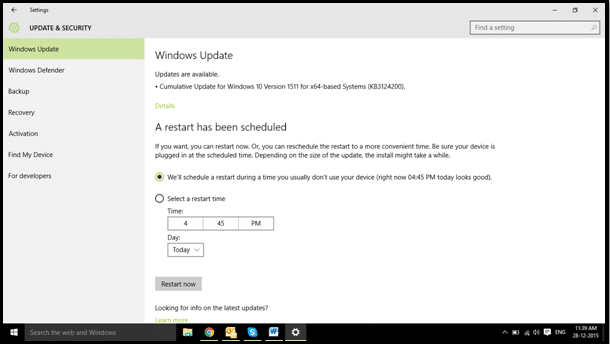 Figure 14: Update & recovery tab
The Update & recovery tab: Microsoft has placed Windows Update in the new Settings menu removed it from the Control Panel.
Getting ready for the next
The Windows Update process is one of the most contentious elements.
It is updated automatically.
A feature called as Windows' Achilles' heel has long been its nigh-ubiquity, thus making a prime target for malware.
The Happy computer is one which keeps itself updated.
One can delay its updates, but one can't avoid them.
One of the last updates made to Windows 10 preview results in triggering software crashes.
Windows 10 criticized
Windows 10 was criticized for the following reasons:
Limiting the number of users to control its operation.
It installs all updates automatically, except its Pro edition.
Operating system's settings require the transmission of user data to Microsoft or its partners.
The opinions expressed in this article are the author's own and do not reflect the view of the organization.