Introduction to Salesforce
Let's start off with this Salesforce tutorial with a brief introduction which will help you learn Salesforce in a better way. As customers have become the pivot around which the growth of a company revolves, it has become extremely important for companies to deploy apt CRM software solutions. However, customer requirements being diverse, most companies do not find a suitable CRM solution that best fits their needs. In this situation, Salesforce has emerged as a market leader. With flexibility and reliability as its primary features, Salesforce is most likely to continue dominating the market place in the years ahead.
Interested in learning Salesforce? Enroll in our Salesforce Training now!
If you're a developer, you know the pain of following so many code components in order to create an application. Well, Salesforce comes to your rescue here! In this Salesforce Developer tutorial, you'll learn Salesforce so as to make your understanding perfect! With Salesforce, you can create applications in just a few days or a few weeks and make them visible to as many clients as you want with the customizations provided. Isn't it amazing? By the end of this Salesforce Developer tutorial, you'll start to love everything about Salesforce.
Here are the topics that will be discussed in this tutorial:
So, read on!
But the question here is how does Salesforce work to provide its customers with a platform like this? Well, Salesforce works on the cloud. It is basically a cloud-based platform which provides tools to its clients for building an application or provides a platform to its clients wherein businesses can use its products. 
Before moving forward in this Salesforce tutorial, watch this video on 'Salesforce Tutorial for Beginners':
Before we get deeper into Salesforce in this Salesforce developer tutorial for beginners, let's first see what Cloud Computing is.
Cloud Computing
So, what is Cloud Computing? Cloud Computing is basically referred to as Internet-based computing which involves shared resources, information, and software which has been provided by computers and mobiles. 
In other words, a cloud is a unique place where you can store as much data you want to make it accessible from anywhere in the world with just an internet connection and a device to access it. Instead of storing the data on your device, uploading it onto the cloud and then viewing it from some other place, is called accessing the cloud.
Talking about the types of Cloud Computing platforms, there are three types of cloud services available:
Infrastructure as a Service (IaaS)

Software as a Service (SaaS)

Platform as a Service (PaaS)

Infrastructure as a Service
When a cloud service provider uses Infrastructure as a Service or (IaaS), they mostly concentrate on infrastructural services such as a server, hosting, storage services, etc.
Salesforce doesn't use Infrastructure as a Service as there is no need for installing any software or hardware program. Instead, all the apps and data are stored securely onto the cloud. You also don't need to take any back up as the cloud takes care of it automatically.
Platform as a Service
Platform as a Service provides a platform for its customers to develop and deploy apps. You can customize this according to your business needs. Users need to just manage their data and application resources. PaaS is basically used by developers. The provider basically takes care of the underlying infrastructural parts and you are given predefined tools using which you can build your own application.
Software as a Service
Software as a Service or SaaS is a software delivery model in which the software is licensed on a subscription basis and is hosted centrally. 
Salesforce uses Software as a Service as there is no need for installation, downloads or setups, you just need to login to your Salesforce account and start using your subscribed apps over the cloud. It is way more convenient for you isn't it? 
Watch this video on 'Salesforce Lightning Tutorial for Beginners':
Difference Between the Services and Components Managed by IaaS, PaaS, and SaaS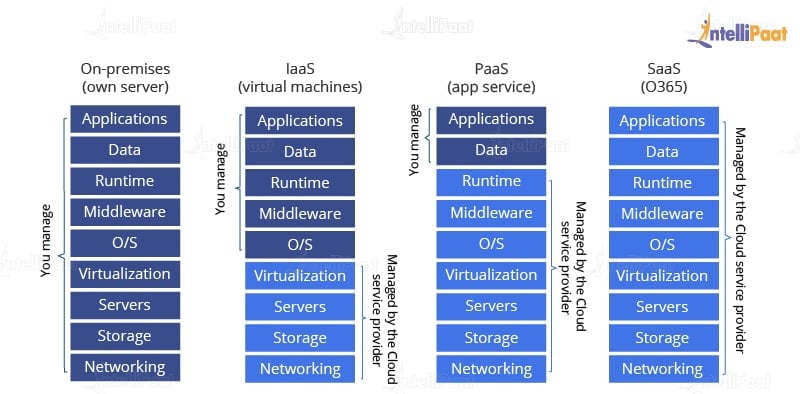 Salesforce uses PaaS (Platform as a Service) and SaaS (Software as a Service). Next up in this Salesforce developer tutorial for beginners  let us see why should we learn Salesforce.
Why learn Salesforce?
This Salesforce tutorial begins with a discussion on why you need to learn Salesforce. Basically, Salesforce started off as a Software-as-a-Service (SaaS) company providing the Customer Relationship Management (CRM) platform on the Cloud.
Along with SaaS, now, it also provides the Salesforce platform to its clients wherein you can create your own application called Platform-as-a-Service (PaaS). Though Salesforce earns the most by PaaS, SaaS is also used by many Fortune 500 companies.

Traditional CRM vs Salesforce CRM
CRM is considered to be the most efficient technique to create relationships among customers. It can be used to target contacts, leads, and opportunities. You can also use the CRM software for dealing with tracking, product planning, manufacturing, and shipping.
| | |
| --- | --- |
| Traditional CRM | Salesforce CRM |
| Hosted on a company's own server | Hosted on the Cloud |
| Difficult to understand and use | Easy to understand and use |
| Takes months or even years to set up | Can be set up in a few days or weeks |
| Requires overall higher cost | Requires overall lower cost |
Go through this Salesforce in London Course to get a clear understanding of Salesforce!
Next, in this Salesforce developer tutorial for beginners, we will talk about the legacy systems and platforms in Salesforce.
Problems with Traditional Software Methodology (Legacy Platforms)
In the traditional software methodology, to create an application, developers had to follow these steps:
Formation of an idea for building an application
Buying and setting up hardware
Installing software
Defining users and providing them with different accesses
Setting up means for reporting and analytics
Building security around the application
Making it mobile phone accessible and social
A usable application is created! Although, the whole process is tedious and time-consuming. It generally takes 6–12 months of time.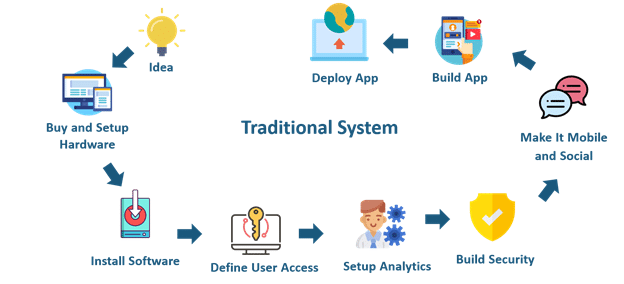 To solve this problem, Salesforce came into the picture and became popular. With Salesforce, the developer isn't worried about buying and setting up the hardware, installing the software, defining users, setting up means for reporting and analytics, building security around the application, and making it mobile phone accessible and social. As with Salesforce, all of these code components come as a single package.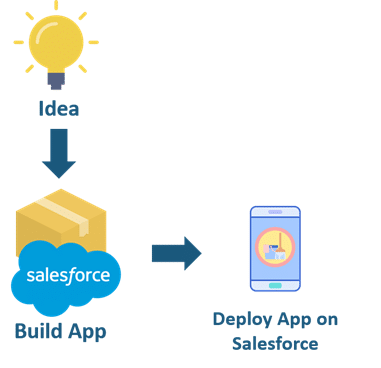 Developers can go ahead and create an application and release it to their clients. As they don't need to worry about any of the core components, Salesforce has gradually increased their productivity. Now, they can straightaway build the application on the platform provided to them by Salesforce and release it onto the Cloud.
Wish to crack Salesforce job interviews? Intellipaat's Top Salesforce Interview Questions are meant only for you!
Next up in this Salesforce developer tutorial for beginners  we will see why  Salesforce is gaining so much popularity.
Why is Salesforce gaining popularity?
It is quite evident from the graph how Salesforce has topped the Magic Quadrant leaving behind Microsoft and Oracle.
Though the cost is more, Salesforce provides the best user-friendly interface as compared to any other CRM software. Salesforce is the number one CRM tool being used around the world. It offers an entire range of applications that can be very useful in lead generation and improving sales and deal closure. Along with that it also helps in the marketing domain, customer service, analytics, and many other applications.
Reasons why Salesforce is gaining so much popularity:
Scalability and customization
Partner ecosystem
Data security
Continuous enhancing of the application and platform

Recommended Audience
This Salesforce tutorial is beneficial for anybody who want to learn about CRM. Software Developers, Administrators, Cloud Computing Professionals, and Project Managers can learn and benefit from this Salesforce tutorial.
Come to Intellipaat's Salesforce Community if you have more queries on Salesforce!
Prerequisites
There are no prerequisites to take up this Salesforce tutorial.
Do you want to learn how to create a customized and secure Salesforce environment? Enroll in Salesforce Certification Course now!