From the minute details of maintaining monthly attendance data of employees to your customer's transition history of the past two years, we generate terabytes and petabytes of data daily. This sudden increase in data is due to the remarkable digitalization that has occurred over the past decade.
Big data is changing things at a fast pace and spawning over every region and department. Every day, we generate immeasurable and multi-structured data including images, videos, content, reports from various disparate sources, which exigently raises the concern to take the helm and get value from this data. What matters is the quality of analytics and intelligence the data outputs. Over the past few years, Hadoop is considered an apt solution to managing all the data concerns in the world. It is, in fact the most widely searched technology over the web when it comes to Big data.
This distributed processing system with open-source technology has outperformed itself and acquired a space in almost all sectors and organizations, integrating with all Cloud platforms. Although we have several Big Data technologies in the market now like MapReduce, HBase, but Hadoop is an exception since most of the others are built on the concepts of Hadoop.
Apache Hadoop provides cost-effectiveness to analyze, store, transform, cleanse, filter and gain valuable information from a variety of data sources. It is most preferred because of its reliability, flexibility, scalability and high performance. The processes are amazingly faster. Technologies like MongoDB, Cassandra, Apache Storm still do not fit into the current Big data ecosystem as much as Hadoop does.
Gartner produced a comparative analysis of adoption of Hadoop and Big data, and everything is evident.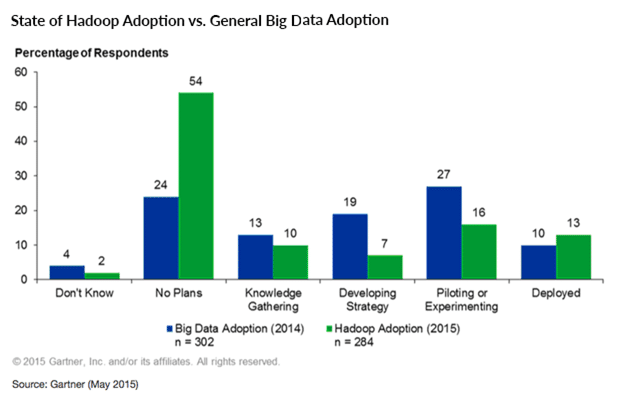 Even though this big data platform is widely popular and accepted by most enterprises, there is still a shortage of skilled professionals who can implement Hadoop in their organizations with zero errors and bugs from day 1. Businesses all across the globe are continuously generating thousands of openings for Big Data Experts, Hadoopers and related profiles to implement.
The leading vendors- Cloudera, Hortonworks are reportedly raising their revenues every year, which evidences that the hype of Hadoop in the Big data market is not going to fade. Forrester Predictions 2015 Report believes that Hadoop will become a Cornerstone of your business technology agenda. The company also says that 'Hadoop is a must-have for large enterprises, forming the cornerstone of any flexible future data platform needed in the age of the customer.'
The average beginner-level salaries have grown by 27% from last two years. The  2014 Annual Analytics Salary Report says, "Analytics professionals in India obtained a 250 percent hike in their salaries from entry-level analysts to the manager.
With the mission to create Hadoop specialists, we, at Intellipaat, have designed excellent training courses comprising the basics of Installing Hadoop and understanding its key features to imparting knowledge on advanced platforms like Pig, Hive, HBase, Flume with real-time examples. The training modules are vast and descriptive with most topics a Hadoop learning includes.
Further, there are separate Hadoop training courses for developers, Administrators, Analysts and Testers, which are also combined in a single learning package.
The opinions expressed in this article are the author's own and do not reflect the view of the organization.