Most of us are still confused with the story of Hadoop and Cloudera and how both are related to one another. Doug Cutting, the brilliant mind behind creating Hadoop technology, is currently the Chief Architect at Hadoop distributor, Cloudera.
Lately interviewed, the Hadoop Creator expressed immense delight in mentioning that how his invention is reaching milestones. Doug said, "We're still seeing pretty much 100 per cent growth year-on-year and Cloudera has been doubling in both revenues and customers for quite a time."
Hadoop is now ten years old and has shown a remarkable exponential growth in all these years. As predicted by IDC, Hadoop alone will be worth $813 million in 2016. Similarly, Forrester Predictions, 2015 says, "Hadoop is a must-have for large enterprises, forming the cornerstone of any flexible future data platform needed in the age of the customer."
In the last six years, Hadoop has become one of the most powerful data handling and management frameworks for distributed applications.
Watch this How To Become A Cloud Engineer for Beginners
History of Hadoop and Cloudera
Named after the toy elephant of Doug Cutting's son, Hadoop has its origins in Apache Nutch, an open-source web-search engine by Yahoo and a part of Apache Lucene project. It was originally started by two Yahoo employees, Doug Cutting and Mike Cafarella, in 2006.
Doug and Mike were inspired by Google File System (GFS), launched by Google (for Nutch project) in 2003 to manage and process billions of data. To share it with the world, Google released white papers explaining GFS and MapReduce in 2004.
However, there was not yet any working model to illustrate this big data analytics. This stimulated the two Yahoo! professionals, Doug and Mike so much so that they created an analysis and storage cluster to demonstrate GFS and MapReduce operations, and named it Hadoop. After a year, Yahoo started to use Hadoop and then in 2008, it was taken over by Apache, thus, presently known as Apache Hadoop.
Though founded by engineers from Google, Facebook, Yahoo and Microsoft in 2008, Cloudera chairs Hadoop Creator, Doug Cutting as the Chief Architect. Completely devoted to Hadoop distribution, Cloudera provides Apache Hadoop-based software, support and services and training to business customers.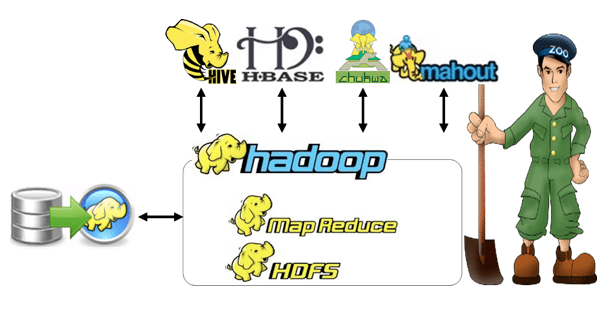 Apache Hadoop is the emerging tool in the present scenario for accessing large sets of data. As the ecosystem continues to evolve, Hadoop becomes a significant part of most IT operations or for that matter, every sector dealing with large huge amounts of data.
When asked about the future growth of Hadoop, Cutting states, "You almost want to ask where isn't it going to go," He further added, "There's a lot going on. I'm keen to see better support for transactions, systems where you are updating values in real-time and are still able to perform analytics on the same data."
Analyzing the present training realm, you will be amazed to see the growing number of professionals aspiring to become Big Data Experts and gaining expertise in Hadoop and related technology. Hadoop Processional Training and Certification is the panache.
The hiring outlook for Hadoopers is sizzling. The Annual Analytics Salary Report of 2014 claimed that the entry-level pays for Hadoop Analysts and Administrators have shown a 27% increase since 2013. Top multinational companies are continuously looking for Cloudera Certified Hadoop Professionals (CCDH and CCAH), and the individuals who have completed expert-level training in this framework.
With the aim to create Hadoop Experts, we offer several Hadoop and Big Data online training courses.
https://intellipaat.com/hadoop-online-training/
There are standalone courses as well combo training of Hadoop and Big data with other data analytics and visualization platforms. Browse through our Professional courses and learn from Industry-level Experts anytime, anywhere on any device.
Watch this Cloud Certification Training for Beginners

The opinions expressed in this article are the author's own and do not reflect the view of the organization.
Related Articles
---