This blog is going to discuss about what Hyperion is, what makes Oracle Hyperion a unique technology, what its key features are, and what products are available in Oracle Hyperion suite. The blog also covers major purposes of Oracle Hyperion, including budgeting, forecasting, financial consolidation, profitability analysis, etc.
The database that allows you to access data very quickly is Hyperion. It aims to support improved business decision-making and Business Intelligence. Therefore, a BI system can be titled as a decision support system (DSS).
BI uses technologies, processes, and applications to examine mostly internal, organized data and business practices, while competitive intelligence gathers analyze and distribute statistics with a topical attention on company challengers.
Go through the Tableau Course to get clear understanding of the benefits of using Tableau.
Some of the key features of Hyperion are:
Hyperion allows the businesses to integrate and manage the goals, strategies, and their execution.
It runs on a unified platform.
Mostly, it is used in financial analysis and reporting.
Go through Intellipaat's short video on Hyperion:
Interested in learning Tableau? Learn more in this 
Tableau Training in London!
What Makes Oracle Hyperion a Unique Technology?
Oracle has always remained at the top in introducing business applications to the market. Hyperion is an extension to that array providing various benefits that make it a unique technology. What are benefits offered by Hyperion? Read below:
| | |
| --- | --- |
| Areas | Hyperion Benefits |
| Cloud accessibility | This Oracle product is accessible on cloud |
| Addressing business needs | Hyperion addresses financial and accounting needs better than SAP |
| Providing Security | Data is highly secured in Oracle Hyperion |
If you have any doubts or queries related to Tableau, get it clarified from BI experts on BI Community.
Product Suite of Oracle Hyperion
Hyperion offers a whole bunch of key software products. Let's discuss them one by one.
Essbase
Hyperion Planning
HFM (Hyperion Financial Management)
Financial Reporting
Web Analysis
Excel SmartView Tool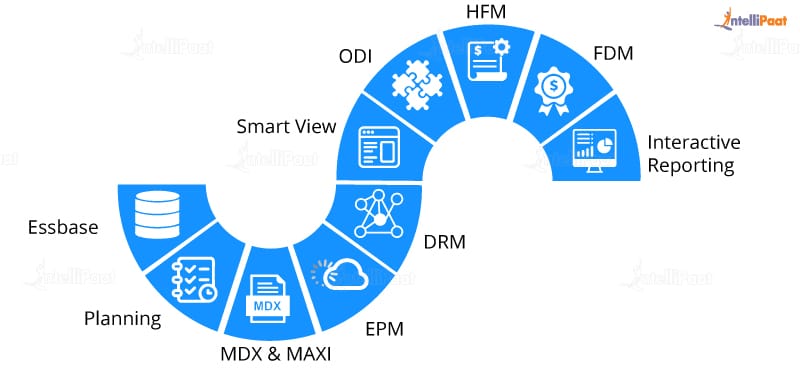 Essbase: To construct analytic applications that provide a multidimensional database platform, Essbase, a multidimensional database management system (MDBMS), is used. Essbase, stands for 'extended spread sheet database.'
Hyperion Planning: Hyperion Planning is the product in the Oracle Enterprise Performance Management Software Suite which is an industry-leading Business Intelligence software package. The main emphasis of this Hyperion Planning product is to deliver budgeting, planning, and forecasting solutions that support you to achieve and organize all your business planning and budgeting requirements.
Oracle Hyperion Financial Management (HFM): It is a complete, web-based product that provides global financial association, broadcasting, and analysis in a single, highly efficient software solution. Oracle Hyperion Financial Management, which is the part of Oracle EPM Suite, validates several things like collection, integration, and reporting of financial outcomes in numerous GAAPs and IFRS and the settlement of changes between numerous standards. Hyperion Financial Management can be organized instantly to incorporate data from several Oracle and non-Oracle transactional systems, provide top-side reporting to IFRS requirements, and support organizations to make transitions to IFRS.
Interested in learning Tableau? Check out this Tableau Tutorial!
Financial Reporting: Financial Reporting comprises two things, i.e., the Financial Reporting Studio and the Workspace. If you want to create and edit reports, Financial Reporting Studio is used. If you want to view and print those reports, Workspace is used. Financial Reporting creates extremely organized, book-quality financial and management reports. It also helps organizations escalate their operational proficiencies that are essential to generate and allocate GAAP-compliant financial reports and other extremely organized management reports.
Web Analysis: Web Analysis delivers executives and experts with the best instinctual, user-directed, and web-based analysis competencies. Benefits of Web Analysis are as follows:
It helps in highlighting trends and issues prematurely with graphical and highly instinctive dashboards.
It navigates and drills through multidimensional data to understand root causes.
It aids in increasing fast acceptance through an easy-to-use and marginal exercise.
Such experienced analysis is not possible with other Business Intelligence systems.

Excel Smart View Tool: The Hyperion Smart View for Office offers an Excel interface to Hyperion Financial Management (HFM) and to Essbase. It allows end users to generate ad-hoc reports in Excel and to import the generated reports from Financial Reporting into various tools such as Word, PowerPoint, Excel, or Outlook.
Functionalities of Smart View are listed below:
Ad-hoc analysis in Excel
Sending and retrieving data with the help of Function Builder
Importing reports from Financial Reporting and Web Analysis to various tools such as Word, PowerPoint, and Excel
Accessing HFM data forms (optional)
Submitting data (optional)
Calculating, translating, and consolidating data (optional)
Get an industry-recognized certification through Intellipaat's Online Tableau Training!