Over the last decade, we have seen that there is substantial growth in the generation of machine log data which is mainly because of the increase in demand for machines and usage of IoT devices. These IoT devices include Sensors, Network Devices, Voice Assistants, and Actuators. The generated machine data is complex to understand, not in structured format, and difficult to analyze. But, analyzing this data is very important to us because the solution to many different problems is hidden in that data. This helps us in understanding customer behaviors and their requirements which will, in turn be a critical aspect in providing a better service. However, analyzing all this data is not a simple task. So, how do we do that?
Check this Intellipaat Splunk Full Course video :
We use Splunk, which is an advanced, scalable and potent technology that indexes and searches log files stored in a system. It also analyzes the machine-generated data to provide operational intelligence.

Some of the technologies which rely on Splunk are:
The problem faced by many Data Scientists is they don't understand their data. If the data contains irrelevant information, the Machine Learning Algorithms will not perform well. This is where, Splunk can be used to solve this problem.
Splunk software can collect and index any machine data in real time. Now you can search, explore, navigate, analyze and visualize all your data from one place.
Splunk Enterprise Security is the nerve center of the security ecosystem, which gives teams the information to quickly detect and respond to various internal and external attacks.
Customers are using Splunk to mine data from the IoT to do everything from monitor energy consumption to secure the copyright data.
Advantages Of Splunk

Input data can be of any format and is not limited.
There is no need of separate databases like Oracle or SQL as Splunk stores all the data in its Indexers.
Searches using simpler terms with the help of Search Processing Language (SPL).
It can identify and resolve issues up to 70% faster.
You can also predict the amount of resources required for scaling up the infrastructure.
Not a single point of failure is encountered.
Wish to Learn Splunk? Click Here
Splunk Trending Job Roles:
Companies like Coca-Cola, Domino's, BOSCH, Asics, Adobe, etc. use Splunk products to aggregate, analyze and get different IT and business answers from their machine data.  Here are the job roles and their respective average salaries in USD: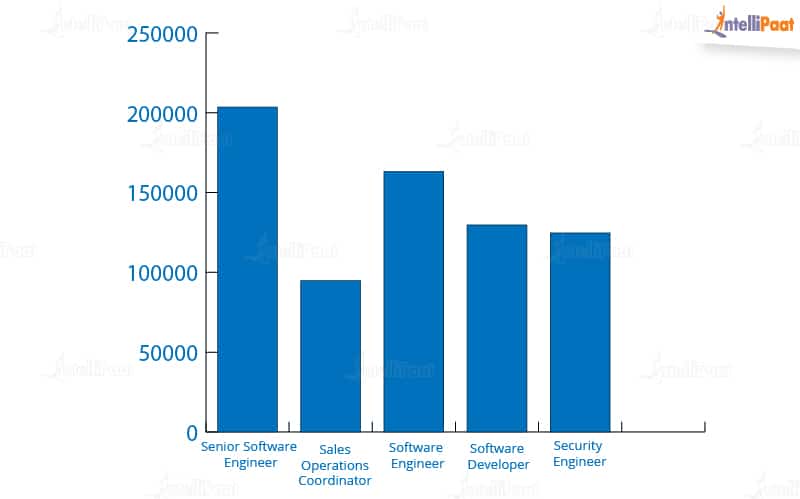 Three Basic Certification Tracks are: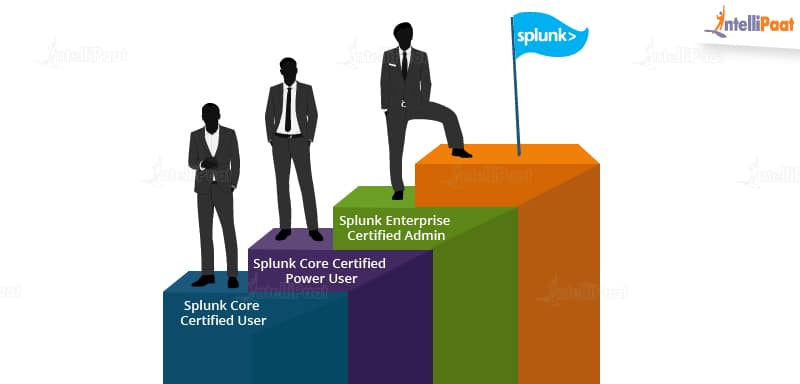 Splunk Core Certified User
A Splunk Core Certified User can search, use fields, use look-ups, and create basic statistical reports and dashboards in the Splunk Enterprise or Splunk Cloud Platforms. This certification demonstrates an individual's ability to navigate and use the Splunk Software.
Splunk Core Certified Power User
A Splunk Core Certified Power User has a basic understanding of SPL searching and reporting commands, create tags and event types, use macros, and normalize the data with the Common Information Model in either the Splunk Enterprise or Splunk Cloud Platforms.
Splunk Enterprise Certified Admin
A Splunk Enterprise Certified Admin manages numerous components of Splunk Enterprise on a daily basis, including getting data into Splunk, Indexers and search heads, license management, configuration, and monitoring. This moderate level certification is designed for Enterprise Administrators. It demonstrates an individual's ability to support day-to-day administration of a Splunk Enterprise environment.
Why should you take up Splunk certification training course?

Splunk is the most popular tool used for parsing huge volumes of machine-generated data and deriving valuable insights from it. This IntelliPaat instructor-led and self-paced training in Splunk Developer and Splunk Administration is your passport to working in the Splunk domain in order to gain a definitive edge when it comes to deploying Splunk in mission-critical applications in the real world in top MNCs and commanding big salaries in the process.

Download latest questions asked on Splunk in top MNC's ?
[contact-form-7 id="60621" title="Interview Subscription"]
Who should take up Splunk online training course?
Software Developers and System Administrators
Search Analysts, Database Experts and Administrators
Anyone who has an abrupt knowledge on Data Analytics concepts
Freshers who want to pursue their career in Splunk can take up this course as well.
How is IntelliPaat's Certification going to help you?
Splunk training and certification offered by Intellipaat is designed by the industry professionals with 18+ years of experience for the industry professionals to get the best jobs in top MNCs. IntelliPaat not only helps you master the concepts of Splunk, but also gives you an hands on experience.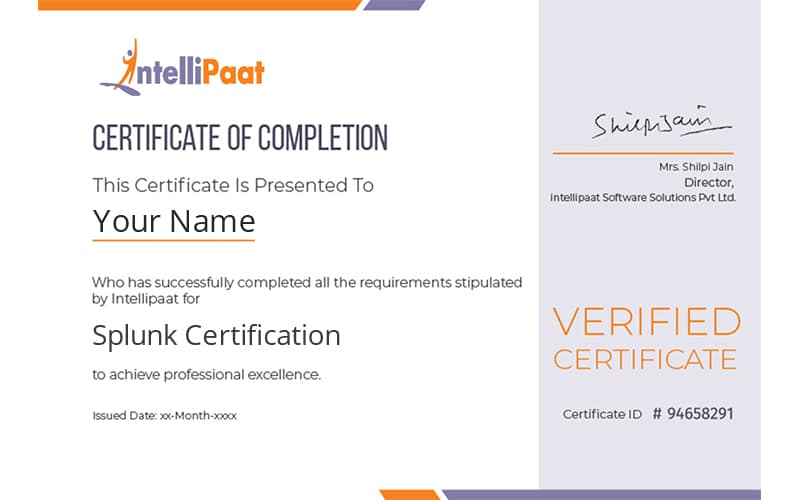 IntelliPaat provides flexible modes of training and learning as its courses are designed entirely for the corporate professionals.  As part of this online Splunk Certification course, you will be working on real-time projects and assignments that have immense implications in the real-world industry scenarios, thus helping you fast track your career effortlessly. In addition to that, IntelliPaat has tied up with major tech com such as MuSigma, Ericsson, Wipro, Cognizant, Genpact, SONY, Hexaware, TCS and 80+ MNC's all around the world.  
At the end of this online Splunk Certification course, there will be quizzes that perfectly reflect the type of questions asked in the respective certification exams and help you score better marks.
IntelliPaat also offers job assistance to all the learners who successfully complete the Splunk Certification training and have minimum of 60% in the quiz. And this will definitely be an added advantage when you are attending an interview.

What will you learn in this Splunk Online Training Course?
Introduction to Splunk architecture
Installation and configuration of the Splunk tool
Splunk search, cloud and log management
Deploying Splunk visualization, reports and charts
Managing users and indexes on Splunk
Splunk data analysis, calculation and format
Splunk database lookup, execution and security
Splunk log analyzer for web log analysis
Related Articles
---