Introduction to Splunk
Splunk is an advanced, scalable, and effective technology that indexes and searches log files stored in a system. It analyzes the machine-generated data to provide operational intelligence. The main advantage of using Splunk is that it does not need any database to store its data, as it extensively makes use of its indexes to store the data.
Splunk is a software mainly used for searching, monitoring, and examining machine-generated Big Data through a web-style interface. Splunk performs capturing, indexing, and correlating the real-time data in a searchable container from which it can produce graphs, reports, alerts, dashboards, and visualizations. It aims to build machine-generated data available over an organization and is able to recognize data patterns, produce metrics, diagnose problems, and grant intelligence for business operation purposes. Splunk is a technology used for application management, security, and compliance, as well as business and web analytics.
With the help of Splunk software, searching for a particular data in a bunch of complex data is easy. As you might know, in the log files, figuring out which configuration is currently running is challenging. To make this easier, there is a tool in Splunk software which helps the user detect the configuration file problems and see the current configurations that are being utilized.
As we have discussed 'What is Splunk?', now we have a question 'Why Splunk?' Splunk is a digitized platform that assists in accessing machine-generated data, which will be useful and worthwhile for everyone. Handling a huge amount of data is one of the biggest challenges, as there is a rapid development in the IT sector and its machines. In this situation, Splunk plays a vital role to deal with the situation.
Check out Intellipaat's Splunk Full Course video:
Let us discuss Splunk with an example. Suppose, you are a System Administrator and you have to find out what's wrong in the machine/system you are working with. Take a look at the machine-generated data to get an idea of how it looks like.
It would take hours to find out what's wrong with your system.
Now, this is where Splunk comes into the picture. It will do all the hefty tasks for you, i.e., processing of the whole data which was generated by your machine/system, and after obtaining the relevant data, it will be a lot easier to locate the problems.
Want to have a detailed knowledge on 'What is Splunk?' Read this extensive Splunk Tutorial!
As you came to know about Splunk, let's now discuss about Splunk's history in our next section.

A Brief History of Splunk
Rob Das and Eric Swan co-founded this technology in the year 2003 as a solution to all the queries raised while examining the information caves faced by most of the companies. The name 'Splunk' is derived from the word 'spelunking,' which means exploring the information caves. It was developed as a search engine for the log files that are stored in the infrastructure of a system.
The first version of Splunk was launched in 2004 which was largely appreciated by its end-users. Slowly and gradually, it became viral among most of the companies, and they started to buy its enterprise licenses. The main goal of the founders is to market this developing technology in bulk so that it can be deployed in almost all kinds of use cases possible.
Now, you have an idea about 'What is Splunk?' and its history. Coming up next is Splunk features.
Splunk Features
Here are some of the functionalities for which Splunk is being used: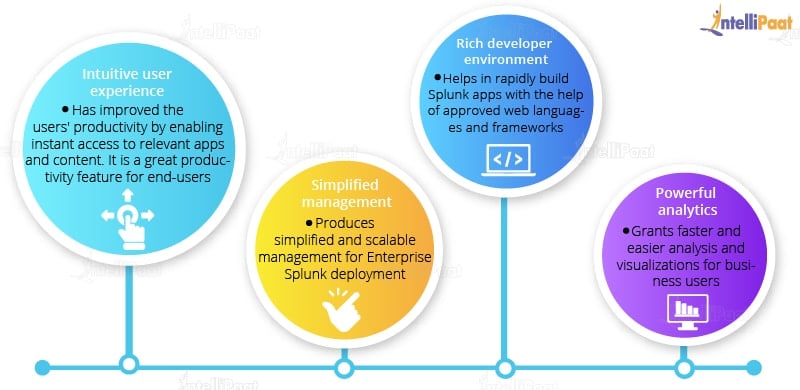 Learn more about 'What is Splunk?' in this Splunk Training to get ahead in your career!
After getting a fair understanding about Splunk features, we will now proceed with the advantages and disadvantages of Splunk.

Advantages and Disadvantages of Using Splunk
According to an IT Central Station user, some remarkable qualities about Splunk are 'its performance, scalability, and most importantly the innovative style of collecting and presenting the data.' On the other hand, the same user writes that Splunk can be complex when it comes to setting up and adding new sources.
Here are some advantages of using Splunk: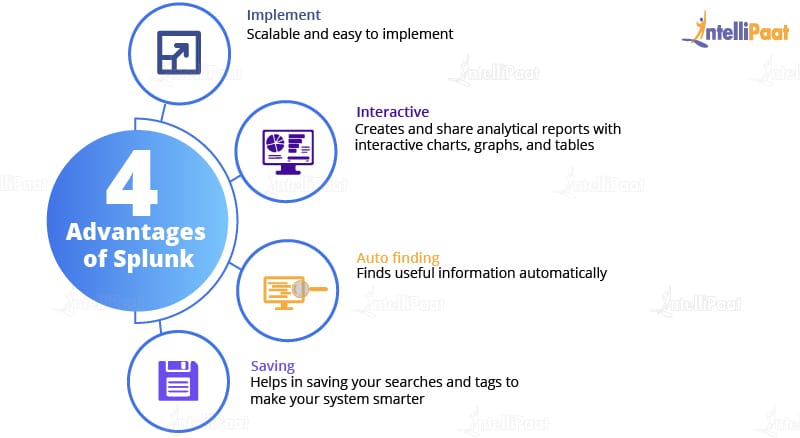 Splunk creates analytical reports with interactive charts, graphs, and tables, and shares them with others which is productive for users.
Splunk is scalable and easy to implement.
Splunk can automatically find useful information enclosed in your data, so you don't have to identify it yourself.
It helps in saving your searches and tags which are recognized as important information so that it can make your system smarter.
Also, have a look at some of its disadvantages: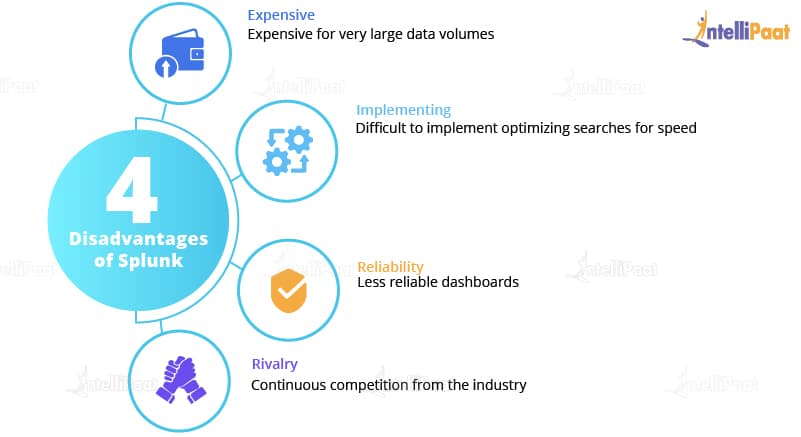 It can be expensive for very large data volumes.
Optimizing searches for speed is more of a philosophy than science, which means it cannot be practically implemented.
Dashboards are useful but not as reliable as Tableau.
The IT sector is continuously attempting to replace Splunk with new open-source options, which is a challenge faced by Splunk.
Learn about 'What is Splunk' by enrolling in this online Splunk Training in London!

What is Splunk Architecture?
Let's now look into how the robust architecture of Splunk works to retrieve the desired output from the complex data.
Let's start off by looking at this simple pictorial representation of Splunk's architecture:

Now let's talk about the terms that are related to the Splunk architecture:
Universal Forwarder (UF): It is a lightweight element that assists in pushing the data to the heavy Splunk forwarder. The principal task of this element is to just forward the log data from the server. You can easily install Universal Forward at the client-side or on the application side.
Load Balancer (LB): In computing terms, Load balancing enhances the distribution of workloads over multiple computing resources. A load balancer is an element that distributes the network or the application traffic over a cluster of servers.
Heavy Forwarder (HF): It is recognized to be the heavy element. This Splunk component enables you to filter the data. For instance, it will help in accumulating only the error logs.
Indexer: The chief task of an indexer is to store and index the filtered data. It helps in improving Splunk's performance. By default, Splunk automatically implements the indexing like hosts, sources, date, and time.
Search Head (SH): It is simply a Splunk instance that helps in distributing the searches to the other indexers, and it normally doesn't have any instance of its own. It is essentially used to achieve intelligence and perform reporting.
Deployment Server (DS): It helps in deploying the configuration like updating the UF (Universal Forwarder) configuration file. You can use a DS to share data between the components.
License Master (LM): A license slave is a Splunk Enterprise state which is controlled by a License Master. If you have a single Splunk Enterprise instance, it assists as its License Manager (once you have installed an Enterprise license on it). The license is based on quantity and usage. For example, for 50 GB per day usage, Splunk examines the licensing details daily.
Learn all aspects of Splunk from this Splunk Course in Toronto and excel in your career!
Here is how the Splunk Architecture works:

Forwarder: It assists in collecting the data from the primitive machines, then it forwards the data to the indexer in real-time.
Indexer: It helps in processing the incoming data in real-time. It also collects and arranges the data on the disk.
Search Head: With the help of Search Head, end-users can interact with Splunk. It enables users to perform the search, analyze, and visualize functions.
Let's now see how the architecture of Splunk works in-detail:
The forwarder can track the data, make a copy of the data and can perform load balancing on that particular data before it sends it to the indexer.
Cloning can help in producing duplicated copies of any case at the data source whereas load balancing is performed so that even if one case collapses, that data can be carried to another case which is hosting the indexer.
When the data is obtained from the forwarder, it is then dropped in an Indexer component. In the Indexer, the obtained data is then split into various logical datastores and at every datastore, you can set authorities which will then guide the user's views and accesses.
When the data is inside the Indexer, you can explore that data and assign those explorations to different search companions and all the results that we will be getting after assigning will be merged and carried forward to the Search Head.
You can also perform scheduling the search companions and creating the alerts, which will be then activated when some situations will match the saved searches.
You can also use the knowledge objects only to intensify the existing unstructured data (data which do not have any format).
The search heads and knowledge objects can be retrieved from a Splunk CLI or a Splunk Web Interface. This interaction happens over a REST API connection.
Visit Intellipaat's Splunk Community to get your doubts clarified within a day!

Is Splunk free?
After understanding 'What is Splunk?' and its comprehensive advantages, you must have a doubt whether Splunk is free of cost? The answer to that question is, yes! There is a version of Splunk known as Splunk Free. It is totally a free version. The free license permits you to index up to 500 MB per day, and it never expires.
The 500 MB limit indicates the amount of new data that you can add or index per day. However, you can keep adding data every day, collecting as much as you desire. For instance, you can index 500 MB of data per day and ultimately have 10 TB of data in Splunk Free. If you require more than 500 MB/day, you will have to buy an Enterprise license. Splunk Free manages your license usage by tracking the license violations. If you exceed over 500 MB/day more than three times in a 30-day session, Splunk Free will continue to index your data, but it disables the search functionality until you are back down to three or fewer alerts in the 30-day period.
Now since you know 'What is Splunk?', you must be eager to know how Splunk is helpful in building your career.
How will Splunk help in your career growth?
With the landscape of Big Data changing every other day, numerous technologies are coming into the limelight. However, a few of them have made a mark with their performance. Splunk is one of such booming technologies. Its growing demand and the suitability to candidates with diverse educational backgrounds make it an attractive field of opportunities. Hence, if you want to make a career in the domain of Data Analytics, learning Splunk will ensure your success. It took eight years to develop Splunk [NASDAQ: SPLK] and is now expecting to beat US$100 million revenues this year. Splunk is considered as the first option among many existing companies, as well as IPOs that are yet to come, which are running the wave of the Big Data revolution.
For those people who do not surf the techno-sphere frequently, let me tell you that Splunk's CTO and co-founder, Erik Swan, predictively described in an interview that Splunk's magic seasoning is that it is considered as the 'Google for machine-generated data.' The machine here includes all machines that generate huge amounts of data. In Splunk network, data traffic is counted, logged, and classified by various machines.
Splunk is growing in many domains of technology and other industries such as Finance and Insurance, Information Technology, Retail, Trade, and many more. Many organizations worldwide use Splunk for their business needs, cybersecurity tasks, customer understanding, fraud prevention, service performance improvement, and overall cost reduction. Splunk is getting used worldwide in organizations like IBM, Salesforce, Facebook, HP, Adobe, etc.

As you can see from the above graph, the average salary of a Splunk Sales Engineer is US$148,134 annually, which comprises a base salary of US$115,967 with a US$32,167 bonus. This total compensation is $7,627 more than the average salary for a Sales Engineer in the US. Sales Engineer salaries at Splunk can range from US$112,500–US$190,000 with equity ranging from $80K–$100K (in US dollars). The Engineering Department at Splunk earns $9,393 more, on average than the Product Department. Comparably, the data has a total of two salary records from Splunk Sales Engineers.
Get familiar with the top Splunk Interview Questions to get a head start in your career!
Who should learn Splunk?
Splunk is one of the most suitable courses for applicants who want to see themselves as Machine Learning Professionals, System Administrators, Analytics Managers, and beginners, who wish to get trained in this awesome technology. The most remarkable fact is that there is no need to have a technical background to learn this technology, which makes it viable for the candidates having degrees in diverse educational fields.
Now that brings us to the end of this blog. In today's world, Splunk has become one of the most in-demand tools for Big Data professionals. In Big Data, there can be numerous data sources such as structured or unstructured. Thus, Splunk helps the experts retrieve the most important information even from the unstructured data, which is considered to be the biggest challenge.
Check out Intellipaat's Splunk Training Course and become a Splunk Developer!
Related Articles
---