Even though AWS SysOps Certification is one of the most sought-after certifications, there is a lot of vagueness surrounding the AWS SysOps Certification. AWS Certified SysOps Administrators are some of the most in-demand professionals in today's IT industry. This blog starts with a brief introduction to SysOps and how AWS SysOps Certification came to be. This blog will also elaborate on how one can become an AWS Certified SysOps Administrator and how to answer various questions such as 'What is AWS SysOps Certification?', 'Why one must opt for it?', and more.
Watch this AWS Certification Full Course for Beginners video:
The topics that will be discussed in this blog are:
Let's get started!
What is SysOps?
SysOps is an acronym for system operations or system operators. As the name suggests, system operations or system operators is a terminology used to represent any professional who manages computer systems. SysOps team in any organization is responsible for managing and provisioning servers, taking care of the software, wiring network devices, and more such tasks.

Learn more about AWS from this insightful AWS Tutorial!
The significance of SysOps comes from the days when organizations used to have multiple mainframes running their businesses. Things changed when the super-powered desktop computers replaced mainframes in the organizations, and the workflow of SysOps teams got even more defined. Now, the SysOps teams were expected to be more familiar with the OS and the applications running on the systems in order to manage the infrastructure.

Go through the AWS Course in London to get a clear understanding of AWS!
This defined workflow was also a by-product of the advent of Cloud Computing. With Cloud Computing in the picture, SysOps teams also became responsible for multiuser systems. As the public cloud vendors, including AWS, realized the significance that SysOps holds in infrastructure management and application deployment, they started encouraging the use of SysOps with their respective certifications. Of all the certifications for SysOps out there, the most popular one is the AWS SysOps Administration Certification. Let's understand a bit more about this particular certification.
What is AWS SysOps Certification?
Along with all the other AWS Certifications, AWS also offers an AWS Certified SysOps Administrator – Associate Certification to endorse a candidate's SysOps Administrator skills. This certification falls under the associate category of AWS Certifications.
This certification will validate the technical expertize in deployment, management, and operations on the AWS platform. In order to gain this certification, one must clear the respective exam. We will discuss the exam for this certification in detail, but first, let's look at all the reasons why one must go for this certification.
Learn more about AWS from this AWS Training in New York to get ahead in your career!
Why AWS SysOps Administration Certification?
SysOps is the need of the hour for almost all organizations, and AWS Certification is the industry-recognized credential that can help you take your career to new heights.
The average salary of AWS Certified SysOps Administrators is around US$130,610. Since SysOps Administration Certification targets general troubleshooting and operations on the AWS platform, it is universally appealing, and hence it is worth having this certification on your resume.
If you have any doubts or queries related to AWS, get them clarified from AWS experts on our AWS Community!
What does an AWS Certified SysOps Administrator do?
As mentioned above, the traditional job of SysOps Administrators has evolved a lot. The AWS SysOps Administrators' basic responsibilities include configuring AWS Cloud Management, along with monitoring and managing AWS services.

Other roles and responsibilities include:
Managing AWS Life Cycle
Setting up and managing multitier computer system environments
Configuring cloud infrastructure systems
Taking care of patch management and software upgrades
Designing and developing scripts for automating cloud functions
Making use of AWS services to perform on-premise resource backup
Monitoring the availability and performance extents of AWS services
As it is clear from the above-mentioned roles and responsibilities, SysOps Administrators are present throughout the entire life cycle of a project.
Interested in learning AWS? Check out our AWS Training in Sydney to learn more!
Check out this Intellipaat AWS SysOps Administrator Training video:
Who should take the AWS SysOps Administrator exam?
Now that you know the major roles and responsibilities, you should be able to identify if this certification is something that you will be interested in or not. Just to make things clearer, let's thoroughly understand who can go for this certification.
If we name the roles that are most in need of this certification, then those would be System Administrators and Operations Managers. It can be also for those who can perform operations and make use of the AWS platform. With this certification, you will have a stronger grasp of what's going on in your AWS architecture.
Become a master of AWS by going through this online AWS Course in Toronto!
AWS Certified SysOps Administrator – Associate Exam Guide
As mentioned before, in order to gain the AWS Certified SysOps Administrator Certification, candidates are required to clear the respective exam. Following are the details of the exam:
Prerequisites: Experience in AWS best practices for deployments and project life cycle management
Format of the exam: Multiple-choice questions
Duration of the exam: 130 minutes
Registration cost: US$150
Curriculum of the exam:
How to deploy AWS platform applications?
Data transfer between a data center and AWS
Choosing the right AWS for a specific organization
How to provision, manage, and secure AWS systems?
Get familiar with the top AWS Interview Questions to get a head start in your career!

Recommended AWS SysOps Certification Training
Now that you are aware of every nitty-gritty of AWS SysOps Certification, it's time to learn how you can prepare for it. The best way to prepare for any certification, especially for the one that is as sought-after as AWS certifications, is to look for an in-depth training course. Here comes Intellipaat into the picture. Intellipaat offers a well-structured AWS SysOps Administration Certification Training Course that is curated keeping the current industry demands in mind. After the completion of the course, the candidate is rewarded with the AWS SysOps certification verified by Intellipaat. This certificate is very well recognized by Intellipaat affiliate organizations which include over 80 top MNCs from around the world.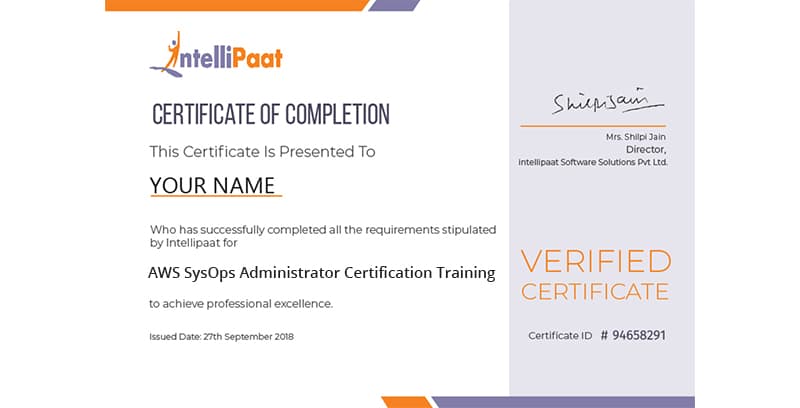 This training course includes various hands-on projects, case studies, quizzes, assignments, and more for you to work on. To top it all off, you also get lifetime access to this course, and any updates to the course will be made free of any additional cost. In the case of any queries, you will get 24/7 technical support.
Related Articles
---