The average cloud engineer salary in the US is around $118,586 – Indeed
In India, the cloud engineer salary is ₹900,000 per annum – Glassdoor
As a new-age technology, cloud not only brings about a major disruption in the global marketplace but also exposes thousands of individuals to amazing job opportunities.
So, if you are in pursuit of becoming a Cloud Engineer, buckle up and spare a few minutes to dive deep into this "How to become a Cloud Engineer" guide. Going through it, you will be able to identify the requisites for becoming a Cloud Engineer and, consequently, be able to optimize your preparation for building a lucrative career in the cloud domain.
Now you might ask me, 'What is a cloud engineer, why has cloud revolutionized the way companies operate, and where do I fit in this carnival of tech-savvy implementations?'
What does a Cloud Engineer do?
Let me first shed light on the primary role of a Cloud Engineer.
Cloud Engineers are professionals who assess a business's infrastructure and migrate different functions to a cloud-based system. These professionals basically build and maintain cloud services by leveraging technical skills, business knowledge, and working experience with at least one of the major cloud providers (Amazon Web Services, Microsoft Azure, or Google Cloud Platform). Also, they automate deployment and testing pipelines to enhance the efficiency of teams. Boasting a diverse range of skills from formulating a migration strategy and designing new environments to providing support and maintaining the already cloud-hosted systems, Cloud Engineers have proved their mantle in the IT world.
Here's the link to a blog that can help you unsheathe the roles and responsibilities of a Cloud Engineer in detail.
Owing to these capabilities, the demand for Cloud Engineers is skyrocketing.
According to a recent NetEnrich report, 'IT departments of around 68 percent of all enterprises are using public cloud infrastructures'.
Backing up this statistic, a SolarWinds report mentioned, 'More than half of tech pros have concurred on the fact that cloud and hybrid IT is a vital IT strategy today, as nearly all organizations move their workloads to the cloud.'

To keep up with this disruption and leverage the advantages that tag along with cloud migration, companies are undertaking a cloud-first approach. They are tailing behind skilled professionals who can help streamline their cloud journey.
Here's another fact:
Indeed reports, 'As such, between 2015 and 2018, job searches for roles related to Cloud Computing—including Cloud Infrastructure, Cloud Security, Cloud Architect, and Cloud Engineer—rose nearly 108 percent, and employer interest for candidates with Cloud Computing skills rose 33 percent'. As alluring as it sounds, 'But even with high job seeker interest in these roles, employer demand still outpaces the number of qualified candidates available. Searches for the terms Cloud Computing and Cloud Engineer have risen 141 percent in the past two years', the report continued.
To stay current with the market trend and get a high-paying job that can guarantee security in the future, you may consider Cloud Engineering as a career option and learn everything on how to become a Cloud Engineer.
Almost every individual, who works around the cloud, performs the aforementioned duties. However, there are other job roles that might interest you in your cloud journey.
Jobs to Look for as a Cloud Engineer
As a matter of fact, 'Cloud Engineer' is a collective term. Cloud Engineers can take up several roles, such as:
Cloud Security Engineer
Cloud Systems Engineer
Cloud Developer
Cloud Architect
Cloud Network Engineer
DevOps Engineer

Based on your desired job role, you can strategize an approach and follow the same. This approach is entirely subjective when it comes to preparing on an individual level. But no matter, the fundamentals remain the same.
Below are the screenshots of a few job openings for Cloud Engineers that are posted on Indeed.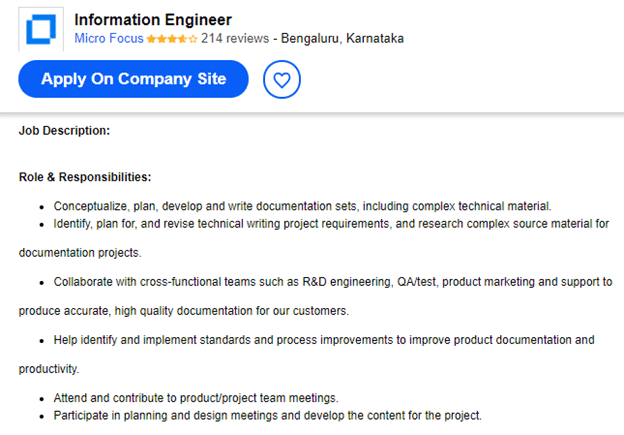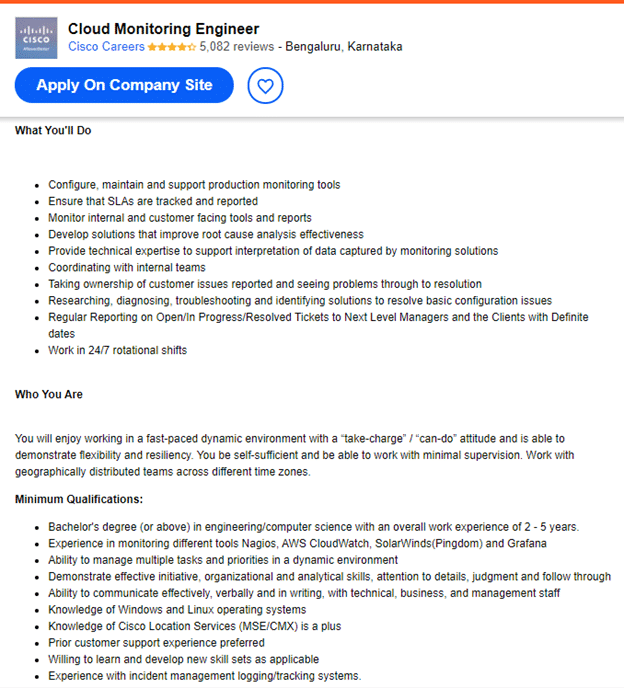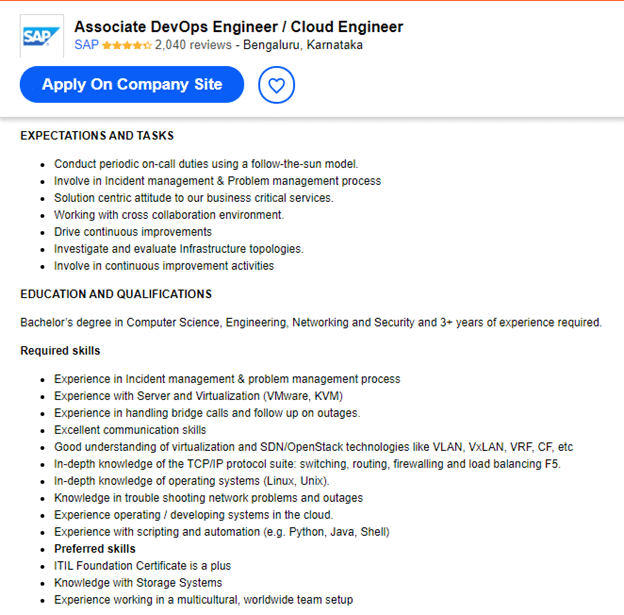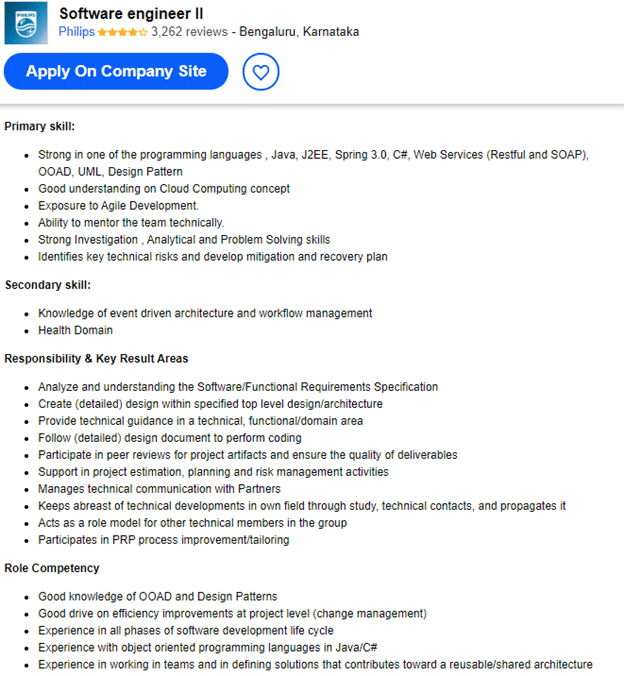 After thoroughly analyzing these job postings, we have identified the basic skills that every Cloud Engineer should necessarily possess.
Skills to Develop for Becoming a Cloud Engineer
Typically, Cloud Engineers have a bachelor's degree in computer science or information technology. On top of this, the apt skills required include working experience with a variety of programming languages  (such as Java, AngularJS, C++, and Python), knowledge of Linux, and expertise in tech tools and platforms (such as SQL, Hadoop, Scala, Kafka, Kubernetes, Spark, Redshift, DevOps, and Docker).
Also, cybersecurity skills are a great addition to the skill set of a Cloud Engineer.
How to become a Cloud Engineer?
As a learner who is never exposed to the world of cloud, you can start learning the basics of Cloud Computing on your own or take up the comprehensive Cloud Computing training that we provide.
Numerous blogs and tutorials are available freely on the Internet that can help you with the basics of Cloud Computing. These basics may cover the meaning of Cloud Computing, the need for Cloud Computing, service and deployment models, the difference between on-premise and cloud-first approaches, and Cloud Computing advantages.
This blog on Understanding Cloud Computing can help you comprehend the aforementioned topics in a subtle manner. Further, you may refer to this video tutorial to enhance your understanding of Cloud Computing.
Once you get a hold of these concepts, you can take up some time to get familiar with the offerings of various cloud service providers (such as Azure, AWS, and GCP), understand how they are different in terms of the services they provide, and consequently explore their portals and consoles (these are available for free).
Here's a video that will take you through the difference between AWS, Azure, and GCP.
Completing these, you will obtain a theoretical understanding of rudimentary Cloud Computing. Once you are ready, take up a practical approach to understanding the most popular cloud-based services, including compute, storage, database, networks, load balancing and scaling, cloud monitoring, and application migration. This will help you gain more proficiency in Cloud Computing.
Cloud Computing Training
However, if you believe that expert guidance would prove to be more beneficial to you, you can take up the training we provide. Our Cloud Architect training is a definitive course that covers the concepts of Cloud Architect from scratch and includes apt practical demonstrations and hands-on assignments. Upon completing the training, you will be well versed to appear for the official AWS Cloud Architect Certification exam. This training will also nourish and nurture your skills to apply on an industry-level. To top it all, you can complete the sample projects that are available on the AWS website.

A certification would validate your skills and convey your prospective employer the message that you have already gained expertise in the respective job role and are hence ready to quest into the job. Thus, you will be at the driver's seat when it comes to clearing job interviews.
Explore various Cloud Computing training courses by clicking on this link.
Commendable, isn't it?
Why wait then? The doors are open for you. Develop the required skills and storm into the world of Cloud Computing!
Related Articles
---