The hidden under wraps are broken now and the techniques to  grab a job in big data is an open chapter today. We all have the clear idea that gaining proficiency in certain technologies will help us to get into a job in Big data, but it is still a question mark what exactly constitutes a big data job. Companies come for employing people in their big data job openings with a job description mixing up all the roles and responsibilities of their exact profile. They just need a guy who knows the insights of data and who is capable of managing the same.
Big data and business analytics worldwide revenues will grow from nearly $122B in 2015 to more than $187B in 2019, an increase of more than 50% over the five-year forecast period. -IDC
However before going that far we need to first what exactly does a Big Data Scientist do? Let's get to know that-
Identifying the data science opportunities for the organization
Collecting data from various sources
Cleaning, slicing and dicing the data to analyze it
Interpret the outcomes and find the significant trends in the data
Communicate the findings
An exact job description is the first thing you should check before getting into the job. Because there are a lot of job profiles in the same field which are described below –
| | |
| --- | --- |
| Profiles | Big Data job description |
| Business analysts | Analyzes business domain, prepares the model and integrate the technology |
| Data scientists | Skilled in statistics, mathematics and programming who clean and analyze the data |
| Research analysts | Research and prepare investigative reports |
| Data Architects | Combination of data analysts and database designers |
| Data Visualizers | Visualizing and analyzing the data to find patterns and insights |
| Data Analysts | Interpreting data and help make better business decisions |
So before making yourself ready for a job, the first and foremost task you need to do is to get a transparent thought of all the roles and responsibilities of the particular job profile.
Wish to Learn Data science? Click Here

Today every organization in the big data world is running in critical condition so as to handle and manage big databases. Organizations input data in their projects, work with data in the projects and then outputs resultant data from their projects. It's all about data in the technology today. Maintaining the proper storage and arrangement of these big data centers has become one of the big challenges in the tech society today. As structured as well as unstructured data are increasing, the demand for workforce in this field is also increasing tremendously.
Today companies are in great hunger for professionals who understand data and carry the capability to work in the same. A bulky crowd of people have already joined this platform and are happily continuing their job enjoying their bulky salaries.
The Total Data market is expected to nearly double in size, growing from $69.6B in revenue in 2015 to $132.3B in 2020. -451 Research
Although people are preparing themselves and getting paid in these high paying jobs, but still the manpower is still not enough to fill up all the demands. So in order to satisfy this rising demand, we have to hurry up and get ready to crack the tough interviews  and grab those high paying jobs before they become too common.
Want to grab high-paying data science jobs? prepare yourself with these Top Data Science Interview Questions!
Primary preparation starts right from Under graduation period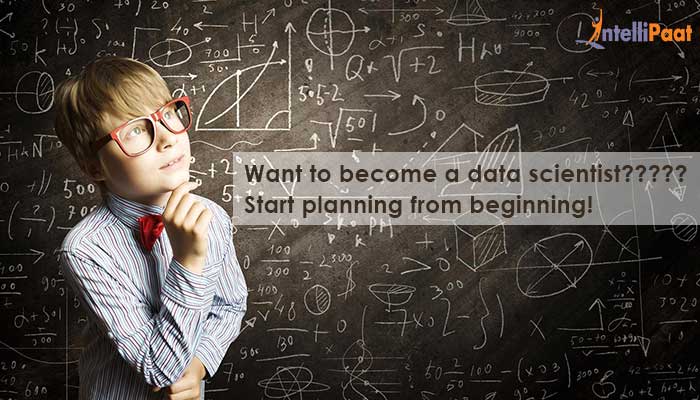 The base of data is statistics and mathematics. Data is all about numbers and if you process a degree in mathematics or statistics, half of your work is already done. Undergraduates who are willing to take up big data as a profession should build a foundation of their career with something related to engineering, statistics and mathematics. Add in your Skill-set with an arithmetical tool as follows and you will be selected in the categories of SAS, Stata, Matlab, R, SPSS, etc.
Certification: A 'must' for freshers and experienced professionals!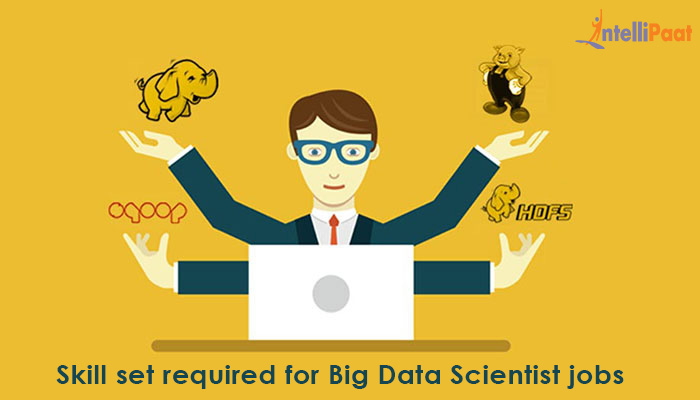 Certification is a boosting element in your resume. If you hold a certification on the skills required for getting into this big data platform, then your resume will come easily under the shortlisted category. Even individuals who are already working in the big data domain should undertake certification courses. This is because technology keeps upgrading every day with newer features and to stay in the highest positioned jobs, you also need to upgrade your skills frequently. Hence, along with the new aspirants, even the experienced folks must carry on with the certification activities. Along with continuation of jobs, it is not an easy task for professions to carry on classes together with jobs.
The solution to this problem is attending online classes. Today there are hundreds of e-learning companies that provide courses on all technologies online. So sitting at home, according to your flexibility, you can learn the updated skills and get certified opening more scopes for your career. Keep grooming your skills and your career will be always in the right track.
Want to learn more? Read this Data Science Tutorial!
Technologies to grab high-paying Big Data jobs!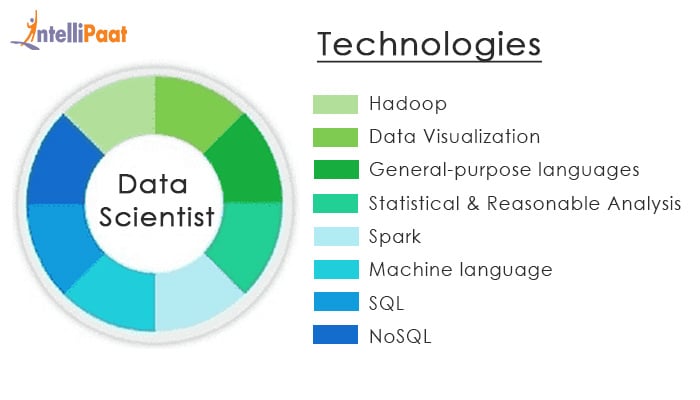 A background of mathematics, statistic and logical reasoning is the basic foundation needed for anyone to grab a job in Big data.
There are fundamental skills that a data scientist will require in order to grab the highest paying jobs. They are:
Hadoop- Hadoop is a popular framework flourishing on demand in this big data world. Folks who are well known with the core elements of Hadoop like HDFS, MapReduce, Hive,  Oozie, HBase Pig,  YARN and Flume are in high demand.
Data Visualization- Start learning tools such as Tableau and Qlikview for data visualization which tells the outline of the information and yet disclose all the unseen information that revolutionizes how you continue working with data. And if you desire to become a data science professional, being proficient in a number of visualization technologies is basically a prerequisite.
General-purpose languages- Having a proper understanding of the general-purpose languages like, C, Scala, Java or Python will offer you the frame over former folks whose expertises are restrained to analytics.
Statistical and Reasonable Analysis- A background in mathematics is always a must to become a data scientist. Having knowledge in reasoning will ultimately increase your possibility of snatching the job in data science.
Spark– Spark technologies have got huge opportunities with high salary jobs for candidates who are expertise in programming languages.
Machine language- Big data workers that have knowledge in machine learning technology can easily construct and instruct projecting analytic applications such as arrangement and approval of systems are in fabulous and towering command and can demand high salary they deserve.
SQL- SQL is famous for its simplicity of understanding. SQL is considered as the new life for the next-generation of Hadoop-scale data warehouses.
NoSQL- NoSQL databases are frequently the foundation of data emerged in Hadoop. In this era of big data, both the Hadoop and NoSQL reside in competing surfaces of the same phase.
Creativity and Analyzing Capacity- With time technologies will get updated and changed, but your thinking capacity and creativity will always sustain with you. How much ever technology updates itself with the help of your creativity and analysis you will always make a way out to get the best job you deserve.
Know the difference between Big Data, Data Science and Data Analytics by reading this informative blog!

Having a mathematical background and becoming proficient with the particular tools trending in the market through the training and certification is the ultimate solution for grabbing the best high paid jobs in the industry. But having an advanced degree in data science is just a direct fit to compensate the demand of any of the companies. A person with a master's degree in data Analytics will be the best and direct fit to be in the  data science job. Because along with a background relating to data he has even got his advanced and higher education relating to data only.
If one follows the path highlighted in this article, then he or she will definitely succeed in reaching the destination where one will be able to grab the highest paying data scientist jobs in this totally crowded big data world.
Get an industry recognized Online Data Science Certification Training from Intellipaat!