Cloud computing has gained much traction over past few decades making business operations easier for the companies than ever before. Some of the drastic changes introduced by cloud are the as-a-Service models that have changed the way technology used to operate a few years back.
Some of the reasons behind this radical change are –
Growing importance of services than products
Companies forced to have agility and innovation rather than stability and efficiency
Experience matters more than the solution today
Digitization infusing into every activity
Watch this Devops Tools Tutorial for Beginners

Taking above points in consideration the cloud has offered a range of services to the companies that help companies keep pace with the shifting paradigm. However with the passage of time the companies have started raising questions on cloud. But why? Some market pundits have come out with conclusions that companies are not able to realize the benefits of cloud and are facing difficulties in efficiently running the operations on cloud rather than on-premise. This has fuelled the need to have a technology than can speed up the cloud platform, like DevOps.
What can DevOps bring on the table?
DevOps is an emerging technology dedicated to blurring the barriers between development and quality analysis of software. With the compressed time available for efficient software development writing codes accurately in one shot is a tedious task.  DevOps integrates software development with the operations helping developers to respond to user demands in real-time. How does DevOps do this?
No more silos – Commonly in any IT firm people are divided into teams working on different silos which are often repeated across the departments creating piles of silos that are wasteful. These silos create a barrier between teams affecting the communication and coordination which ultimately diminishes the productivity. DevOps erodes this wall and takes a holistic approach where developers, testers, quality analysts and others have a transparency working system.
Reliable service delivery – Appropriate service delivery in a short span of time is what your customers want now a day. DevOps divides the entire operation into small jobs and delivers it on a constant basis that makes it an efficient and agile technology suitable for today's ever-changing environment.
Quality service – Delivering service on time not sufficient, but it should be of good quality too. DevOps is able to respond to the queries with fast feedback loops and release with higher velocity improving the performance of the organization.
End-to-end visibility – DevOps blurs the borders between the developers and operational staff making everyone has an end-to-end visibility and knowledge about the processes. The employees need not to rely on the experts for resolving the issues as and when they arise.
Fast deployment – Developers left with the little time in their hands cannot devote their time to innovation and creativity. DevOps allows developers spend less time on writing codes as with fast release and feedbacks improving the production and operation productivity.
Crack high-paying Cloud job interviews with these top DevOps Interview Questions!
Integration of DevOps and Cloud: Benefit or loss?
The integration of DevOps and Cloud is one of the most desirable technological combinations present in today's world. It reduces the latency that used to exist previously in the cloud.
Centralized platform – Cloud provides a centralized platform to DevOps for development, testing and implementation which are highly recommended today in contrast to the distributed computing which was unfit for modern technology landscape.
Strong amalgamation of integration and development – Rather than governing the departments on-premise it is way better to handle the integration and development centrally, thanks to cloud. This lowers the cost associated with automating DevOps. This is the reason why most of the public and private cloud platforms are implementing DevOps.
| | |
| --- | --- |
| Tools and Practices | Description |
| Version control | For tracking the software versions |
| Build and deploy | For automating the development and deployment of software |
| Functional and non -functional testing | Automating the testing |
| Provisioning and change management | Providing the platform and tracking the changes |
Shift of focus – While growing number of companies are shifting their focus from traditional waterfall model to DevOps concept, managing the resources for it becomes quite a cumbersome job for most of the IT professionals which finally lead them to Cloud.
Low failure rate – Some of the biggest firms like Facebook, Twitter, Google, Amazon, etc., need to do deployments many times a day which is possible only when the company has DevOps. DevOps allows the companies to make changes without affecting the current workflow along with lower failure rate.
Cloud and DevOps need each other
While cloud computing is witnessing a staggering growth every year with a new upgrade, DevOps somewhat lacks the ability to be implemented on the company platform. Therefore in order to automate DevOps cloud platform is highly required.
DevOps adoption is strongest in the enterprise (81 percent of enterprises adopting DevOps compared to 70 percent in SMBs).- Right Scale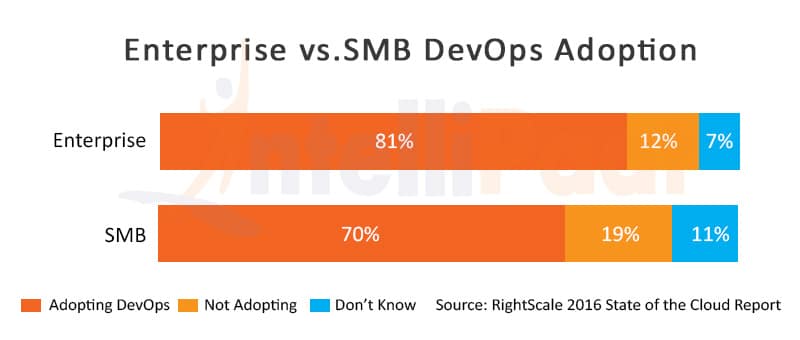 On the other with the increased emphasize on innovation and agility, cloud platforms are forced to use DevOps making these two interdependent.
Right Scale goes on to say that in comparison to 66% in 2015, over 74% IT professionals are using DevOps.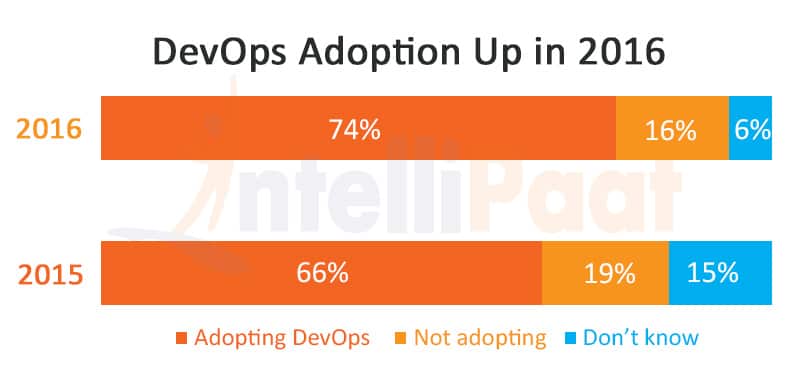 It is clearly visible that most of the cloud platforms are now revolving around DevOps and experiencing the increasing customer satisfaction with the real-time deployment and faster feedback. While it is evident that presence on cloud is imperative, deploying DevOps practices have also become a crucial aspect for fast-tracking businesses.
Watch this DevOps Salary Report Tutorial

Get in-touch with Intellipaat for Industry-recognized DevOps Certification Training!