While Big Data is the biggest reason to having developed best-in-class and extremely efficient technology platforms like Hadoop and Tableau, the now scenario insists on the avant-garde integration of data analytics platforms.
Watch this video on Tableau for Beginners:
For some years now, companies have been increasingly relying on Hadoop and its ecosystem to enhance their business intelligence and scale up the data warehousing processes.
| | |
| --- | --- |
| Criteria | Tableau on Hadoop |
| Application of Tableau on Hadoop | Analytics & data visualizations |
| Integration of Tableau with Hadoop | Apache Hive using ODBC Connection |
| Benefits of Tableau on Hadoop | Adaptive and Intuitive |
Read this extensive Tableau Tutorial and enrich your knowledge!
Tableau, on the similar pace, has been a winner in Data Visualization connecting business users with the intricacies of data and helping them to present it such that the data is easy-to-understand and gives meaningful information to the clients and users.
Lately, expert analysts have found the need to deliver BI on Hadoop for Tableau. There had been efforts and contributions to harnessing the potential of BI tools on Hadoop Big Data. There weren't any prolific results until now.
Watch this video on Tableau Training:

But as they say, we can never stop ourselves from finding solutions, AtScale, a startup provider of business intelligence on big data and Hadoop partners announces its first 'BI on Hadoop'  accelerator for Hadoop.
When you work with Hadoop and Tableau, you can connect to your Hadoop cluster in real-time and then extract the data from Tableau's fast in-memory data engine.
This prevents you to suffer from high latency of Hadoop.
It gives you fast, direct connect to your databases.
The swift data functions are a result of a powerful query process such that users extract data without waiting for the MapReduce queries to compile and execute.
The in-memory data storage in Hadoop speeds up the slow databases available and further accelerates the overall visualization and reporting process in Tableau.
The direct database connection in Tableau serves as a significant benefit to everyday users as they can leverage the potential of Hadoop in a familiar and easy-to-use Tableau interface.
One of the biggest challenges for business groups today is that their database queries thwart the data analytics workflow. Tableau on Hadoop brings a noteworthy solution since you can now extract value from the data anywhere, both on-premises and in the cloud.
The company partners with Tableau to provide excellent data solutions to business users at 100X the performance, having enterprise-grade security, without the overhead of moving, transforming and sampling data for analysis. This indeed relieves business groups and data experts by introducing a way to query billions of rows at top speed and an all-in-one solution for all that will meet your business on Hadoop needs.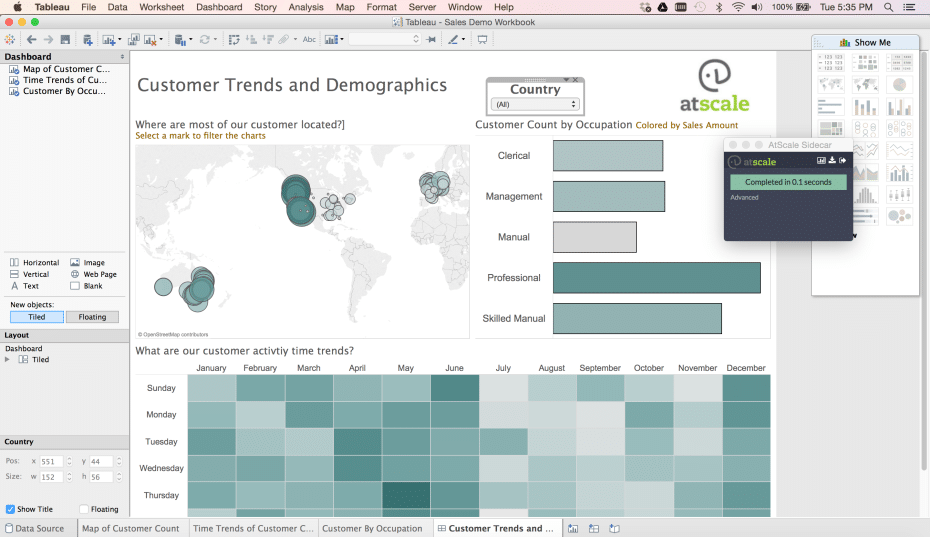 Crack BI interviews today with these Top Tableau Interview Questions!
Connecting Tableau directly to Hadoop is one of the biggest achievements to drive your business today and handle the big data explosion at the same time. The primary advantage of this integration is now you can take all your data at one location and still access it in a more secure, efficiently performing and controlled manner with the logics and syntactic the businesses people can understand and implement.
Benefits of using Tableau on Hadoop
With the announcement of AtScale joining hands with Tableau to work it on the Hadoop platform, all those Data Analysts, Business Intelligence Professionals, Big Data and Hadoop aspirants can now learn to work with Tableau and Hadoop together. Soon, you can expect a bulk of open job positions for the individuals having dexterity in both the data technologies keeping up with one another.
But what are the real-time benefits of using the data visualization tool on the Hadoop distributed file system (HDFS)? In context to this brilliant invention, a Tableau partner said, "When looking to propose solutions to our clients, we look for innovative, proven solutions that deliver tangible value. The AtScale approach is well aligned with Tableau's strategy, both from a business and a technology standpoint. We are excited to take this offer to market!'
The Tableau 'BI on Hadoop' invention will provide security, efficiency and speed to the big data processes to be handled with Hadoop, supporting all Hadoop distributions. Customers and clients can query Hadoop in seconds without going through the local setup and installation.
Ultimately, all paths of learning and using Tableau and Hadoop together will lead us to achieve a seamless, fast and competent data analytics in the enterprises, letting us gain tractions in the business.
Get in-touch with Intellipaat for an industry-recognized Online Tableau Desktop Certification Training!
Related Articles
---