Tableau software is one of the fastest growing data visualization tools which is currently being used in the BI industry. It is the best way to change or transform the raw set of data into an easily understandable format with zero technical skills and coding knowledge.
Watch this video on What is Tableau 10?:

Tableau with a motive to change the way you think and understand data!
This is the reason why you can find an increasing demand for Tableau Training in the IT market.
Before digging deep into Tableau, let's understand, 'Why data visualization is important?'
The answer is quite simple. Data visualization is important because human beings understand things that are visually well descriptive and interesting. So, working with data visualization tools like Tableau will help anyone understand data better, as it gives one access to the amount of data in easily digestible visuals. Also, well-designed graphics are usually the simplest and the most powerful way to present any data.
What is Tableau used for?
Usage of Tableau software are listed below:
Tableau software is used to translate queries into visualization.
It is also used for managing metadata.
Tableau software imports data of all sizes and ranges.
For a non-technical user, Tableau is a life saver as it offers the facility to create 'no-code' data queries.
Ever since it was introduced, this data visualization tool is used for Business Intelligence industry. Organizations like Amazon, Walmart, Accenture, Lenovo, and so on widely use Tableau. Join Tableau training in London and excel your career!
Why Tableau?
Why use Tableau software when there are a whole lot of tools available to perform data visualization?
Tableau is greatly used because data can be analyzed very quickly with it. Also, visualizations are generated as dashboards and worksheets. Tableau allows one to create dashboards that provide actionable insights and drives the business forward. Tableau products always operate in virtualized environments when they are configured with the proper underlying operating system and hardware. Tableau is used to explore data with limitless visual analytics.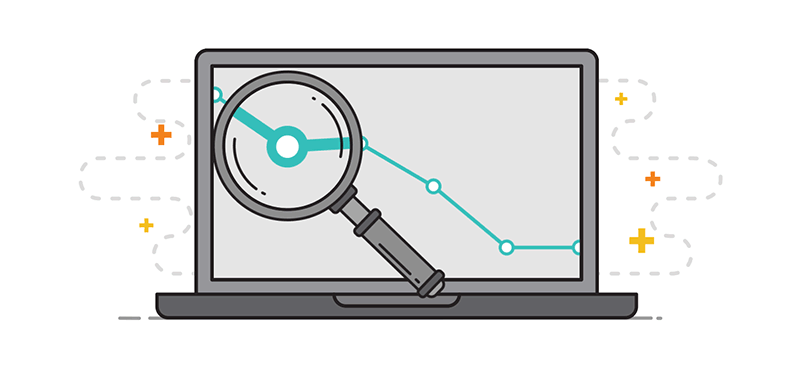 A few features of Tableau are given below:
Real-time analysis
Data blending
Collaboration of data
Allowing to work on without technical knowledge
Go through the Tableau Course in New York to get clear understanding of benefits of using Tableau.
How does Tableau work?
The major work of Tableau software is to connect and extract the data stored in various places. It can pull data from any platform. Tableau can extract data from any database, be it Excel, PDF, Oracle, or even Amazon Web Services.
Once Tableau is launched, ready data connectors are available which allow you to connect to any database.
The data extracted can be connected live to the Tableau data engine, Tableau Desktop. This is where a Data Analyst or a Data Engineer work with the data that was pulled up and develop visualization. The created dashboards are shared with users in the form of static files. The users receiving dashboards view the files using Tableau Reader.
The data extracted from Tableau Desktop can be published to Tableau Server, which is an enterprise platform where collaboration, distribution, governance, security model, and automation features are supported. Using Tableau Server, end users can access the files from all locations, be it a desktop or a mobile phone. Want to become master in Tableau check out this Tableau Training in Sydney.
As it can be seen in the image below, Tableau Business Intelligence and Data Visualization tool has been placed in the Leader's quadrant for seven consecutive years in the Business Intelligence and Analytics platforms by the IT research firm, Gartner.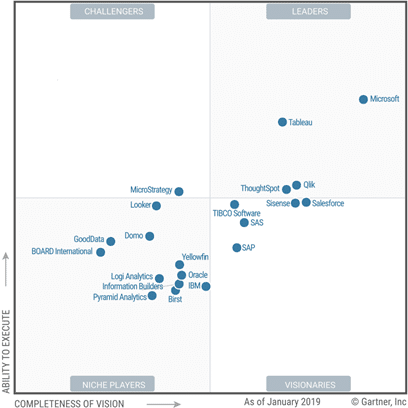 Gartner Magic Quadrant for Business Intelligence and Analytics Platforms
Following are the two ways in which Data Analytics of Tableau can be described:
Developer Tools: Tools used in development, like designing of charts, dashboards, reports, and visualizations, come under this category. The major Tableau products in this category are Tableau Public and Tableau Desktop.
Sharing Tools: By the name, you would have understood what these tools do. Well, they are used for sharing reports, visualizations, and dashboards which are created using the developer tools. Main products that fall in this category are Tableau Online, Tableau Reader, and Tableau Server.
Interested in learning Tableau? Click here to learn more in this Tableau Training in Toronto!
Now, let's move on to understanding Tableau Product Suite, where you'll learn about 'What is Tableau Server?', 'What is Tableau Desktop?', 'What is Tableau Reader?', 'Tableau Public', and others, one by one, from very basics.
Watch this video on Tableau Training for Beginners:

Tableau Product Suite

Tableau Product Suite includes Tableau Server, Tableau Desktop, Tableau Reader, and so on. Let's understand what exactly is meant by these terms in the following sections:
What is Tableau Server?
What is Tableau Desktop?
What is Tableau Reader?
Tableau Online
Tableau Public

What is Tableau Desktop?
This product allows one to code and modify the reports. Starting from creating reports and charts to combining them to form a dashboard, all this work is done in Tableau Desktop.
Tableau Desktop is classified into the following according to connectivity and data sources:
The development features of Tableau Desktop Personal version are close enough to that of the Tableau Desktop. In this particular version, the workbook is in the private mode and the access is limited. That means, these workbooks can't be posted and are for personal use only. Therefore, they have to be divided either on Tableau Public or Offline.
Tableau Desktop Professional
This version is very much alike to Tableau Desktop, only that the work generated or created in Tableau Desktop is published on the Tableau Server. In this version, there would be full access to all sorts of data types. It is great for people who wish to publish their work on the Tableau Server.
Want to grab a detailed knowledge on Tableau? Check this Tableau Training in Singapore!
What is Tableau Reader?
It is a tool that allows one to view visualizations and workbooks generated using Tableau Public or Tableau Desktop. This data can easily be filtered, yet modifications are limited. Since anyone getting the workbook can view it using Tableau Reader, there is no security.
What is Tableau Server?
This is mainly used to share visualizations and workbooks which get generated in the Tableau Desktop application throughout the organization. The work will become accessible once it is uploaded on the respective servers.
To increase sharing of dashboards in Tableau Server, you should publish your work beforehand in Tableau Desktop. Though, it's not completely mandatory for the licensed users to have an installed Tableau Server. They just need the login credentials using which they can verify these reports.
As the security of Tableau Server is high, it is convenient for fast and effective data sharing in the organization. If you have any doubts or Queries related to Tableau, get it clarifies from BI Experts on BI Community.
Tableau Online
As the term 'online' suggests, Tableau Online is a sharing tool. It has a similar usage as Tableau Server, but the data is saved on servers which are provided in the cloud maintained by the Tableau group.
The data that can be published on Tableau Online has no storage limit. Tableau Online and Server, both need workbooks which are created by Tableau Desktop to broadcast the data. Data streamed from web applications, be it Salesforce or Google Analytics, are supported by both, Tableau Online and Tableau Server.
Tableau Public
Tableau Public is especially built for money-saving users. As the word 'public' suggests, the created workbooks can't be locally saved, rather it is sent to Tableau's public cloud which can be accessed by the general public. This is an economical version which is very good for people wanting to learn and share their data with people.
Excel Vs. Tableau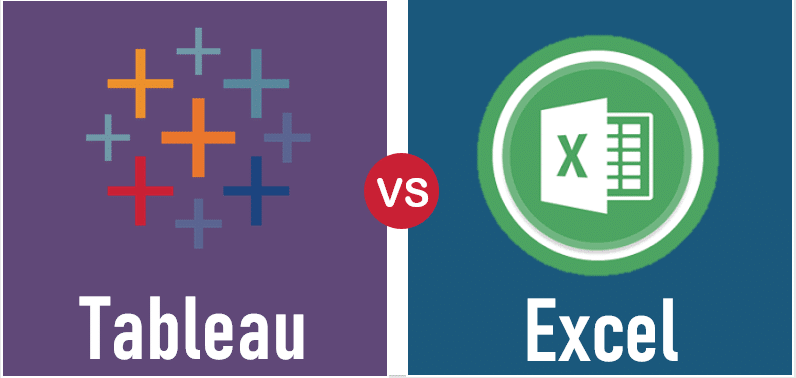 Excel and Tableau, both are data analysis tools, but both of them have a unique approach toward data exploration. Where Excel works with columns and rows in spreadsheets, Tableau explores the Excel data using its drag-and-drop feature. It formats the data in graphs and pictures that are easy to understand.
| | |
| --- | --- |
| Tableau | MS Excel |
| Tableau is basically a data visualization tool which provides pictorial and graphical representations of data. | Excel is basically a spreadsheet for working with data in rows and columns. You need to first represent your data into a tabular format and then you can apply visualizations on top of it. |
| In Tableau, you can gain insights that you never thought possible. You can play with interactive visualizations, deploy data drilling tools, and explore various data that is available, and you don't need to have any specific knowledge of the insight you are looking for. | When it comes to Excel, you need to have a prior knowledge of the insight that you want and then work with various formulae in order to get there, along with that tabulation is also needed. |
| With Tableau, it is all about an easy and interactive approach. | In Excel, you need to have some programming in order to come up with real-time data visualization. |
Interested in learning Tableau? Check out this Tableau tutorial!
Advantages of Using Tableau
You can now work with a lot of data that doesn't have any order to it and create a range of visualizations. Well, thanks to the in-built features of Tableau which help you create visualizations that surely stand out of the crowd. You also have the option of switching between different visualizations to bring about a greater context, ways of drilling down data, and exploring the data at a minute level.
Tableau can help enterprises futuristically to analyze data without any specific goals in mind. You can explore visualizations and have a look at the same data from different angles. You can frame 'what if' queries and work with data by hypothetically visualizing it in a different manner and dynamically adding components for comparison and analysis. When you are working with real-time data, then these capabilities are highlighted in a huge manner.
This is the greatest strength of Tableau. It is built from the ground level for people who don't have any technical skills or coding experience. So, everything can be done with this tool by anybody without any prior set of skills. Since most of the features are in a drag-and-drop format, each visualization is so intuitive and self-depicting.

Working with Disparate Data Sources
Tableau has a powerful reason to be included by various organizations in today's data-driven world where data can come from any point and any disparate sources. Tableau has an edge over other Business Intelligence and Analytics tools as it lets you work by connecting to various data sources, data warehouses, and files which exist in the cloud, big data that exists in spreadsheets, and non-relational data, among other types of data. Tableau effortlessly blends all different types of data to help organizations come up with compelling visualizations.
Be it a database or an Excel workbook, with Tableau one can easily add new datasets which get automatically blended with Tableau using common fields.

Switching Between Visualizations
You also have the option of switching between different visualizations to bring about a greater context, with ways of drilling down data and exploring it at a minute level.
Tableau is one of the top Business Intelligence and Data Visualization tools available today. It is being used by most of the Fortune Global 500 list of companies in order to derive valuable insights from their data.
Prepare yourself for the Top Tableau Interview Questions And Answers.
The best part of Tableau is that there is no requirement of any technical knowledge or programming skills for working with it. Most of its features are self-explanatory and it has provides a drag-and-drop feature.
For businesses on the constant lookout for more valuable insights to grow, a tool like Tableau becomes more indispensable, regardless of the industry vertical and customer segmentation.
Check out Intellipaat's Tabeau course to get a head start in your Business Intelligence career!
Related Articles
---