Power BI Key Components
Let us have a glimpse of these components:
Power Query
Power Pivot
Power View
Power Map
Power Q&A
Power BI Desktop
Power BI Website
Power BI Mobile Apps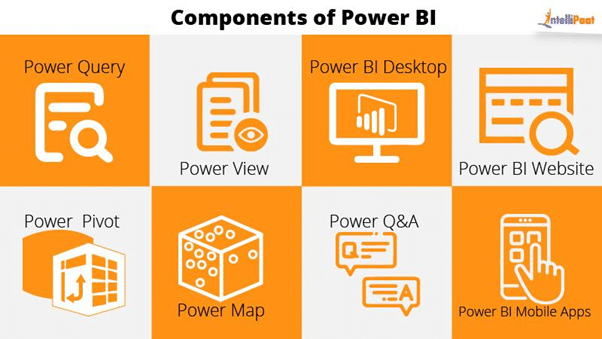 Let us discuss these components in detail:
Power Query is one of the important components of Power BI. This can be included in your Excel or can be used as a component of Power BI Desktop. Using Power Query, you can delete data from numerous data sources and extract data from a wide range of different databases like Oracle, SQL Server, MySQL, and other different databases. You can also fetch data from records like text files, CSV files, or Excel files.
Become Master of Spark and Hadoop Developer by going through this online Power BI training.
Power BI gives you a strong GUI so that you can transform and use the data as you need, such as date and time changes, adding columns, changing the types and content, and many different options. It uses a simple language, Power Query M Formula Language, as a behind code which is more vigorous than a GUI. Power Query M Formula Language in Power BI is case sensitive and is optimised for building highly flexible data mashup queries which is available to Power BI Desktop and Power Query. It has many functionalities which cannot be accessed by a GUI.


Power Pivot is a data modeling and calculation engine. It is used for modeling simple and complex data. In Power Pivot, you can set or create relationships between different tables and calculate values that can be viewed in Pivot tables. It provides you a huge space to create your design.
The language used by Power BI Pivot is Data Analysis Expression (DAX), which is a strongly functional language, and all your calculations are done here.
If you have any doubts or queries related to BI, do a post on BI community.
Power View is the fundamental data visualization component of Power BI. It is an interactive component that connects to data sources and retrieves metadata that can be utilized for data analysis. There are many blueprints for visualization in the Power View lists. With Power View, you can filter data for each visualization component or even for the entire report. Slicers can be used for better slicing and dicing of data.
Reports in Power View are interactive; the user can highlight some part of the data or different components in Power View to interact with each other.
Power Map is used to visualize geospatial data in 3D mode. As soon as the visualization renders in 3D mode, it provides another dimension to it. In Power Map, you can assume one attribute as the length of a column in 3D and another attribute as a heatmap view. Based on a geographical location, the data can be highlighted. Geographical locations can be a country, state, city, or street address.
To get the best visualization, Power Map works with the Bing Maps based on the geographical latitude or longitude or a country, state, city, or street address data.
Go through this  Power BI Interview Questions And Answers.
Power BI Q&A is an ordinary language motor for your data model's questions and answers. After assembling your data model and updating it on Power BI Website, you or your users can ask questions, if any, and get solutions to those questions. There are some shortcuts and hints for the construction of your model so that it can answer questions in the best possible way. For data visualizations, Power Q&A works with Power View so that users can ask questions, like the number of customers by state, and the question is answered in the form of a map view with numbers represented as bubbles by Power Q&A.
Power BI Desktop is a new component in the Power BI suit. It is an integrated development tool for Power Query, Power Pivot, and Power View. It lets you build advanced queries, models, and reports. With Power BI Desktop, it is easy to advance your skills in BI and your experience in data analytics.


The solutions of Power BI can be published to Power BI Website. You can create dashboards for your reports and share with others, and you can also create reports directly on the Power BI Website. With Power BI Website, you can perform slice and dice operations on data online using a web browser, and it doesn't even require any other tool.
Interested in learning Power BI? Click here to learn more about this Power BI training in Toronto!
Power BI Mobile Apps have three mobile operating system (OS) providers: Android, iOS, and Windows. These applications provide you an interactive view of reports and dashboards on the Power BI site. You can even share them from your mobile app. A portion of the reports can be featured and a note can be composed on it and shared with others.
In this session, we learned about eight components of Power BI which are: Power Query, Power Pivot, Power View, Power Map, Power Q&A, Power BI Desktop, Power BI Website, and Power Mobile Apps.