Qlikview is a business intelligence and analytic software, which improves the sense of your business data and improves your skill of making innovative business decisions. The latest version of Qlikview software available is Qlikview 11, many people may not know how to use this software but with the help of online Qlikview Training courses for Qlikview; individuals and companies can use this software to run their business in a better way, with the help of this business intelligence software.
Now Qlikview 11 has many changes and updates in it, which have taken business discover to a whole next level so online Qlikview tutorial will help you to understand every thing. Through Qlikview 11 you can easily share with information with your colleagues and co-workers. Qlikview 11 has made itself portable, as now people can use it through their mobiles and smartphones. One of the new changes that have been made are that Qlikview 11 now has the option of Shared Sessions. This gives the advantage of many people making a decision and a decision can be carried out by voting. This shared session can take place between a group of users, even if someone doesn't have the Qlikview software's license, the host can give that specific user a one-time-use URL through which the user can join the conversation. In this conversation users can send screenshots of their selection as well. While all this conversation takes place, Qlikview makes a record of it, so that all decisions made and by who that specific decision was made are saved.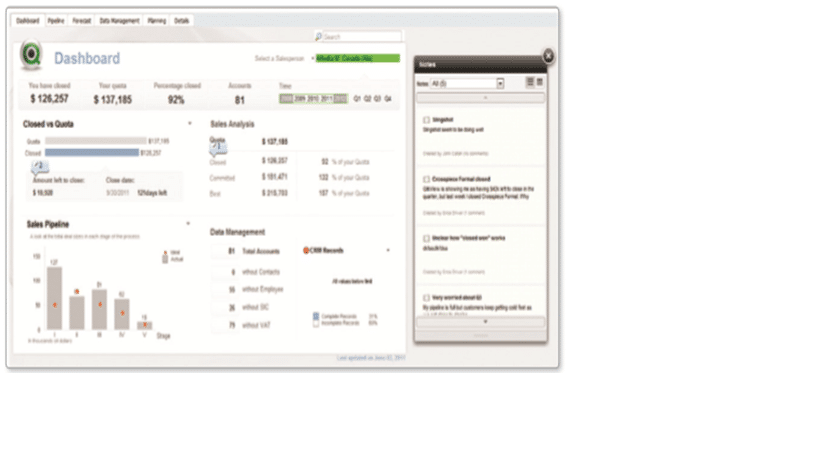 Also what Qlikview 11 has to offer is a better and improved comparative analysis. To get a better insight on how to use it underake some Qlikview Online Training program. Businessmen can compare and analyze different information with the help of it. Qlikview can easily analyze and compare the information; generate graphs, tables, charts and flow sheets based on the different selection sheets.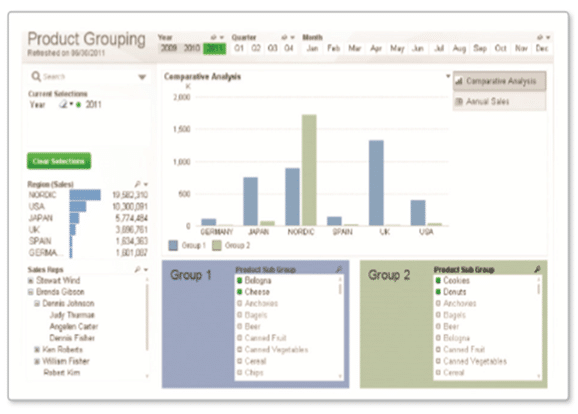 This gives a deeper insight and view to the user, which will make it easier for the user to make business related decisions by looking into different patterns and trends. In the following figure we can see how Qlikview can help you in making decisions.
Qlikview 11 is now available on many smartphones and mobiles, as a compatible version for phones such as iOS compatible version for iphones have been launched. This makes Qlikview very mobile as the user can use Qlikview through their smartphones anywhere and anytime. It connects you online to a server and you can analyze data through it. For Apple users it gives the option of viewing data offline, giving them more flexibility and a better use of this analytic tool.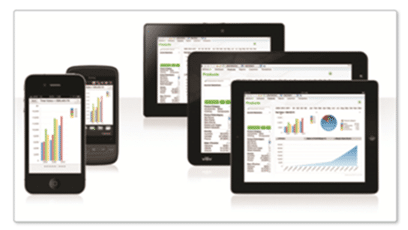 Qlikview online training can help you learn how to use Quikview 11 to build your own analytics applications. App development through Qlikview 11 is collaborative and iterative. For Qlikview there is no 'End User" therefore they have come up with this new feature. To understand how Qlikview has made it easy for businessmen and other software developers to create their own analytical apps see the following figure underneath this text. It also shows how the conventional way of App development, so that it is easy for you to make comparison.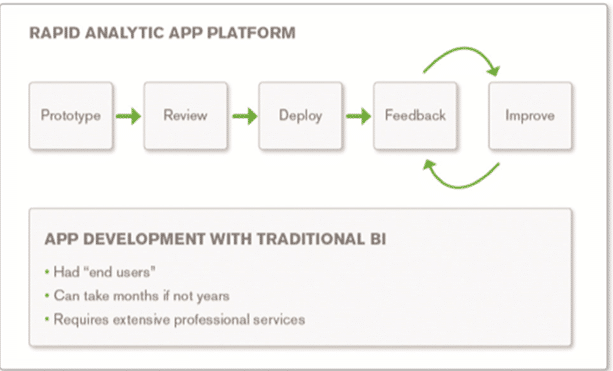 For deep information and knowledge regarding Storm Qlikview, Pentaho Online training, Tableau training, you can go through Intellipaat

Related Articles
---