QlikView has emerged as one of the strongest Business Intelligence tools with its interactive dashboards and BI visualization features. Let's see the amazing features of QlikView!
QlikView is a Business Intelligence software, which helps you make better decisions related to your business. The latest version of this BI tool has come with many new features in it.  Some of the features are:
It uses the data which is fed to it to generate graph, tables, flow sheets and charts.
The Hadoop admin clusters up all the data and sends it to QlikView where it is analyzed, and then displayed on the monitor in the form of charts, sheets, etc.
Data is gathered from open stack sources as you can input the data in it through online methods or from offline file methods.
One of the main features introduced in QlikView is that now other developers can develop analytical tools using it to fulfill their needs and requirements.
The conventional method of designing and developing analytical apps can take up to moths to complete an app. But with its apps can be made with much ease now.
People who want to avail this opportunity but do not know how to use QlikView 11 can opt for online training courses present online. Many online sites are now offering online courses teaching important skills to master this technology. The following figure shows a comparison between the old method of app development and how an app can be developed easily through QlikView rapid analytic app platform.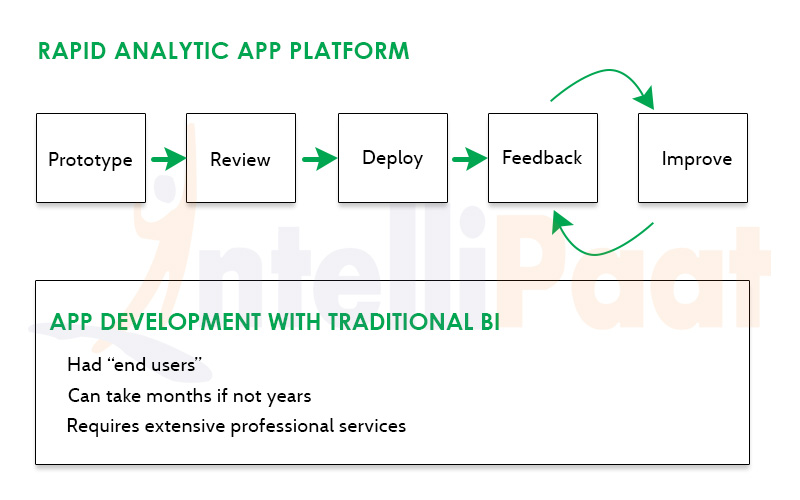 QlikView is equipped with new and improved capability designs that help clustering large amounts of data through Hadoop admin and managing it. It can analyze large amounts of data which helps IT admins to manage and securely deploy large deployments. Along with this to improve system performance many several new capabilities are added to the latest versions of this tool.
Read this QlikView Tutorial for in-depth information about this BI tool!
For reducing the load in deployments, many additional algorithms have been added in it so that administrators can manage a cluster of QlikView servers more efficiently. These deployments utilize the web server. The latest version of this tool has improved its performance in publisher.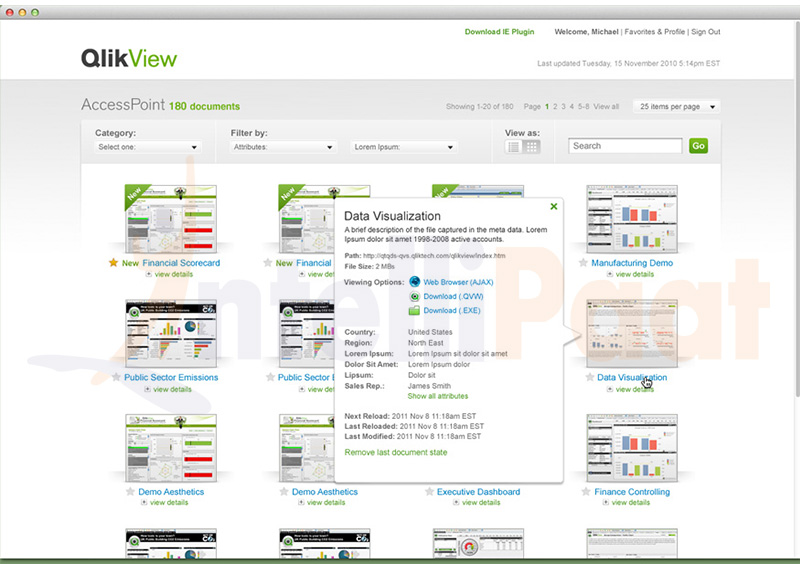 Go through these QlikView Interview Questions to grab top BI jobs!
The new versions of QlikView have better user-friendly interface due to which the administrator finds it easier to use this BI tool and it is easier for businessmen to make their business more profitable. Therefore the ease of administration is something which QlikView offers to its user through its user friendly interface. You can create a custom property pane for extension objects using the user interface. The new access point gives a sleek, clean look and a better impression to its user. A view of the new access point of QlikView 11 is given below.
The new QlikView Governance dashboard aids the IT professionals in managing and looking over the data and they can fully use the business intelligence software to its full capabilities. They can get to know how to manage large amounts of data through the easy way by using QlikView. The governance dashboard is a free feature that can be downloaded to your tool. It has increased the security level so that the users can secure their QlikView environment.
Get yourself enrolled in our QlikView Online Training Course and master BI skills today!