Microstrategy Tutorial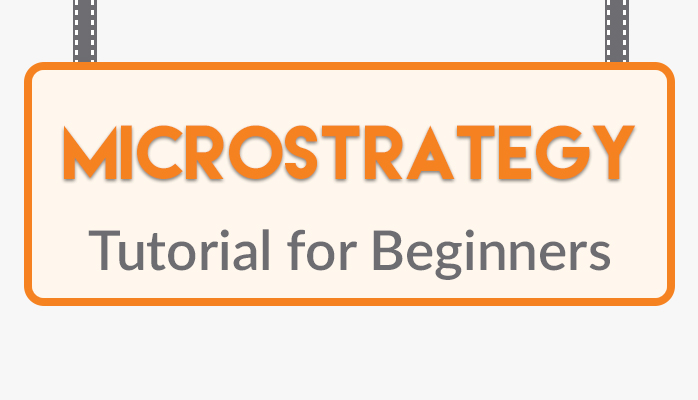 The first quarter of this year announced favorable results for yet another competent BI tool -Gartner positioned MicroStrategy amongst the 'Leaders' in 2015 Magic Quadrant for Business Intelligence and Analytics Platforms report. It has become a quintessential choice of Analysts and business enterprises to develop customized, scalable and effectively deployable applications using MicroStrategy.
Master data analytics with the MicroStrategy online training for better career prospects.
A comprehensive, unified platform designed to ensure security for most valuable information within the organization- MicroStrategy continues to strengthen the market through innovative analytics capabilities and deliver best-in-class results.
Get to know more about Importance of Business Intelligence in Today's World that can help you grow in your career.
Have you ever wondered what led to the introduction of this new BI tool? Indeed, it's the threat security and mobility of the organizations. MicroStrategy Analytics provides additional security and enhanced user authentication tracking, providing the best-of-breed results for consumers.
Further, this Secure Cloud platform is well suited and functions perfectly on mobile OS. It is endorsed as the reliable data analytics platform worldwide because of its flexibility,  scalability, and easy-to-understand functions. To learn more about MicroStrategy and gain technical insights, we have designed a comprehensive tutorial including the basics and advanced features of MicroStrategy.
Learn about one of the top business intelligence tool's in this MicroStrategy training from Intellipaat.
Keeping your requirements in mind, we have provided significant topics and their descriptions via real-time examples. It starts with an excellent introduction to MicroStrategy Reporting, which further explains elementary steps of starting the tool and goes beyond with creating reports, graphs and displaying multiple reports in a presentation. Each and every feature of MicroStrategy is well explained in this tutorial, with its use cases in real-time projects.
Read these Top trending Microstrategy interview questions now that helps you grab high-paying jobs!
Further, you will know how to format a report and analyze data with perfection from the tool. You will gain practical insights on how to reorganize data and you will gain practical insights on how to reorganize data and sort it according to user and client requirements. Several sorting techniques are defined and elaborated with illustrations that are simple-to-comprehend and implement. The topics are explained so well that you can instantly answer any question asked about MicroStrategy with confidence and ina detailed manner.
The tutorial allows you to answer various questions about your data and implement filtering into your reports. Customizing the report details pane is yet another significant learning from this tutorial. If you are looking to apply the advanced features of MicroStrategy, by investing few minutes on learning, this is going to be extremely helpful. You could gain expertise in building a Quick Query for analysis, via a step-by-step guide. After finishing this Intellipaat tutorial on MicroStrategy BI tool, you can take your big data Analytics career to the next bigger level.
For expert-level training, you can explore our standalone training on MicroStrategy, which employs 70% of learning through assignments and projects and prepares you for MicroStrategy Training Certification.
Recommended Audience
Software Architects, ETL Developers and Data Specialists
Business Reporting Professionals
Entry-level developers and advanced data professionals eager to build career in Visualization and Analytics
Prerequisites:
Basic IT and Operating System knowledge
A brief idea of reporting capabilities of MicroStrategy Desktop
Prior knowledge of any other data analytics and reporting tool can be beneficial
Microstrategy Tutorial Video