Tableau is one of the widely used technical skills in the market today. Therefore, learning this tool with hands-on experience and certification will set you apart from the crowd and help you boost your career. This will add value to your resume, so you can grab a high-paying job. In this blog, you will get information about the Tableau Certification Associate exams, why they are needed, and so on.
With the compressed timelines and increased speed of data emerging from various digital media, the need for better Business Intelligence solutions becomes more evident. There are numerous BI tools available in the market; however, Tableau has set a benchmark by staying ahead of its competitors. Named as the 'Leader' for the fifth consecutive year by Gartner's Magic Quadrant, this technology has become a must-have among top-notch firms across the globe. Therefore, any aspirant wanting to make it big in the BI domain should have sound knowledge on Tableau, along with a Tableau certification to showcase the expertise.
Enroll yourself in Tableau certification training and give a head-start to your career in Tableau!
Watch this video on Tableau – Basics to Advanced Levels:
Why do you need Tableau Certifications?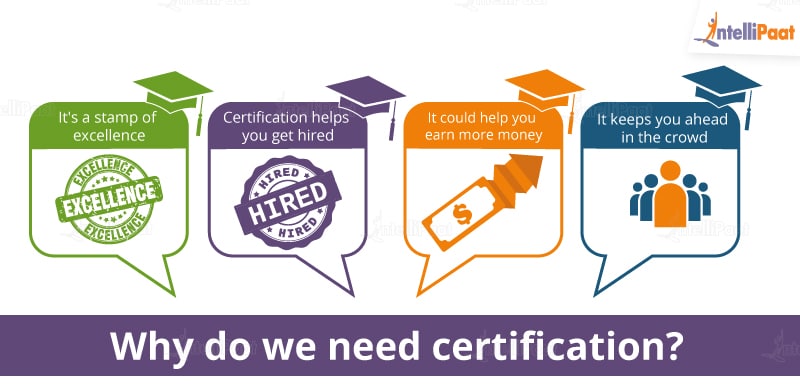 Adding a Tableau certification to your resume sets a standard by differentiating yourself from your competitors. A certification will help you get hired by the best companies as you will receive more interview calls, or it can help boost up your annual salary by 10 percent or more compared to those who aren't certified. It acts as a stamp of excellence, which makes you stand out from the crowd. Getting certified is important in this competitive world as it shows that you are passionately committed to your profession and are willing to make your career grow in the future.
Prepare yourself for the industry by going through this top Tableau interview questions and answers!
Types of Tableau Certifications
Basically, there are two types of Tableau certifications:
| | |
| --- | --- |
| Tableau Certification | Description |
| Tableau Desktop Qualified Associate Exam | Tests the ability of the candidate to connect to data, organize and simplify data, do basic calculations, create powerful visualizations like charts and graphs, etc. |
| Tableau Server Qualified Associate Exam | Tests the candidate's skills to install Tableau Server, manage users, content, and data sources, monitor the server status, troubleshoot errors, etc. |
Before learning the exam details of these Tableau certifications, let us look at the basic differences between the two.
Want to get certified in Tableau. Learn from our experts and do excel in your career with intellipaat's Tableau certification training process.
Tableau Desktop vs Tableau Server
| | |
| --- | --- |
| Tableau Desktop | Tableau Server |
| Tableau Desktop allows users to create dashboards, user-stories, worksheets, and more that connect to various data sources (files or servers). | Tableau Server enables users to publish the dashboards data, user-stories, worksheets, and more, which they create using Tableau Desktop. |
| Users can share their work locally by sending a workbook (with .twbx file extension) to recipients who already have Tableau Desktop installed on their system. | After users upload a workbook to the server, recipients only need the credentials of Tableau Server to can access the file, without installing Tableau Server. |
| With this local sharing, the recipients can make changes to the original workbook and, thus, there can be multiple versions of the same file. | Using Tableau Admin, users can assign permissions for individual recipients. If one has the editing permission, he/she can make changes to existing files/reports leveraging the online version of Tableau Desktop. |
| One great benefit of Tableau Desktop is its report creation feature that allows users to create reports that help their stakeholders make informed decisions. | Tableau Server is the best for decision-makers to analyze results without having to install the tool, thus saving time and effort. |
Having a Tableau certification in your portfolio will be a testimony of your Tableau skills that will make you get noticed by hiring managers directly.
Enroll in our Online Tableau Server Training Course and score high in Tableau certification exams!
Tableau Desktop Qualified Associate Exam
The Tableau Desktop certification exam is suitable for people who have sound knowledge in the fundamentals of Tableau Desktop and experience of more than 5 months in its implementation.
Time limit: 2 hours
Question format: Multiple choice, multiple response, true/false, and hands-on
Total number of questions: 36
Qualifying score: 75 percent
Tableau Desktop certification prerequisites: Before attempting the test, the candidate should make sure that he/she is able to perform the following activities:
Connecting to data: The candidate must be able to connect to Tableau Server, cache external query, perform parallel aggregation, execute parallel query, use data preparation, etc.
Simplifying and organizing data: The candidate is expected to perform certain functions such as filtering, sorting, grouping, etc. on the available data.
Creating charts and graphs: With the help of this BI tool, the candidate must be able to create various interactive charts and graphs such as histograms, heat maps, tree maps, bullet maps, bar charts, Pareto charts, etc.
Calculating: Before one could create graphs and charts, calculations on the available data should reach to conclusions. Hence, a candidate taking the Tableau Desktop Associate Certification test must have a good grasp of table calculations, date-and-time calculations, arithmetic and logical calculations, etc.
Mapping: Tableau consists of numerous functions that come under the purview of mapping. An individual willing to become a Tableau Desktop certified professional must have a good understanding of filtering, map layering, custom geocoding, geographic searching, etc.
Performing analytics: In order to get a good score in this test, the applicant must be well-acquainted with reference lines, trend lines, models, box plot, forecasting, etc.
Creating dashboards: Dashboards are one of the most important features of Tableau software, and hence a candidate cannot score well without possessing knowledge on publishing and sharing reports, building dashboards, drilling down reports, etc.
Watch this video on Tableau for Beginners:
Tableau Server Qualified Associate Exam
This Tableau certification is suitable for aspirants wanting to become a Tableau Administrator or a Tableau Consultant. Professionals having good knowledge about the ins and outs of Tableau Server and a working experience of more than 5 months in the same area can appear for this Tableau certification exam.
Time limit: 90 minutes
Question format: Multiple choice, multiple response, and hands-on
Total number of questions: 80
Qualifying score: 75 percent
Tableau Server certification prerequisites: Before attempting this test, the applicant must make sure that he/she has the following skills.
Understanding the topology and versions: The candidate must be fully aware of the client and server components, versions of Tableau Server, hardware and software requirements for deploying Tableau Server, etc.
Installing and configuring: The applicant must be well-acquainted with the installation and configuration basics such as gateway port, guest account, Kerberos, SSL, etc. 30 percent of the questions will be based on these concepts.
Administering Tableau Server: Around 30 percent of the questions revolve around the administration of Tableau Server. Some of the core skills here are maintaining data connections, creating schedules, performing sever analysis, adding/removing/deactivating users, handling log files, etc.
Troubleshooting errors: This is another important concept that forms around 13 percent of the questions. Some of the basics a professional must know are resetting of passwords, running the functions as a user, handling cookies, using maintenance analysis reports, etc.
Upgrading the system: Another aspect the candidate should be familiar with is upgrading the system, migrating hardware, clean reinstalling, etc.
Interested in learning Tableau Desktop Server? Enrol in our Tableau Desktop Server training now!
Why should you go for Tableau Certifications?
With the increase in the usage of BI tools, the number of aspirants wanting to build their career in this domain has also gone higher. However, companies prefer those candidates who have sound knowledge and experience in handling particular technologies. Tableau has gained immense popularity in the domain of Business Intelligence, and hence getting certified in Tableau will be a feather in the cap. Achieving a Tableau certification is, therefore, an assurance of definite success. Intellipaat offers an online instructor-led training course on Tableau Desktop and Server that is perfectly in-line with the aforementioned Tableau certifications to help you achieve success in one shot.
Want to learn more? Read this extensive Tableau Tutorial!