What is Tableau?
Around 90 percent of the world's data has been triggered in the past 2 years! We are providing data to merchants each and every second we use their application or website. This data is captured and recorded. Now, a question arises, 'Do they maintain a sheet to enlist their millions of users and record various user activities in their databases?' Yes, they do!
But, again, 'Are they going through each and every record to distinguish between the interests of their different users?' No way; it will take years to do that!
So, they visualize users' raw data through beautiful graphs and charts. It is for this data visualization that Tableau comes into the picture.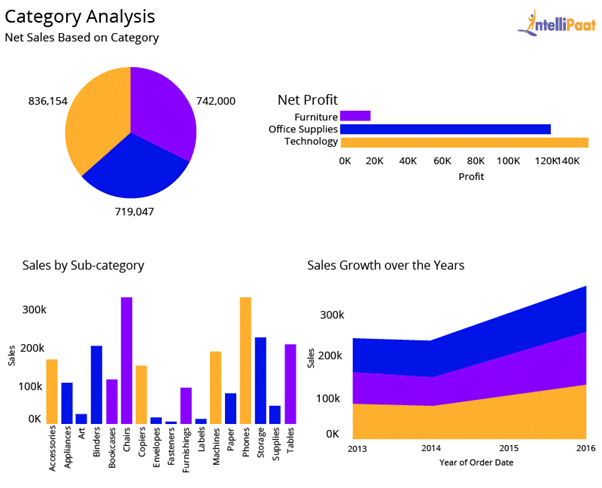 As Tableau plays a vital role in data visualization in the 21st century, Tableau career opportunities are at a peak. In simple words, Tableau is a booming visualization tool used across the Business Intelligence industry. It is used for pushing the raw data from databases to the screens, representing the data in an understandable form. So, let's check out the huge Tableau career opportunities in 2020.
Learn more about Tableau from this Tableau Training to get ahead in your Tableau career!
Why is Tableau gaining popularity?
In this data-driven world, to understand the nitty-gritty of customer needs, problems in business processes, and market trends, we make use of visualizations. The analysis of a problem with the help of proper visualization is always the best method for solving the problem. This is the reason for the popularity of Tableau.
Before checking out the outspread Tableau career opportunities, let's understand the use of Tableau with the help of a real-life use case. This use case explains how the data analysis of rides is carried out in Uber.
Nowadays, most of us use Uber for traveling from one place to another. From the moment we book a ride to our drop location and beyond, we constantly provide real-time data to Uber by enabling them to track our location. Uber records our data for each and every ride. After recording the data, it analyzes the data and identifies the patterns of movements in a particular location, time, the number of travelers on the same route, the available cabs nearby, etc. After that, it gives suggestions to drivers on the best routes to take to be present at the location where they can pick us up easily without any delay, and it further provides the best routes to reach the destinations at the earliest as well. This helps in increasing rides per day for Uber.
The below graph shows the analysis of the number of travelers who used Uber for a particular month in a specific hour.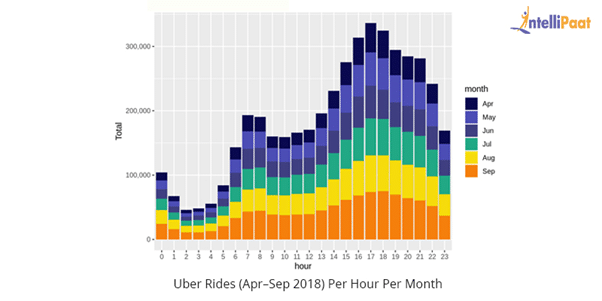 Again, the below image shows the analysis of rides; it shows the frequency of travelers on a daily basis, weekly basis, monthly basis, and so on with the help of a map.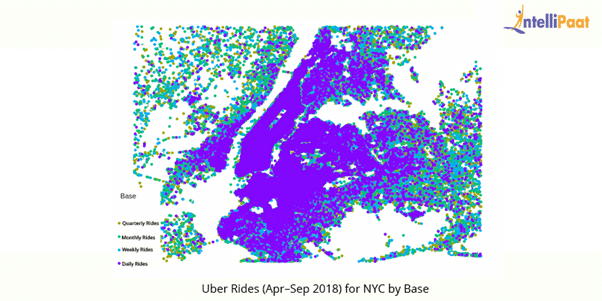 So, it gives Uber a good visualization for targeting customers further.
Therefore, we can infer from this use case that visualization is a very essential part of any business, and Tableau can be the best driving tool for these wonderful visualizations.
Till now, we have seen, why Tableau is gaining popularity. Now, we will move on to know about Tableau career opportunities and various Tableau jobs.
If you are a complete novice, then watch this comprehensive tutorial on Tableau:
Tableau Developer Career Opportunities and Jobs
The world is moving toward automation and data is the driving tool of this automation caravan. As the weight of data is going up, jobs in Business Intelligence are also reaching the peak. Also, in the upcoming years, the data generated by the users of various Internet applications would be humongous. As data generation is now a never-ending process so is the increase in Tableau Developer jobs. Tableau offers solutions for all data visualization problems that arise in every sector currently. It has become a widely used tool for data visualization in almost all top organizations across the world. So, if you desire to be a part of top MNCs, then join the convoy of Tableau Developers.
Different Job Profiles in Tableau
In Tableau, there are diverse job roles, and you can choose your job profile, accordingly. Below is the list of various Tableau job roles:
Data Analyst
Business Analyst
Tableau Consultant
Business Intelligence Developer and Manager

Top Companies Hiring Tableau Developers
Every company, from startups to MNCs, gathers data and uses it for business purposes. To visualize the data, they need Tableau Developers. So, here are some of the job listings from well-known companies that clearly state their demands, along with the Tableau Developer salary in India:
Tableau Career Opportunities in Hinduja Global Solutions:
Tableau Career Opportunities in Capgemini Technology Services:
Tableau Career Opportunities in Pathfinder Management Consulting India Limited: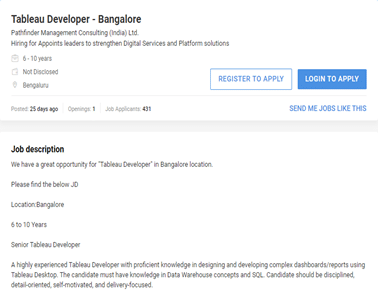 Tableau Career Opportunities in Brickwork India Private Limited: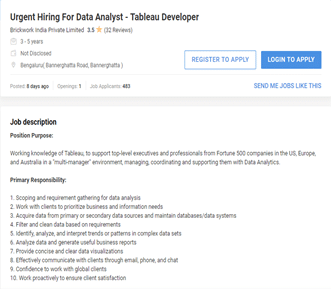 Prepare yourself for the industry by going through these top Tableau Interview Questions and Answers!
Tableau Developer Salary
Till now, we have just looked at the demand of Tableau Developers. But, there is another factor that makes the Tableau Developer job profile so popular, Salary!
According to Indeed, the average salary of a Tableau Developer in India is ₹646k–741k and, in the United States, it is US$112,523, per annum.
Now, let's look at the salaries of different Tableau-based job profiles:

In this blog on 'Tableau Career Opportunities,' we have discussed all the key points regarding Tableau career opportunities, such as various Tableau job profiles, Tableau Developer job descriptions from different companies, Tableau Developer salaries, etc.
From all this, we can conclude that there are a plethora of Tableau jobs all around the globe and the graph for Tableau career opportunities would never decline. So, your choice to make a career in Tableau will take you to the crest of waves in Tableau's bandwagon.



If you have any doubts or queries related to Tableau careers, get them clarified from Tableau experts on our Tableau Community!
Related Articles
---