Microsoft Office 2016 Or Office 16, a version of the Microsoft Office productivity suite, initially released on 9 July 2015, and its stable version was released on 10 December 2015.
Features on Different Operating Systems:
WINDOWS
The cloud provides the user an ability to create, open, edit, and save files in the cloud from the desktop.
A New search tool for commands available, Example "Tell Me what you want to do".
Powered feature by Bing, which provide contextual information from the web.
Treemap, Ring chart, waterfall chart, box plot are introduced in Excel.
New animations are introduced in PowerPoint, which enables the user to insert an online video.
MAC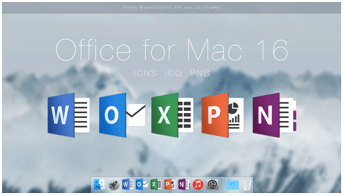 An updated user interface that uses ribbons has been introduced.
Word is introduced in design tab, powered by Bing, and real-time co-authoring.
Charts feature, and PivotTable Slicers in

Excel

.
New theme variants, which gives different color schemes for a theme in PowerPoint.
New Time feature, of seeing calendars side by side, and a weather forecast in Outlook.
EDITIONS
Traditional Editions 
Five traditional editions of Office 2016 which was, released for Windows are:
Home & Student: Includes the core applications.
Home & Business: Includes core applications and Outlook.
Standard: Includes the core applications, Outlook and Publisher.
Professional: Includes the core applications, Outlook, Publisher and Access.
Professional Plus: Includes all the professional edition features along with Skype for Business.
Three traditional editions of Office 2016 which were released for Mac are:
Home & Student: Includes the core applications.
Home & Business: Includes the core applications and Outlook.
Standard: Includes volume licensing channels, core applications and Outlook.
OFFICE 365
Its subscription services had previously aimed towards business and enterprise users, which allow multiple users to use software as a service model. There are different kinds of plans available for Office 365, including value-added services and 60 Skype minutes per month on the Home Premium plan.
User Interface
The user interface of Office 2016 for Windows is unchanged from its predecessor, Office 2013. Its features include:
Flat design, introduced along with Microsoft design language.
It has three themes, default theme, is "colorful", which includes a solid color on the top band of the ribbon.
Neither a new background has been added, nor the existing ones have removed.
UPDATES
Microsoft plans to release Office 2016 'November update' to Office Insiders and was planned to release it with the Windows 10 November update, but was delayed. This November update includes new features for Word 2016, Excel 2016, PowerPoint 2016, and OneNote 2016, and was released to Office 365 Current Branches on December 9, 2015. This November update was not released to users of the traditional editions. In addition, various more analytical solution have been added in Excel. Intellipaat do provide training on Advanced Excel too.
November 2015 Featured Updates
Morph: Introduced in PowerPoint, it creates seamless transitions among the slides and also the motion to presentations for effectively conveying the concepts and information.
Designer: Introduced in PowerPoint, it delivers customized and high-quality presentations.
Calendar Insights Template: Introduced in Excel, as it gave the feature to view your calendar as a dashboard and also to drill the data into it for getting better handle.
Financial Templates: Introduced in Excel, and it gave the information of new templates to track your earning, spending. So, one can say that it analyze and compare the performance of selected stocks over time.
The opinions expressed in this article are the author's own and do not reflect the view of the organization.