Relational databases have ruled the technology world for a long time. However with the massive transformation of industries into a data-driven entities the need for agile and  responsive technologies has grown to fast-track the organizations. This shift has caused enormous amounts of unstructured data to emanate from diverse sources which relational databases failed to manage and store. That is when NoSQL databases came into the picture.
As the name implies NoSQL, also called as Not-only-SQL are the databases that let the developers store/manage unstructured data and perform complex analytical operations on it as well. A wide range of NoSQL databases are suitable for varied use cases hence the companies need not be confined to single database platform anymore.
As per a report by AlliedMarketResearch, Global market for NoSQL, is slated to grow, due to adoption of a wide variety of applications, such as web session management, mobile app development and e-commerce, during the forecast period of 2014-2020.
 Want to know what is MongoDB? Read this extensive MongoDB tutorial!
Where do relational databases fall short?
Relational databases emerged in late 20th century when there was no sign of internet, mobile computing, cloud, and other technologies that have become an inseparable part of today's economy. These databases used to run on big servers and strictly suitable for use-cases when the data was purely structured. However with the advent of digitization relational databases started lacking to keep up with changing requirements of the fast-paced technology world.
IDC says that approximately 90% of all data produced this decade would be unorganized and unstructured.
The reason behind this failure was the constraints associated with the relational databases. Some of the reasons that took relational databases to lag behind were: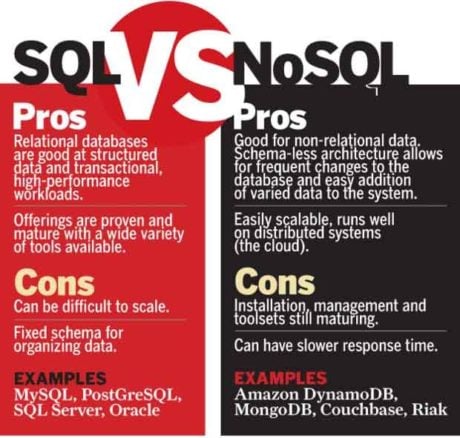 Scaling-up the system was difficult
Pre-defining the data was imperative
Suitable for structured data format only
Strict data models restricted the system from becoming agile
Wish to Learn NoSql? Click Here
NoSQL databases resolve these issues as these have a dynamic structure which allows the systems to be responsive and agile.
Enrich your knowledge about Cassandra and its ecosystem by reading this informative blog on Apache Cassandra!
How can NoSQL databases ramp-up your business?
Till yet we learned the reasons that worked as a catalyst for the failure of relational databases. However this is not completely true as relational databases still have a fair share of the market however NoSQL drew the attention of many companies which wanted to deal with big data. Some of the NoSQL advantages are-
Make the system agile- NoSQl databases work on a dynamic model that allows storing and maintaining data without defining it beforehand. This makes the faster and responsive than ever before.
Easy scaling- Scaling up the relational databases were complex and expensive. Unlike this the NoSQL databases can easily be scaled-up and down as per the workload as these have a dynamic architecture offering much more operational benefits than RDBMS.
No single downtime- Relational databases run on physical servers and if that fails the database becomes unavailable. However with the increasing extent of critical applications it becomes crucial for the database to remain available 24X7. NoSQL replicates the data to multiple database instances which keep the data highly available.
Grab the high-paying jobs today by reading these top NoSQL interview questions!
Check this Database Management System for Beginners video :
Is learning NoSQL database good for your career?
Of course! The drastic shift in technology to next-gen innovations have obligated the companies to adopt NoSQL to match with this ever-changing environment. Companies limited to analytics are now keen on deploying big data clusters to sustain in this cut-throat competition. This has led the NoSQL architectures to gain immense popularity over the years.
NoSQL Market is expected to garner $4.2 billion by 2020, registering a CAGR of 35.1% during the forecast period 2014-2020. – AlliedMarketResearch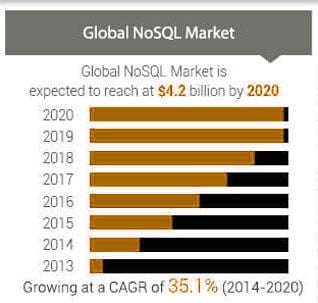 Source: AlliedMarketResearch
According to a research conducted by Bentley University on over 40,000 job sites NoSQL is 4th most preferred technology by the companies offering 1,002% jobs to the aspirants. On the other hand Oracle stands at the 8th position offering 382% jobs.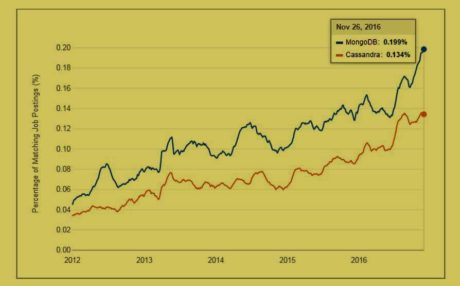 Source: Indeed.com
Above graph clearly portrays that the Job trends for NoSQL databases like MongoDB and Cassandra have seen tremendous growth from 2012-2016.
| | |
| --- | --- |
| DBA | $81,000-$100,000 |
| Data Architect | $107,000 |
| Data Scientist | $104,000 |
| Systems Engineer | $89,000 |
| Software/Application Developer | $107,000/$93,000 |
The average salaries of NoSQL professionals illustrate the kind of opportunities available in this field. You can also be one of them. Get certified in NoSQL storage architectures and grab the high-paying jobs in no time. Intellipaat brings an array of NoSQL online certification courses that train you in a professional fashion by the top-class trainers. Industry-recognized certification with hands-on experience lets you outshine others.
Enroll yourself today in Cassandra, Hbase, MongoDB, Couchbase, online training course!
Related Articles
---