Both the BI tools are equipped with a wide spectrum of analytical features but Tableau has managed to stay ahead from Power BI. But why? Let's find out in this blog!
The analytics field is dynamically changing everyday making it difficult for the vendors to offer better and customized business intelligence tools. Till now this field was led by several technology vendors like IBM, SAP, Oracle, Microstrategy, etc. But now it is not just about the rich set of features but the ease of use and efficiency that is driving the BI analytics domain.
Two of the most popular business intelligence tools are Tableau and Microsoft Power BI which are leading the analytics field in present times. While the former pioneered this field with its user-friendly features, the latter came with similar set of visualization tools giving a tough competition to its rivals.
In case you are more intrigued by videos than reading, here is a video on Tableau vs Power BI?
Tableau vs. Power BI: Which one is better?
Both the technologies are rich from the perspective of functionalities but there is a huge difference between them:
| | | |
| --- | --- | --- |
| Criteria | Power BI | Tableau |
|  Description | A cloud-based business intelligence platform providing full view of critical data |  A collection of intuitive business intelligence tools used for data discovery |
|  Visualization | Provides various visualizations | Provides a larger set of visualizations than Power BI |
|  OS support | Only Windows | Windows and Macintosh OS |
|  Graphical features |  Regular charts, graphs and maps | Any kind of charts, bars and graphs |
|  Cost | Cheaper | Costly |

Though both the technologies were considered as leaders by the Gartner's Magic Quadrant for Business Intelligence and Analytics Platforms in the year 2016 but the companies still prefer Tableau over Power BI. What is the reason behind this?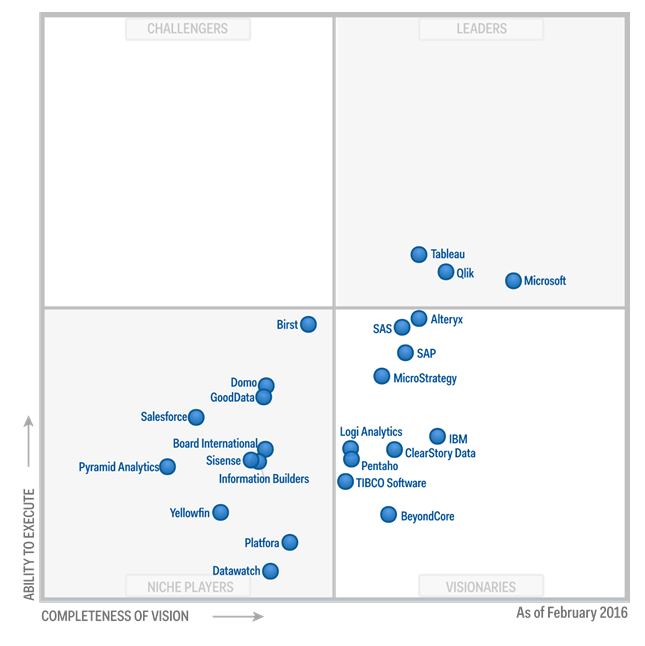 Microsoft is one of leading technology players having mass presence in various different geographical locations which recently entered last year into the field of BI analytics, i.e., Power BI, while Tableau was already in the market gaining immense popularity and adoption by most of the companies. But Power BI failed to address the requirements of analysts as pointed out by the CEO of Tableau Software Francois Ajenstat by saying "Just creating a picture, anybody can do that. For us the picture is the means of communicating the data and a way of asking questions of the data".
Top Tableau interview questions to help you get your dream BI job!
Where is Power BI falling short?
Tableau comes out to be a clear winner if we compare it with Power BI in terms of data visualization abilities, graphical measures, cost, etc. But are these the only reasons behind the downfall of Power BI? If no, then where is it falling short?
Tableau released few loopholes that weaken the Power BI platform:
BI visualization is limited to only 3,500 data points exceeding which the data gets filtered automatically. Because of which the outliers may get missed. Unlike this Tableau does not limit the data points
Difficult to perform regular calculations as it requires a new language DAX to be learned. In contrast to this Tableau allows performing complex calculation with just a click
Limited graphical abilities restrict the users to perform complex analyses. Also forecasting is not supported by Power BI
Comparing the data in various categories gets complicated as Power BI does not allow you to examine more than two categories at a time
Lesser customizations does not allow the analysts to edit the pop-ups due to which misinterpretations may happen
Another lagging factor is inability to analyze offline. In order to do a research you will have to go online
Absence of narration of the data story
Inability to perform 'What-if' analysis as it is not supported by Power BI.
This is a reason that despite being cheaper with a cost of $152.40, enterprises are ready to pay much higher price of $999 to use Tableau.
Read this extensive Tableau Tutorial to enrich you knowledge and expertise!
An article by IDC predicts the Market of Tableau to go north of $59.2 billion by 2018.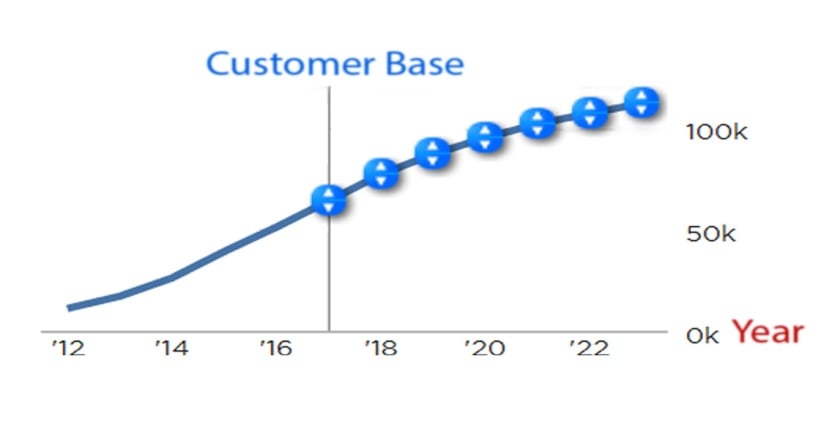 Both the tools have their own strengths and user base. Though many new technologies like Qlikview and Spotfire are coming into existence, Tableau has driven a heavy crowd towards it and hence has achieved a great ROI over the years.
"Customers are turning to Tableau for fast, agile, visual analytics that provide people with the ability to ask and answer their own questions,"-Christian Chabot, CEO of Tableau
Fundamentally it is the unbeatable value that this technology has efficiently provided to its users though its interactive, user-friendly and comprehensible interface. Nevertheless Power BI has tried to cover its shortfalls with recent upgrades, we can only look forward to what is more to come in both the technologies.
Get in-touch with Intellipaat to enrol in the Tableau training course!