Informatica Components
Informatica has following business components –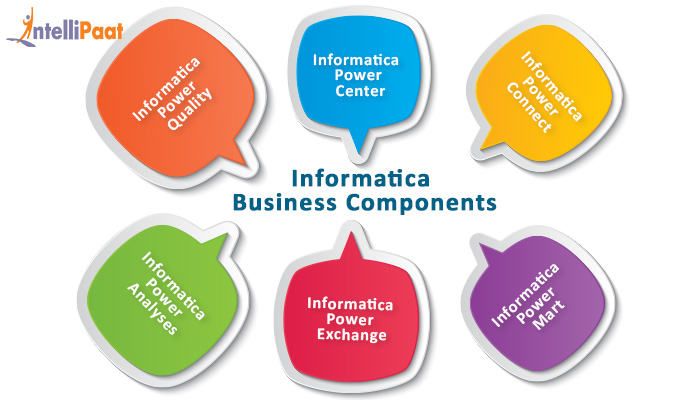 Informatica Power Center –
This component processes huge volumes of data and converts local repository into a global one. It supports ERP sources as well as diverse local and global repositories.
Informatica Power Connect –
This component mines the bulks of raw data and extracts meaningful insights and metadata from the ERPs and third-party applications.
Go through this   Business Objects v/s Informatica Blog.
Informatica Power Mart –
This component is responsible for processing comparatively lesser volumes of data and supports local repositories only. Unlike the Informatica Power center, Power Mart does not support ERPs and global repositories.
 
Informatica Power Exchange –
This component supports batch, real-time and changed data capture options in various set-ups. It allows the companies to leverage the data by avoiding coding data extraction programs manually.
Informatica Power Analyses –
This component provides various reporting facilities that help companies have a clear vision into the business processes. This tool provides versatile benefits ranging from accessing, examining and sharing the enterprise data in a lucid way.
Informatica Power Quality – 
This component scales the services to share them across multiple machines. It consists of a set of applications and components that improve enterprise-wide data quality.
Become professional in Informatica with this complete Informatica Training Course!

Read these Top Trending Informatica Interview Question's that will help you grab high-paying jobs !
Mapping Components – Mapping is a term used to denote Extraction, Transformation and Loading activities. It comprises of three significant concepts-
Source Definition – The structure of the source file used to extract the data.
Target definition – Structure of the target tables used to load the data.
Transformation logic –  Definition specifying the transformation activity.