Informatica Architecture Overview
Informatica has a Service-oriented Architecture (SOA) which consists of following components which You'll be learning in this Informatica Architecture tutorial –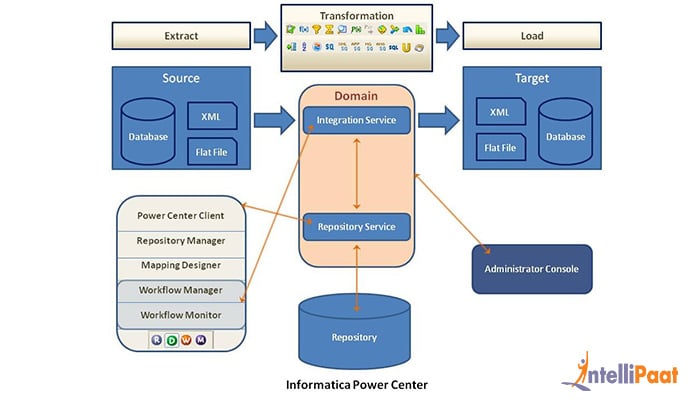 Informatica Domain – It is an administrative unit consisting of nodes and services. These nodes and services can be further categorized into folders and subfolders. There are basically two types of services in the Informatica Domain- Service Manager and Application Services you'll be learning in Informatica server Architecture tutorial. While the former is responsible for authenticating/authorizing the loggings and running the application services, the latter represents the integration services, repository services, and reporting services. Listed services are explained in detail below in this Informatica Cloud Architecture.
Go through this Informatica Blog to get a clear understanding of Informatica.
Repository Service – This service maintains a connection between the clients and the PowerCenter repository. It is a multi-threaded process that fetches, inserts and updates the metadata. It also maintains a uniformity within the repository metadata.
Watch this Informatica video
Nodes – Nodes are the computing platforms where therefore mentioned services are executed.
Reporting Service – Reporting services are responsible for handling the metadata and allowing other services to access the same.
Integration Service – This service is the engine that executes the tasks created in the Informatica tool. It is nothing but a process inside the server waiting for the tasks to be assigned. As soon as a workflow is executed, the integration service gets the details and executes it.
Become a master of Informatica by going through this online Informatica training in Toronto!


Informatica PowerCenter Architecture will help you learn, PowerCenter Designer – It is a developer tool used for creating ETL mappings between source and target.
Workflow Manager – Responsible for creating workflows/tasks and executing them.
Workflow Monitor – Accountable for monitoring the execution of the workflows.
Repository Manager – It manages the objects in the repository.
Prepare yourself for the Top Informatica Interview Questions And Answers!
Conclusion
In this Informatica Architecture Tutorial, you got a clear picture of Service Oriented Architecture (SEO) of Informatica, PowerCenter's components, services such as Application Services and Service manager in the Informatica domain. In Application services, you learned various services such as repository, reporting and integration services in Informatica PowerCenter Architecture. Whereas the Service manager is used to authenticating the loggings.
Go for the most professional Informatica training course for a stellar career now!