Apache Spark has turned out to be a very fast-growing tool for Big Data and Analytics. In the recent few years it has been adopted by multiple companies across the globe as it offers great career opportunities. Here's all that you need to know about Apache Spark Certification.
Well since you're reading this blog, I am very sure that you want to purse your career in Apache Spark and need in-depth knowledge of it.
Before learning about Apache Spark, it is important to learn about Big Data. As, you will be implementing Apache Spark on Big Data. So, what is big data? Big data is a vast field treating the ways to analyze, extract or deal with data which are too large and complex to be dealt with. By 2020, the data from all the social media sites would be multiplied to up to 100 times. So, how will all this data be managed? This is where Big Data and Apache Spark come into the field. It is estimated that by 2020 if the companies don't start working on Apache Spark, they wouldn't be able to survive.
Check out this insightful video on Spark Tutorial For Beginners
Why learn Apache spark?
Apache Spark is the leading Big Data framework that is highly in demand these days and will be so for many years. As it provides batch and streaming capabilities, it will be the next evolutionary change in the data processing environment.  If you are looking for speed data analysis, this would be an ideal framework for you. Companies these days are very eager to adopt Spark in their system and will definitely help you accelerate your career.
So, let me not brag about its importance much which I guess you already know. And jump right into this amazing tool.
How does Apache Spark solve the problem of the cluster of data at once?
Spark can handle petabytes of data at a time which can be distributed over a huge number of clusters at a time. As Apache Spark has a huge set of APIs and developer libraries supporting many languages like Java, R or Python, its adaptability makes it apt for a huge span of use cases.
The use cases may include:
Data integration: Data integration deals with extracting, transforming and loading the data to retrieve it from several different systems, clean it, standardize it and then load it to a separate system where analysis can be done. Spark does this process by reducing both the cost and the time.
Interactive analytics: Spark has the ability to respond and adapt quickly to the interactive queries. This interactive query process includes exploring data by posing a question, estimating a result or by altering the question or digging into the results.
Machine Learning: Spark can store data and can run reoccurring queries making it the best choice for training algorithms of machine learning. Also, if the reoccurring queries run recursively, it saves the time to go through the possible solutions to find the most productive algorithms.
Why get a certification in Apache Spark?

Certification in any course will make you stand out of the crowd. And it is very well known that certification validate your knowledge and definitely increase your confidence at work. Apache Spark Certifications give a huge push to the freshers' resume. People with valid certifications are often preferred over the ones who don't have so. Apart from licensing you as a Apache Spark developer, a proper Apache Spark certification would help you increase your earning potential. The salary of a certified Apache Spark developer is way more than that of an un certified developer. Spark is an alternative form of data processing, which is unique in batch processing and streaming.
The industry recognized certification of Apache Spark is CCA Spark and Hadoop Developer Exam (CCA175)
This exam has the following features:
Number of Questions: 8-12 performance-based (hand-on) tasks on Cloudera Enterprise cluster.
Time limit: 120 minutes
Passing score: 70%
Language: English
Price: USD $295
The questions in CCA requires you to solve a particular scenario. You might be asked to use tools such as Impala or Hive. But in other cases, you need to code. The template may either be written in Scala or Python, but both are not necessary. The grading is done the same day the exam is taken. That is, it will give a report of passing or failing. In case you have passed the exam, the report for the same would be sent in the following mail.

 "How can a certification give a boost to your career?"
You'll Gain a competitive Advantage
You would be preferred over other employees
You'd be able to earn more money
Increased Professional Development
Increased chances of promotion and advancement
Is there a scope of Apache Spark certified individual in the industry?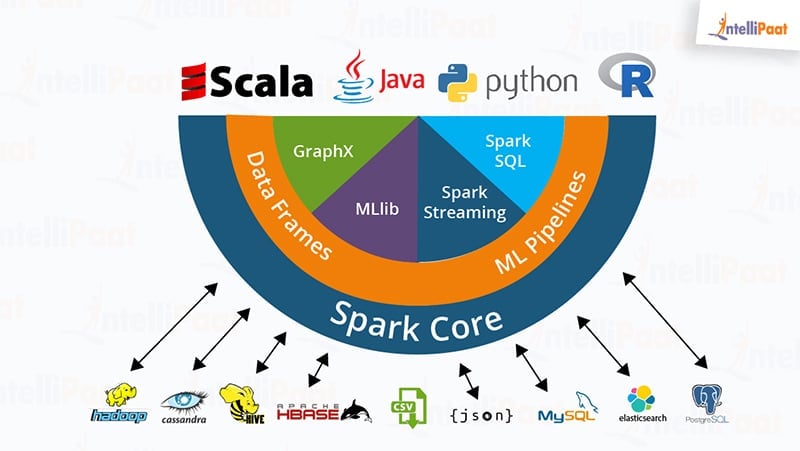 To answer you in a single word, YES! The upcoming years of the industry are set to see an increasing demand of Spark developers. As Spark has proved itself to be a smarter and efficient. Along with the Hadoop developers, the need and demand of Spark developers is increased.
If you are one of these, you should definitely be doing this course:
Software Engineers looking to upgrade Big Data Skills
Data Engineers and ETL Developers
Data Scientists and Analytics Professionals
Graduates who are looking to make a career in Big Data
How can you become an industry recognized "Certified Apache Spark Developer"?
To become a Certified Apache Spark Developer, you need to do a course on the same. There are so many certified courses in the market. You have an option to check which one is the best for you and why. You need to be very dedicated and focused on the content you're being taught. Apache Spark Certification needs dedication and motivation. You should be following the curriculum and the timestamp provided.
There are 'n' providers that provide Apache Spark certification. However, there are only a few certification programs, which are actually of high quality and have been recognized by reputed companies. One such eLearning provider – Intellipaat provides a very detailed and comprehensive certification course for Apache Spark. It is designed for clearing the Apache spark component of the Cloudera Spark and Hadoop Develop Certification (CCA175). This training course is created by Apache SMEs to help you get top positions in the best MNCs. Further, the training includes valuable real-world projects and case studies.
The Intellipaat Apache Spark online instructor-led training will help you master the technology. You'll learn how Spark is able to overcome the drawbacks that the MapReduce had caused. It also explains about Spark stack, difference between fine and course-grained update. This Apache Spark certification course gives an in-depth knowledge of Spark stack, Spark Hadoop YARN, HDFS Revision, YARN Revision. It also discusses how Spark is better than Hadoop and how can one deploy Spark without Hadoop. Deploying all these for real-world applications and more in this Apache Spark certification training.

"What will you learn from the Intellipaat's Certification course of Apache Spark?"
Introduction to Spark
Spark Basis
Working with RDDs in Spark
Aggregating data with Pair RDDs
Writing and deploying Spark applications
Parallel Processing
Spark RDD Persistence
Spark MLib
Integrating Apache Flume and Apache Kafka
Spark Streaming
Improving Spark Performance
Spark SQL and Data Frames
Scheduling and Parting
Projects
There are no prerequisites required to take any Cloudera Certification exam. The CCA Spark and Hadoop Developer exam (CCA175) follows the same objectives as Intellipaat's Certification Course. After completion of this course, you will be receiving a certificate, following which, you'll be able to apply for a few internships at some top performing Apache Spark companies. Spark now is being used in Big data industry for data processing requirements. Also, it is anticipated to play a key role in the next generation Business Intelligence applications. So, it is surely a good choice to take hands on training in Spark from Intellipaat to excel in the Big Data industry.
I hope that by now you have had an overview about Spark. Before you enroll for Intellipaat's Certification course on Apache Spark, do check out the "Free tutorial on Apache spark".