With the increasing speed of data generation and compressing timeline for delivering the outcome, the need for a powerful BI tool has gained prominence. The market is crowded with BI tools like Tableau, Power BI, Datastage, etc., however, two of the strong players in this market are QlikView and QlikSense. Though these two belong to the same product family, they are quite different from each other. Let's get to know what these tools exactly are!
QlikView and QlikSense- What are they?
QlikView is most flexible business intelligence platform for changing raw data into knowledge. Using QlikView simplicity, worldwide more than 24 thousand organization users to easily combine, search and visually analyze all their data for unprecedented business insight.
QlikSense is a self-service and discovery application designed for individuals and group collaboration. We can create quick visualization using this BI tool and also explore data extremely, share insights immediately, to expose connections in our data and see opportunities from every side.
Check out this Intellipaat Qlik Sense video for beginners:
Is there any similarity between QlikView and QlikSense?
Of Course Yes! Want to know how?
Both support rapid BI visualization and sharing, mobile discovery and exploration, governed data discovery and structured IT managed dashboards
Similar analysis algorithm
Both provide interactive BI visualizations
Want to be a BI professional? Prepare yourself with the Top QlikSense Interview Questions!
Then what is the difference between the two? – QlikView vs. QlikSense
| | |
| --- | --- |
| QlikView | QlikSense |
| Designed for advanced analytics | Focused on business use cases |
| Deriving part of filters and allocating a separate sheet with filters is required | It is not required |
| Provides an in-the-box application development platform | The self-service data discovery tool |

Is QlikSense a replacement of QlikView?
Absolutely Not! This is a myth that QlikSense has replaced Qlikview. Each product has its own capability and loopholes. Both of these tools have different suitability according to which they should be utilized.
If you already have QlikView then you can upgrade yourself to QlikSense for better data visualization abilities.
If you don't have any of the Qlik's product yet then you can start with QlikSense.
While QlikView is suitable for guided analytics, the other one is a best fit for self-service visualizations.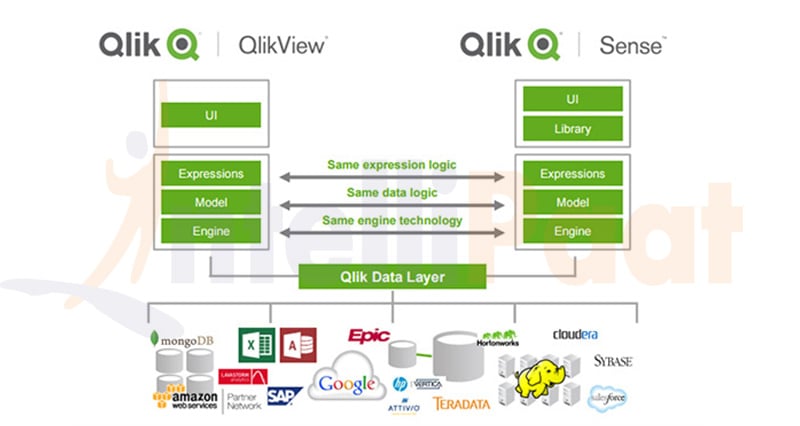 The above figure clarifies that QlikSense has a Library that helps it centralize the expressions and simplify the process of analysis. Apart from that both the product has the same expression logic, same data logic and same engine technology.
Commonly Qlik is known as QlikView, from the last ten years, Qlikview helps to move the business intelligence market towards self-service.  The new product of Qlik is QlikSense. It is more business user-friendly, and last year Qlik introduced the visual self-service application. This does not mean to be the end of QlikView.
People created a QlikView application that cannot connect the number of choices to make things look good and work well. On the other hand, QlikSense provides a framework so that everything is displayed in an orderly fashion. Developers couldn't see themselves moving away from QlikView, for building scripts and generating QVD's, but they were keen to use the upgraded version.
Want to be a BI professional? Prepare yourself with the Top QlikSense Interview Questions!
QlikView includes advanced clustering for scalability, local functionality on IOS and Android services and Rest full API connectors for linking to web services. QlikSense helps to analyze the data, develop reports and dashboard, such as rolling out its dashboards to more than thousands of internal use as well as to customers.
Qlik's most challenge in the next upcoming year will be raising its brand profile in an increasingly cloud-centric business Intelligence and analytics market. Qlik is helping to improve its marketing so it can better compete with all these rivals. It starts with a simple step of ensuring consistent branding. The company's best-known brand is QlikView. Now the company is every time using Qlik across the websites, security materials and even buildings, Qlik analytics platform is the keystone of all products including QlikSense.
Most of the companies demand a variety of business intelligence software. To decide which solution hysterics or suitable our requirements, compare various options feature by feature taking into kindness their conditions and costs. We can obtain an idea of their overall efficiency and customer feedback by looking at this smart scoring system.
We can generate reports and detailed dashboards instantly in QlikSense, it is smart and user-friendly. But QlikView is business intelligence data discovery product and helps to create guided analytics.
Compatibilities between the two business Intelligence tools are –
QlikView Expression, Script Language 99% intact/portable to QlikSense.
Green, white, gray selection logic intact.
Uses same analysis/calculation engine as QV – same response time.
QlikView objects can be copied to QlikSense Desktop.
QVD's, QVW can be loaded into QlikSense platform – QVW files get converted to QVF extension.
QlikSense ability to influence a system is all load scripts, aggregations from QlikView.

Bottom line
Both the tools are simple and easy to deploy as well as provide a rich experience in creating interactive visualizations. However as you from the above description that both the technologies have different features so it entirely depends on your requirement.
You may even use both the products at the same time for different purposes. While QlikView experts solve complex analytical problems, QlikSense professionals will effectively create attractive visualizations on the fly. Hence choose one as per your need.
Enrol yourself in the Online QlikSense Training Course today!
Related Articles
---