In a world pirouetting around data, overseeing and monitoring such data is essential. This is where Data Science steps in, handling this enormous data for efficient managing. A statistical analysis and graphical representation of such data can be carried out via R programming. Hence, R language plays a vital role in Data Science.
R is an open-source programming language, aka statistical language, that enables computing of graphics and generates outstanding graphical outputs. R is setting a benchmark in the arena of programming languages and has become a trendsetting technology in the software industry.
Check this R Programming for Beginners video:
Why Learn R Language?
Data Scientists and Statisticians are forever in need of an excellent platform that successfully fulfills all their requirements in computing with statistical and graphical data. Hence, the introduction of R language was like a rainbow sweeping across the stormy sky. This language rectified all complexities that existed in computing statistical data and made computing with large data very simple and easy to handle.
R language also offers the feature of providing well-designed quality posts and a wide range of statistical and graphical techniques that the user can work with. This makes it unique from the other languages.

Benefits of R Language
It is freely available and open source, which makes it easy to install and work with.
The language is highly evolved and flexible.
It is cross-platform compatible and independent.
It is a highly acceptable language, considering the 2017 survey on its acclamation. Hence, it's having a large community of users.
It is fast and powerful.
It provides high-end graphics that enhances the display and visualization effects.
R language is an interpreted language; this makes it easier to
It also enables modeling and designing.
What Makes R a Preferred Language Over Others?
R is the best programming language to deploy for statistical computing when put on stake with other languages. This feature alone suffices the requisites of Data Science. Analyzing data is made simple through this language. Efficient data handling and storage facility makes R language user friendly. That is, it shows advanced analytical features that can be incorporated in the field of Data Science and Analytics.
It also provides great technical support when compared with other programming languages. Like all other applications, R programs explicitly record the actions of analysis, make it very simple and easy to reproduce, and update reports so that they can quickly try many innovations and handle factual issues.

R Language Enthusiasts
For those seeking a career in Data Analytics, a prior knowledge in R language shall prove to be worthy.
People who are aspiring to be Data Scientists must be well trained in R.
Data Miners will also equip R language in Data Mining.
Business Analytics can make use of R for analysis of critical processes.
Those interested in data visualizations and graphics can be benefitted by learning R language.
Successful Career Options Through R Language
Well, all of us do look for career options while learning something new.
What scope does this field have?
Is there career growth?
Will I be paid well for the amount of work that I manage to complete?
These are a few questions that will run in all our minds, while thinking of taking up a new course.
But I would gladly say, Yes! There is scope in learning R language. One shall get a chance to work in Data Analytics. There are very limited people who choose to work in the domain of Data Analytics as it is a budding profession. The availability of opportunities in this field paves way for people to get their career breakthrough and make good income in this domain.

Various Industries That Make Use of R Language Are Listed Below:
Google is making use of R language for calculating the advertisement campaigns.
FORD uses R in order to increase the designs of vehicles.
New York Times, which is one of the leading newspaper company, makes use of R language for generating data journalism and information graphic applications.
Facebook uses this language for exploratory, experimental, human resource, and behavioral data analysis.
Microsoft uses R for understanding user behavior and visualizing infrastructure.
A few other companies such as Twitter, IBM, Airbnb, etc. also make use of R language.

Recognition upon Gaining the R Certification
In the trending field of Data Science, a certificate in R language shall add up weightage to your profile and shall qualify you to be a successful R language developer. One can become a recognized R language certified developer upon completing various R language courses.
Upon elaborate research, we believe that R Certification training course offered by Intelipaat provides you with an opportunity to learn R programming from experts which enables you to gain considerable knowledge in this technology.
There are courses offered online via videos as well.
Check out the videos and course content provided by Intellipaat  for further details.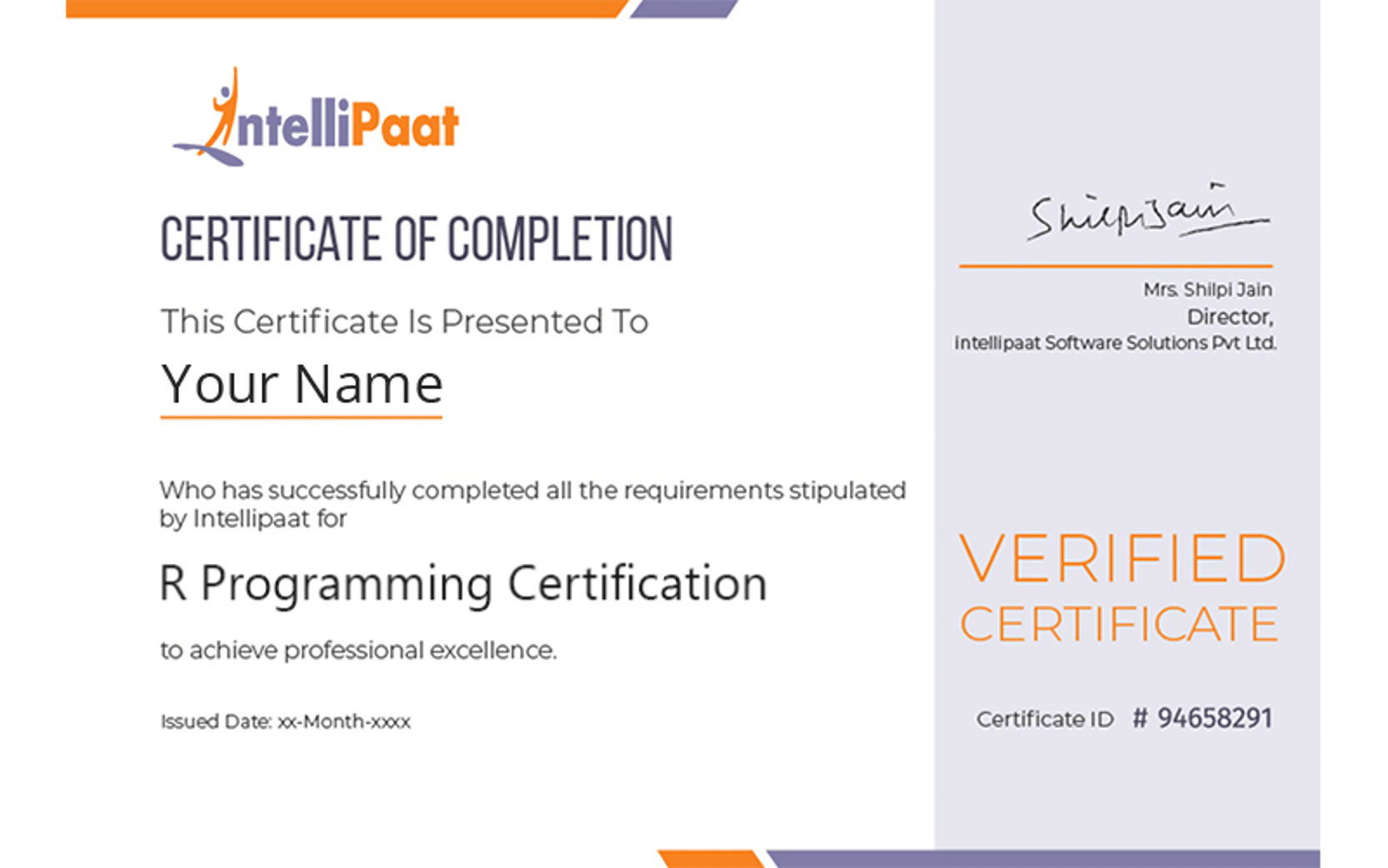 What Does Intellipaat Offer to Expertise R Language?
Introduction and installation of R, along with procedures
Working with R studio
Basic syntax, data types, and variables
R programming reserved words and operators
Decision-making and loops
Functions, strings, vectors, lists, and matrices
Data structures in R language
Data structure with R cheat sheets
The R Certification course shall guide you with expertized knowledge in detail, along with examples and pictorial representation of installation procedures and outputs. It shall help you understand the language in a better and simple manner.
It would be easier for you to learn R language upon enrolling yourself for the courses offered by Intellipaat on R programming, and Intellipaat also offers courses on other programming languages and trending technologies.
Related Articles
---