Big Data has given a dimension to the Business Analytics through its ability to reach the untapped areas and strength to make better trends predictions. Read how top MNCs are getting benefitted from Big Data!
Big businesses and startups are all driven by massive streams of data and have billions of data sets to be handled each day. Getting their services online and marketing products using various internet resources have ultimately surged the amount of data most of the companies host.
Along with establishing the computing work on various types of Clouds and entering the coveted Internet of Things (IoT), Data Analytics is a crucial subject most IT, Manufacturing, E-commerce, Medical & Health, Entertainment and other departments are constantly focusing. In context, the major spotlight is to make sense of these large volumes of data and present valuable information that is easy-to-comprehend and can be beneficial for the organization, its workforce, clients and customers.
Honestly, this rise of data is generating revenue for the enterprises and also making its services and products more profitable. Realizing the importance of big data, its use cases and its substantial growth, most companies are in search of Big Data and Analytics Professionals who have expertise in related platforms like Hadoop, Spark, Storm, Machine Learning and others.
Looking at the skyrocketing sales of big data solutions and more and more number of big data jobs available this year, we have compiled the top companies shaping their data into meaningful insights that can give you better salaries for the various data analyst job positions. These companies have matured managing the volumes and complexity of information associated.
IBM – headquartered in New York, United States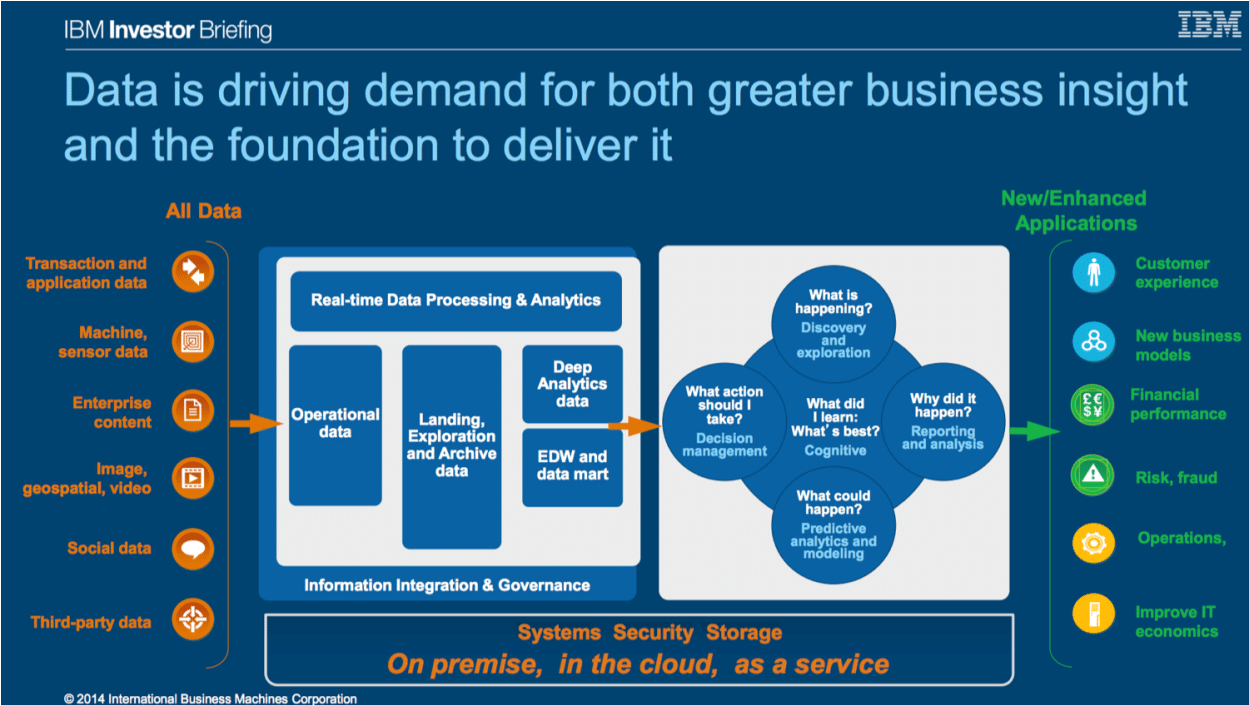 IBM allows businesses to capture, manage and analyze structured and unstructured data using its BigInsights Product. IBM has its processes wheeled on Hadoop-having a fast and open-source technology platform to deal with the bigness of data. Hadoop-as-a-service enables IBM to enforce powerful collating and visualization of streams of data involving best-in-class flexibility for storage and data management. IBM currently provides solutions for advanced analytics, Integration and governance, data and content management, Open Source, Enterprise Content Management, Cloud Data Services.
Want to know what is Big Data and Hadoop? Read this Hadoop Tutorial!
Microsoft- headquartered in Washington, United States
It is once again Hadoop platform that Microsoft runs its big data solutions. They are either used in the cloud or on Windows. Business groups can make best use of Hadoop for getting meaningful data on Microsoft standard tools like MS Excel and Open Office 365.
Intel-headquartered in California, US
The Intel Developers Forum at California adopts a thorough approach to provide big data solutions using Apache Hadoop. The company aims at providing accountability, privacy, security, transparency and appropriate and innovative use of data using the concepts of HDFS (Hadoop Distributed File System), Java and MapReduce.
Amazon Web Services – Seattle, US
The world's leading e-commerce giant, Amazon is a hub of incalculable data and data sets, and has its major section of workforce dedicated to administering, managing, analyzing and storing this data and using it for bigger sales and traffic. Since the panorama is incredibly vast, Amazon web services relies on Hadoop, Hive, Pig and Apache Spark to create a big data stack for itself and present it in the best form to customers, scaling economy and ROI.
Crack top Big Data Interviews with these Top Hadoop Interview Questions!
Teradata – Dayton, Ohio (United States)
Examining on the hardware to process and get the bottom of big data, Teradata invented scale-out- the clusters of servers. Working with multiple servers, the company lashed ten servers with 100 terabytes each to get a petabyte, which is now ready to manage the big data. Thus, this company believes that scalability is big data's Mount Everest Climb. Teradata builds on strategies to deal with multiple servers and employs server-node hardware system. It has added analytics for text documents, spreadsheets and processor documents.
VMware– California, US
Revered worldwide for its cloud storage and Logging as a service (Laas), professionals at VMware proposes vSphere Big data Extensions (BDE) – an open-source virtual appliance helping data administrators to deploy and manage Hadoop clusters in the vSphere Virtual infrastructure. With the help of BDE, professionals can create, monitor and oversee Hadoop components. This indeed promotes faster and flexible scaling as the storage and computing are different processes and keeps the data safe and persistent.
There are several other companies and business enterprises like DataStax, Attivio, Gooddata looking forward to newer ways of dealing with the volume, variety, velocity and veracity of big data. Having differences in the type of data they work, these enterprises are intended to find professionals with multiple analysis and coding skill set for Big Data Analytics. You should also start thinking of your's and company's future and the long-term implications and solutions to build up your business, customers, revenue and of course, your career in these governing companies worldwide.