What is iOS?
IOS stands for iphone operating system. It is a proprietary mobile operating system of apple for its handheld. It supports Objective-C, C, C++, Swift programming language. It is based on the Macintosh OS X. iPhone, ipod and iPad all comes with IOS.
Looking  for Mobile Development Jobs ? This blog post gives you all the information you need !
Features of IOS Platform
It has following features:
Multitasking
Social Media
iCloud
In-App purchase
Game Center
Notification Center
Accelerometer
Gyroscope
Powerful APIs
GPS
High end processor
Accessibility
Bluetooth
Orientations
Camera integration
Location services
Maps
Email, contacts, web pages and messages etc.
Read this blog "Cross-Platform Mobile Technology for Android and iOS using Java" for your perusal!
History
iPhone was first release in June, 2007 and on September 5, 2007, Apple released the iPod Touch which had most of the non phone abilities of the iPhone. In june 2010 apple rebranded iPhone Os as iOS. iPad first generation was released in April 2010 and iPad Mini was released in November 2012.
To develop iOS application use following steps: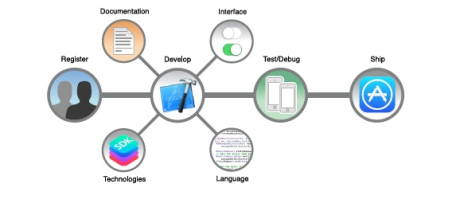 Design beautiful app interfaces.
Learn the Objective-C language.
Learn about the technologies available to you.
Access the documentation.