DNS service provided by AWS named AWS Route 53 is one of the most well-known, reliable and cost-effective services for managing and maintaining domains. In this Amazon Route 53 tutorial, you will learn what is Amazon Route 53, its benefits, how to create a hosted zone from scratch and more.
Topics which are discussed in this blog are:
Watch this AWS Tutorial For Beginners video:

What Is Amazon Route 53?
Amazon Route 53 is a web service which is a highly available and scalable Domain Name System (DNS).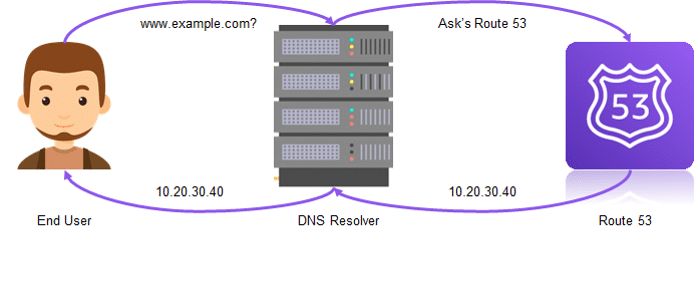 Let's understand what is Amazon Route 53 in technical terms. AWS Route 53 lets developers and organizations to route end users to their web applications in a very reliable and cost-effective manner. It is a Domain Name System (DNS) which translates domain names into IP addresses to direct traffic to your website. In simple terms, it converts World Wide Web addresses like www.example.com to IP addresses like 10.20.30.40.
Interested in learning AWS from experts? Check out AWS Training Course now!
Basically, domain queries are automatically routed to the nearest DNS server to provide the quickest response possible. If you use a web hosting company like GoDaddy, it takes 30 minutes to 24 hours to remap a domain to a different IP, but by using Route 53 in AWS it takes only a few minutes.
Now, take a look at the benefits provided by Route 53.
Amazon Route 53 Benefits
Route 53 provides the user with several benefits.
They are:
Highly Available and Reliable

Flexible

Simple

Fast

Cost-effective

Designed to Integrate with Other AWS Services

Secure

Scalable
Highly Available and Reliable
AWS Route 53 is built using AWS's highly available and reliable infrastructure. DNS servers are distributed across many availability zones, which helps in routing end users to your website consistently.

Amazon Route 53 Traffic Flow service helps improve reliability with easy re-route configuration when the system fails.
Flexible
Amazon Route 53 Traffic Flow provides users flexibility in choosing traffic policies based on multiple criteria, such as endpoint health, geographic location, and latency.
Simple
Your DNS queries are answered by Route 53 in AWS within minutes of your setup, and it is a self-service sign up.

Also, you can use the simple AWS Route 53 API and embed it in your web application too.
Are you preparing for AWS interview? Then here are important AWS interview questions 
Fast
Distributed Route 53 DNS servers around the world make a low-latency service. Because they route users to the nearest DNS server available.
Cost-effective
You only pay for what you use, for example, the hosted zones managing your domains, the number of queries which are answered per domain, etc.

Also, optional features like traffic policies and health checks are available at very low cost.
Designed to Integrate with Other AWS Services
Amazon Route 53 works very well with other services like Amazon EC2 and Amazon S3.

For example, you can use Route 53 to map your domain names or IP addresses to your EC2 instances and Amazon S3 buckets.
Secure
You can create and grant unique credentials and permissions to each and every user with you AWS account, while you have to mention who have access to which parts of the service.
If you have any doubts or queries related to AWS, do post on AWS Community.
Scalable
Amazon Route 53 is designed to automatically scale up or down when the query volume size varies.
These are the benefits that Amazon Route 53 provides, moving on with this what is Amazon Route 53 tutorial, let's discuss the AWS routing policies.

AWS Routing policies
There are several types of routing policies. The below list provides the routing policies which are used by AWS Route 53.
Simple Routing

Latency-based Routing

Geolocation Routing
Simple Routing
Simple routing responds to DNS queries based only on the values in AWS route table. Use the simple routing policy when you have a single resource that performs a given function for your domain.
Latency-based Routing

If an application is hosted on EC2 instances in multiple regions, user latency can be reduced by serving requests from the region where network latency is the lowest. Create a latency resource record set for the Amazon EC2 resource in each region that hosts the application. Latency will sometimes change when there are changes in the routes.
Interested in learning AWS? Go through this AWS Tutorial!
Geolocation Routing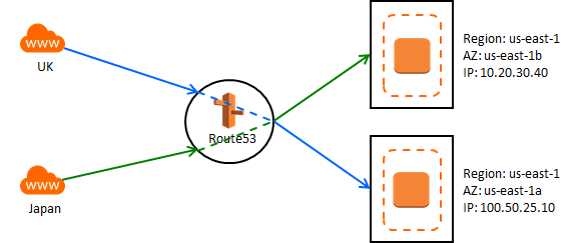 Geolocation routing can be used to send traffic to resources based on the geographical location of users, e.g., all queries from Europe can be routed to the IP address 10.20.30.40. Geolocation works by mapping IP addresses, irrespective of regions, to locations.
Now, you understood that Route 53 in AWS maps the end user to an IP address or a domain name. But, where are the routes stored?
AWS Route Tables
An AWS route table contains a set of rules or routes, which is used to determine where the network traffic is directed to.
All subnets in your VPC have to be attached to an AWS route table, and the table will take control of routing for those particular subnets. A subnet cannot be associate with multiple route tables at the same time, but multiple subnets can be connected with a single AWS route table. An AWS route table consists of the destination IP address and the target.

These are the benefits Amazon Route 53 provides. What key features make Route 53 special?
AWS Route 53 Key Features
You can route end users to the best endpoint possible according to your applications geoproximity, latency, health, and other considerations.
You can route end users to the AWS region with the lowest possible latency.
You can route your end users to the endpoint which is present in their specific region or the nearest geographic location.
You can route your end users to an alternate location to avoid website crashes or outages.
Are you looking for AWS training in Bangalore?
Health Checks and Monitoring
Health and performance of your website or application is monitored by Amazon Route 53. Your servers can be monitored as well.
You can search for and register available domain names using Amazon Route 53. A full list of currently available Top-level Domains (TLDs) are provided with the current pricing.


Hands-on: Creating a Hosted Zone
Step 1: Login to the AWS Management Console
Step 2: Click on Route 53 in the Services drop-down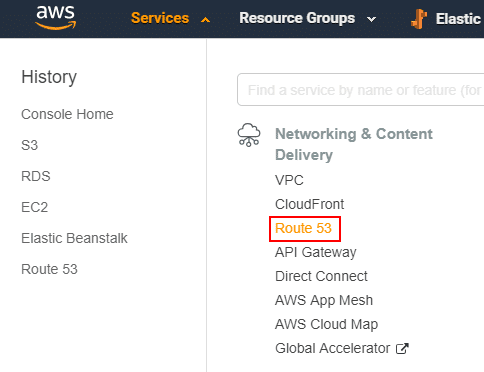 Now, go to www.freenom.com or any website which you want to get a domain name for. Freenom is completely free, and for a demo just use a domain from freenom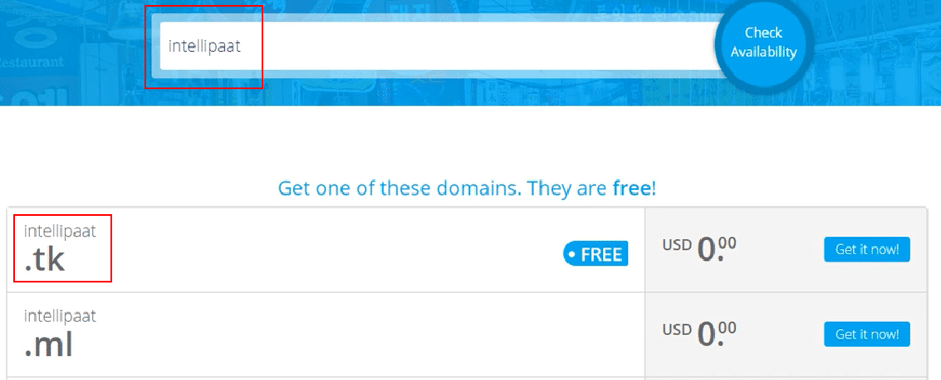 Step 3: Go to Route 53 dashboard and click on Create Hosted Zone

Step 4: Provide the domain you have created in the domain field and keep the website as a public hosted site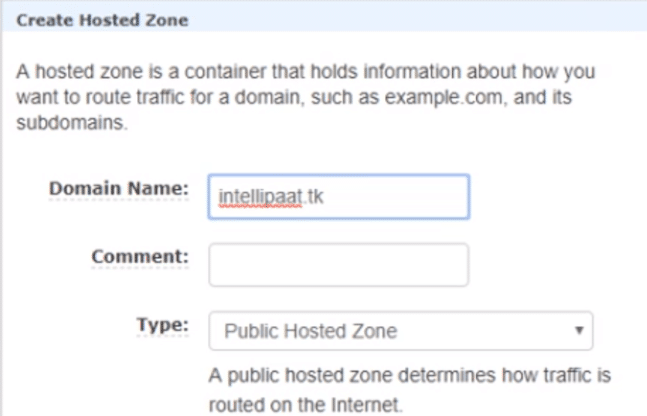 Step 5: Now, you will have a nameserver (NS) and Start of Authority (SOA) type recordsets. Copy the content of the nameserver value textbox and paste it in the Custom nameservers of your domain name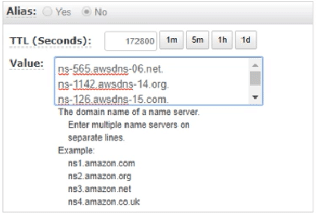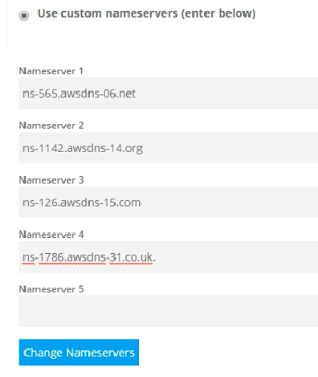 After pasting nameservers, click on Change Nameservers. Remove the dots at the end of your nameserver values in both places
Step 6: Create two recordsets with the type 'A' and leave one as the same. For the other, add 'www' so that both domain names redirect to the EC2 instance IP address you have provided. If you want to know how to create an EC2 instance, check out the AWS EC2 blog and do as per the hands-on steps mentioned there.
Step 7: After completing all these steps perfectly, type the domain name in your browser's URL tab. As you can see, the website is now online and available publicly on the Internet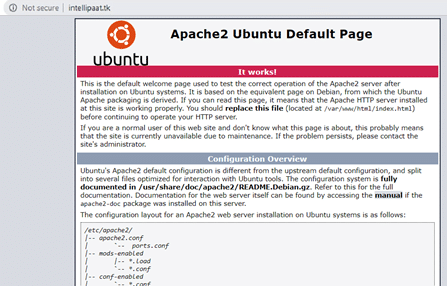 You have successfully hosted your first website!
In this what is amazon route 53 in AWS, we have discussed about the concepts of Route 53, how it works, what are AWS route tables and the key features provided by Amazon Route 53. Keep visiting for more tutorials on Services offered by AWS.
Related Articles
---