Gone are the days when single dimensional and static graphs and charts were used to demonstrate statistics. Businesses need more visually appealing, interactive, and agile tools that fit into the real-time requirements.
Watch this video on Tableau Full Course

Two of such cutting-edge BI visualization tools are Tableau and QlikView, competing in this domain and providing a diverse spectrum of features. In this blog, we will be doing a comparative study between the two. If you wish to master QlikView or Tableau then Intellipaat has curated courses on both QlikView training and Tableau training.
Without further ado, let's get started!
A Quick Glance over the Basic Differences
Though a lot of similarities exist between Tableau and QlikView, these two tools are considerably different in many ways. Let's see how through the below table:
| | | |
| --- | --- | --- |
| Basis of Difference | Tableau | QlikView |
| Performance | When it comes to performance, Tableau uses the cubing technique which gives out results slower than QlikView. | Comparatively, QlikView is faster in this case. QlikView can effortlessly combine all sizes of datasets. |
| Interface | Tableau comes with a simple drag-and-drop interface which is easy, clean, and interactive. | The interface of QlikView has too many tools on its menu which are rarely used, but they certainly provide a wide range of ways in which the data can be showcased. |
| Capabilities | Real-time visualization | Strong visualizations with BI reporting |
| Suitable for | Dashboarding and rapid visualizations | Departmental and enterprise-wide BI solution |
| Product range | Diverse products for varied use | Single product for the entire BI solution |
| Gauge charts and 3D graphs | Tableau does not support gauge charts and 3D graphs | In QlikView, gauge charts are available and it also has 3D graphs to showcase data. |
| Geographical maps | In Tableau, it is easy to build map visualization. It has an inbuilt extension to perform map visualization. | In QlikView, building map visualization takes longer, than in Tableau, since it needs scripting and external extension for this. |
| Tables | Weaker in tables | Very good for tables |
| Speed | Speed depends on RAM and the source database | Speed depends on RAM |
| Graphical inputs and changes | With easy drag and drop, graphical inputs become easy too. | In QlikView, it is needed to write the logic for the areas where graphical changes are required. |
Watch this video on Tableau for Beginners:
Even though these tools have their own pros and cons, yet both Tableau and QlikView are recognized in the Leaders quadrant of Gartner's Magic Quadrant among BI tools in the last year, as we can see in the below image: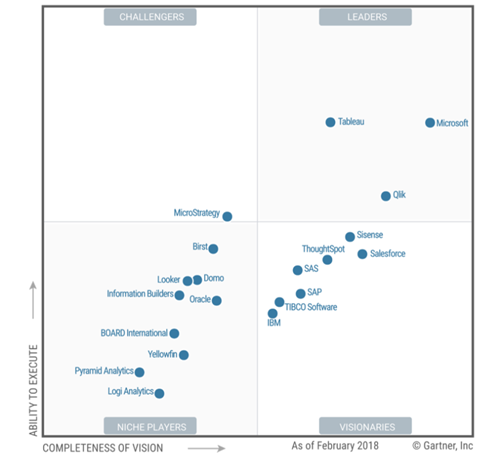 Quite obviously, these two tools are bound to have some similar features since they are both data visualization tools. Before going deep into the differences between the two, let's have a look at the similar features both these tools have.
Tableau and QlikView have a broad set of visualization and storytelling features.
Both provide high-end analytical abilities.
They are mobile compatible and support similar operating systems.
Tableau and QlikView can be deployed on-premise as well as in the cloud.
Go through the Tableau Course in Hyderabad to get clear understanding of using Tableau.
Now that we are aware of the basic differences and similarities, let's dive right into the working of these two tools and understand the differences in terms of their features.


Key Differences Between Tableau and QlikView in Detail
In this section, we will look at some of the key differences between Tableau and QlikView.
1. Data Visualization
Tableau is one of the leading data visualization tools in the industry. Today, businesses are investing more in data segmentation, clustering, and more powerful analytics functions. It provides a user-friendly interface which allows even non-technical users to easily and quickly create customized dashboards that will provide meaningful insights into a broad spectrum of business information.
QlikView, on the other hand, comes up with standard report creation features, along with visualization templates, configurable graphics, and customizable views which help to provide a real-time, interactive analysis as reports. When QlikView is in use, all the relevant visualizations and datasets are displayed as a quick reference. Qlik's product provides an in-memory engine which can visualize patterns and produce associative analytics that are not achievable just by using SQL alone. The in-memory engine is capable enough to integrate with various varieties of data sources and creating a unified dashboard which is showing analytics, key performance indicators (KPIs), and metrics of our interest.
Want to become master in Tableau check out this Tableau Training in Bangalore.
2. Integration: Connectivity with Other Tools, Language, or Database
Tableau can be integrated with a very broad range of data sources like spreadsheets, CSV, SQL databases, MS SQL Server, MySQL, Firebird, Google Analytics, Google BigQuery, Cloudera Hadoop, Hortonworks Hadoop, HP Vertica, Salesforce, Teradata etc. It can even easily connect with R to provide control to the analytical capabilities of the tool.

Using QlikView, one can easily connect to the database. It can integrate with EC2, and Redshift, Amazon Vectorwise, Hortonworks Hadoop, Cloudera Hadoop, Impala, HP Vertica, IBM Netezza, MicroStrategy, ParAccel, Salesforce, SAP, SAP HANA, Teradata, MS SQL Server, My SQL, ODBC, and many more. It can also connect with R through API integration. Join Tableau training in London and excel your career!
Watch this video on Tableau Training:

3. Deployment
Tableau is easier to deploy as it requires more structured data. It does not have its own data warehouse, so we don't have to create layers while connecting with the dataset.

QlikView is easy to deploy and configure, and it starts producing stunning reports within minutes after its installation. It has its own data warehouse and an additional scripting feature which add more value to it. We can use multiple levels of layers in QlikView deployment. Go through the Tableau Course in New York to get clear understanding about Tableau.
4. Speed
Tableau is highly efficient to create interactive visualizations and reports in a matter of minutes. In Tableau, we can also make the entire process faster because it allows sharing of reports both online and offline.

QlikView provides fast analysis, delivers the results, and enables decision-making much faster when compared to the traditional methods. If you have any doubts or Queries related to Tableau, get it clarifies from BI Experts on BI Community.
5. Valuable Insight Generation
Tableau provides a storytelling feature which helps us create the presentation using available data points.

QlikView provides an associative technology which makes it more powerful and helps us read association between variables very easily. This feature of QlikView also helps businesses understand hidden relationships between data points. Interested in learning Tableau? Click here to learn more in this Tableau Training in Toronto!
6. Mobility
Tableau is available on all devices and can be accessed over the Internet. We can easily use Tableau on our computer, laptop, tablet, or smartphone.

QlikView is also not dependent on a device; it can also be accessed from anywhere. Want to grab a detailed knowledge on Tableau? Check this Tableau Training in Singapore!
7. Security
Tableau provides a very good security feature which is handled by Tableau Server. Tableau Server provides wide-range of features and deep integration solutions to address all aspects of enterprise security. Tableau helps businesses promote trusted data sources for all users, so the right data is used to make the right decisions quickly, in Tableau.
QlikView also provides various security options like QlikView Document, security for Script, Section Access, and user authentication. Using QlikView Desktop, we can have direct access to the QlikView Document which is always governed by Windows NTFS File Security. Access to the web-based QlikView Enterprise Management Console is restricted to only those who are members of a particular local Windows Group.
Got a question for us? Please mention it in the BI Community and we will get back to you at the earliest.

Conclusion
To sum it up, the answer to the question, 'which BI data visualization tool does come on top?', is rather subjective. It comes down to the personal preference of users as they find out the requirements of their company or their projects. All the points mentioned above in this blog on both the tools, Tableau and QlikView, highlight the potential areas that can be used by the users to evaluate and understand their options and then make an informed decision about which one to use.
Willing to gain proficiency in Business Intelligence? Check out Intellipaat's Business Intelligence Architect Master's Course. I hope this blog provides enough information about these two tools to help you identify which one of these best suits you.
That's all for now. But, if you would like to learn more about Tableau, check this Best Tableau Course. There will be more blogs on some trending technologies, so don't forget to visit again!
Related Articles
---