Introduction to Enterprise Information Security Systems:
The Enterprise information security system focuses on entire system's security on the whole enterprise system. It is associated with security systems with the primary purpose of aligning the business strategy and IT security. A strong enterprise architecture helps to answer basic questions like –
What is the IT security risk of the company?
Does the current architecture support and add value to the enterprise?
How to add more value by modifying the security?
Any support or hindrance to the future accomplice of the organization.
The goals of Enterprise information system is to provide structure, coherence and cohesiveness, to enable alignment between business and security and models tracing back to business strategy.


Security, functionality, usability triangle:
Any balance Information System will have a perfect balance between security, functionality and usability. There is always an Interdependability between these three attributes, also trade-off between these three is necessary to maintain the balance.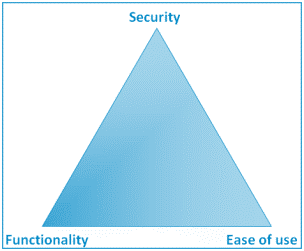 There is always a trade off when it comes to security and usability. This trade off is the most common case in real world, this can cause a friction between users and those agents who protect security.