In today's evolved society we face the problem of overflow of data more than we face the lack of it. When buried under the massive pile of information that zip lines through the system every day, it can become rather tedious for company and organizations to systematize or sort out all the data. In the world of digital this means data in a much massive scale; making the prospect a great deal more difficult. That's where Apache Hive comes into play.
Hadoop was built to organize and store massive amounts of data. Hive allows the user to examine and structure that data, analyze it, and then turn it into useful information. Hive's query language closely resembles that of SQL (Structured Query Language) which is a programming language which serves the purpose of managing data.

Apache Hive is adata warehouse infrastructure built on top of Hadoop for providing data summarization, query, and analysis. In layman terms, it Integrates data from one or more different sources and creates a central repository of data. Initially developed by Facebook, Apache Hive is now used and developed by other companies such as Netflix.
Intellipaat provides online training to learn about the amazing technologies. Hadoop big data online training, hadoop developer training, Hadoop training Bangalore and Qlikview training.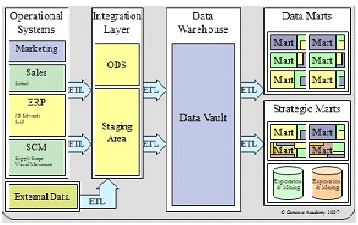 When we say 'data warehouse', we refer to a system used for reporting and data analysis. What this means is inspecting, cleaning, transforming, and modeling data with the goal of discovering useful information and suggesting conclusions. Data analysis has multiple aspects and approaches, encompassing diverse techniques under a variety of names, in different business, science, and social science domains.
Data warehouses store current and historical data and are used for creating trending reports for senior management reporting such as annual and quarterly comparisons. The data stored in the warehouse is uploaded from the operational systems (such as marketing, sales, etc., shown in the figure above). The data may pass through an operational data store (ODS) before it is used in the Data Warehouse for reporting. The ODS's job is to basically mix data from various sources for further operations on the data before shipping if it off to the DW.
Hive allows users to simultaneously access the data and increases the response time, i.e. the time a system or functional unit takes to react to a given input. In fact Hive typically has a much faster response time than most other types of queries on the same type of huge datasets. Hive is also highly flexible as more commodities can easily be added in response to more adding of cluster of data without any drop in performance.
Hive allows the user to categorize and classify large amounts of data into easily readable and processed information which is more significant to his or her requirements. The digital version of filing cabinets, the user can access the information he or she needs in a moment's notice. Basically Hive is a technology that has taken the responsibility of handling data with the combination of Hadoop and other technologies like MapReduce to end the hassle so big companies and organizations that value their time a lot can fully utilize their time efficiently.