The market always works to reconcile supply and demand. When demand increases and supply is insufficient to meet demand, prices will rise. The same is true for Data Scientists. Businesses need to understand the data they generate; therefore, they need professionals who can help them. As a result, the demand for Data Scientists is growing every day, and they earn more than other IT professionals. In fact, the average salary of Data Scientists is US$120,126 (Indeed). The driving force behind the high pay in Data Science is that companies are finally aware of the power of Big Data and are beginning to use it to make informed business decisions.
How much does a Data Scientist earn?
Despite the tremendous value that Data Scientists offer, finding someone who can perform all the tasks of a Data Scientist remains a challenge, and the competition for recruiting these professionals is fierce. As a result, employers are prepared to pay huge salaries to capable Data Scientists. Since the supply of Data Scientists has not yet met the demand, the starting salary of $95,000 remains unabated, especially for those with a degree or certification in Data Science.
Still, the salary of a Data Scientist depends on several factors, including:
Watch this video to learn the full curriculum of Intellipaat's Data Science certification program:
1. Data Scientist Salary by Experience
Data Scientists design and build processes for data modeling, data mining, and production to find new ways to improve data, search quality, and predictability. In addition, they perform/interpret data searches and product experiments on new or existing data sources to develop prototypes, algorithms, proof of concept, predictive models, and more.
Salary trend based on experience:
Entry-level Data Scientist Salary
Entry-level Data Scientists are newcomers who have either just graduated or recently transitioned to Data Science. These professionals do not have a background in the field and are looking for their first Data Scientist position. Their goals and focus are on learning and knowledge, so the learning curve of these professionals is better than other occupations. Also, due to strong demand, many companies are onboarding Data Scientist interns as well.
Thus, it suffices to say that the entry-level Data Scientist salary is the lowest income among the Data Scientists. In spite of this, their annual salary is around US$95,000.
Junior Data Scientist Salary
Junior Data Scientists are the most common group of individuals and are generally preferred by data-driven companies. They are adaptive and flexible in salaries. Although they have some experience in the field, they are considered to work for a long time in a company.
Most of the job portals quote the median salary of junior Data Scientists when talking about the average salary of Data Scientists. So, it makes sense to assume that their income is higher than the salary of entry-level Data Scientists but less than the salary of senior Data Scientists.
One more interesting fact related to junior Data Scientists is that they cover a wide range of people from different academic backgrounds with different Data Scientist skills. This transition is often random and people flock from different fields with proficiency in one or more Data Scientist skills.
Junior Data Scientists can earn up to US$180,000, which is quite high compared with the national salary.
Senior Data Scientist Salary
Now, senior Data Scientists are the most experienced professionals who work in tandem with in-house teams, stakeholders, marketers, customers, developers, etc. They are the most skillful people and know the length and breadth of the organization in which they work.
Experienced Data Scientists make around US$165,000 to US$250,000 per year.
Do you want to learn Data Science? Click here to enroll in Intellipaat's Data Science training!
2. Data Scientist Salary by Job Role

Data Analyst: In the US, Data Analysts have an average annual salary of US$66,371.
Data Mining Engineer: The average salary of data mining experts ranges from US$57,704/year for Intelligence Analysts to US$142,018/year for Machine Learning (ML) Engineers.
Data Architect: The average salary of a Data Architect ranges from roughly US$88,770/year to US$140,404/year.
Big Data Engineers: The average salary of Big Data Engineers ranges from US$98,508/year for senior engineers to US$126,152/year for advanced software engineers.
Data Scientist: In the United States, Data Scientists have an average annual salary of US$121,126.
Watch this video on Data Scientist Salary, Skills, Jobs And Resume
3. Data Scientist Salary by Industry Vertical
Data Science has become a pan-industry career, providing professionals with a wealth of opportunities. While the average Data Scientist salary as per Indeed is around US$120,000, experienced Data Scientists at Facebook earn almost US$150,000 per year. Thus, it is clear that the salary depends on the industry type.
Where do Data Scientists work?
Technology: 26%
Software: 21%
Consulting: 15%
Finance: 8%
Education: 7%
E-commerce: 7%
Here are the top 5 highest paying Data Scientist jobs today.

4. Data Scientist Salary by Skills
Data Scientists use various techniques to work on Big Data and learn more and more emerging technologies. They also have hands-on experience with various open-source tools, Cloud Computing, etc. However, just knowing how to use these tools is not enough; they know how to use them to obtain actionable intelligence to help their organization. Therefore, the salary of Data Scientists varies w.r.t their skills and knowledge of tools.
Data Scientists earn 36 percent more than predictive analytics professionals.
Data Scientists with PhDs earn nearly 10 percent more than those with a master's degree.
Python, R, Spark, and SQL are the most commonly used tools in Data Science. Thus, expertise in these tools/languages fetch higher salaries.
Also, Data Scientists need to communicate complex business cases to stakeholders, colleagues, and customers. Thus, professionals with good collaboration and communication skills earn more.
If you have questions or concerns about Data Science, please post it to the Data Science Community.
5. Data Scientist Salary by Geography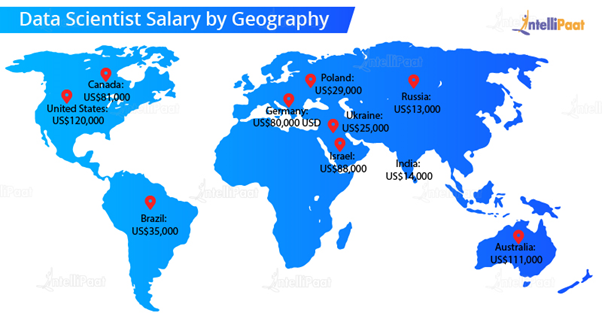 The annual salary of Data Scientists varies widely across the globe. According to a poll conducted by Kaggle experts, the highest paid Data Scientists were from the following regions:
The United States: US$120,000
Australia: US$111,000
Israel: US$88,000
Canada: US$81,000
Germany: US$80,000
Countries with the lowest annual salary included:
Brazil: US$35,000
Poland: US$29,000
Ukraine: US$25,000
India: US$14,000
Russia: US$13,000
Read this blog to know what the most wanted Data Science skills are in 2019!
Data Scientist Salary by Region (US)
Data Scientist Salary in NYC: According to Indeed, the average salary of a Data Scientist in New York (NYC) is US$137,280 per annum, which is 12 percent more than the national average.
Data Scientist Salary in California: In California, the average salary of Data Scientists is US$144,420 per year, which is 17 percent higher than the national average.
Data Scientist Salary in Massachusetts:The average salary of Data Scientists in Massachusetts is US$122,423 per year, which is in line with the national average.
Data Scientist positions require business acumen, scientific curiosity, and strong management and communication skills. Companies around the world are desperately looking for talent to enable them to discover the hidden information in their data. They are willing to pay a generous salary to hire the best. Thus, it can be said that Data Scientists are the best professions of this century, and the easiest way to find the best jobs in Data Science is by enrolling yourself in Intellipaat's Data Science Training.
Get in touch with Intellipaat to know more about the Data Science course.
Related Articles
---