The IT giant IBM expects the demand for Data Scientists to grow by 28 percent by 2020. In addition, the annual demand for Data Science jobs will reach nearly 700,000. The reason for the increase is the massive generation of data and the widespread use of AI in various companies. Thus, learning Data Science can revolutionize your career. However, learning the right skills and finding the ideal job take time and effort. To help you with that, we have elucidated a step-by-step approach that you should follow to build your career in Data Science.
This blog is divided into the following three sections:
Getting Started with Data Science
Entering the field of Data Science may be overwhelming. While interacting with people, many will tell you that unless you gain expertise in statistics, linear algebra and calculus, programming, database, machine learning, distributed computing, visualization, clustering, natural language processing, deep learning, etc., you cannot start your Data Science career. Well, that is not true.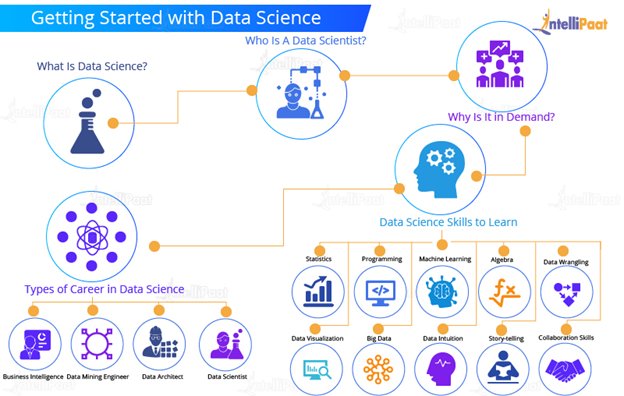 All, you have to figure out is what to learn to start your journey in Data Science. So, let us start with the basics.
Go through the below Data Science Tutorial Video to get a glimpse of what Data Science concepts to learn:

What is Data Science?
Data Science encapsulates programming skills, statistical preparation, visualization techniques, and a lot of business sense. The business sense revolves around the ability and willingness to turn business issues into answers with current or upcoming data. Data Scientists connect the points between the business world and the data world. Thus, Data Science is the technology that Data Scientists use to accomplish this task.
Who is a Data Scientist?
Data Scientists are trend finders with different IT backgrounds. Their job is to decipher and analyze large amounts of data to detect data trends and gain a deeper understanding of the importance of the data.
As a Data Scientist, you must work together with the enterprise and the IT world to advance the industry by analyzing complex datasets to gain actionable insights.
Why is it in demand?
To give you a glimpse of what is happening every day vis-à-vis data, take a look at the below statistics.
On average, every day:
Over 500 million tweets and 300 billion emails are sent.
Facebook creates almost 4 petabytes of data.
Over 65 billion messages are sent on WhatsApp.
Over 5.6 billion Google searches are made.
By 2025, it is estimated that there will be 463 exabytes of data generated per day worldwide!
The sheer volume of data generated by every possible medium from every corner of the world every day requires a select group of professionals (Data Scientists) who have skills to harness insights from data. Data Scientists are critical to putting the massive amounts of data captured by companies into actions.
Until recently, only large companies hired Data Scientists, but now almost every company does the same. As a result, the demand for Data Scientists has increased by more than 400 percent.
For any questions or concerns related to making a career in Data Science, post it to the Data Science Community.
Data Science Skills to Learn
To make a career in Data Science, you should be able to:
Find challenging data analytics issues
Showcase your skills on analytics tools and Big Data platforms for business insights
Assess existing data sources and recommend strategic procurement of new sources to improve problem resolution
Support data collection, integration, and retention requirements based on the collected data
Identify/build appropriate algorithms to solve business problems
Experiment to confirm your assumptions and provide a scenario-based model when needed
Work with business partners to determine their business needs and deliver the expected results
Turn data intelligence into a simple story to empower decision-makers to take actions
To do these, you need a mix of technical and non-technical skills. Some of them are the following:
Statistics
Programming (Python)
Machine Learning (Scikit-learn)
Linear Algebra and Calculus
Data Wrangling
Data Visualization
Big Data
Data Intuition
Storytelling
Collaboration Skills
Read this blog to learn more about the most-wanted Data Science skills in 2019!
Watch this video on Data Scientist Salary, Skills, Jobs And Resume
Types of Careers in Data Science
Business Intelligence (BI) Analyst
BI Analysts analyze data to find out the key market and business trends to help decision-makers.
Data Mining Engineer
Data Mining Engineers check their company and third-party data. In addition to data analysis, Data Mining Engineers create algorithms to further analyze the data.
Data Architect
Data Architects collaborate with users, database administrators, analysts, designers, and developers to design/create a company's database by identifying structural and installation solutions. They ensure easy access to company data.
Data Scientist
Data Scientists first turn business cases into analytical agendas, make assumptions, and understand the data. They look at various models to measure the impact they would have on the business. They also search for and select algorithms to further analyze the data. By using business analytics, they explain the impact of data on business and develop solutions that will help the business grow.
Senior Data Scientist
Experienced Data Scientists can predict the future needs of a business. Not only can they collect data, but they can also comprehensively analyze it to effectively solve highly complex business problems. Their experience not only enables them to design new standards, but also advance those standards, develop methods for using statistical data, and develop tools for further analysis of data.
Finding the Ideal Career in Data Science
Once you master Data Science skills and create a portfolio, all you have to do is find a lucrative job in Data Science. To move forward, you need to follow a step-by-step job search approach to crack the interview. Although this process may take some time, you must follow the best practices and make the process as easy as possible.
First, find out where you can find the Data Science jobs and make sure, you don't unconsciously limit your choices.
Second, learn to decipher the job description. Focus on the key skills you need.
Third, eliminate companies that do not meet your criteria or select those that meet your criteria.
You can find a job through job portals, such as LinkedIn, Indeed, Glassdoor, etc., and attend the interviews.
Top Companies That Hire Data Science Professionals
To help you find the ideal job in your dream company and make a career in Data Science, here is a collated list of top 15 companies that hire Data Science professionals with the current number of job openings they offer:
| | |
| --- | --- |
| Amazon | 840 |
| Deloitte | 258 |
| Accenture | 203 |
| Apple | 193 |
| Booz Allen Hamilton | 178 |
| KPMG | 174 |
| JPMorgan Chase | 141 |
| Microsoft | 134 |
| Capital One (US) | 95 |
| Facebook | 91 |
| Wells Fargo | 81 |
| Verizon | 79 |
| Nvidia | 71 |
| Walmart | 67 |
| Google | 65 |
Go through Intellipaat's Data Science Tutorial to start learning now!
At Intellipaat, we know that acquiring Data Science skills and finding a good job is a challenge. However, through our specially planned Data Science course, we have seen many professionals easily transition to Data Science. Thus, follow the above step-by-step guide on how to build a career in Data Science, which will help you get started in learning Data Science and find jobs. Today, there are many Data Science course plans to help you become a Data Scientist. A well-thought-out training not only provides you with the basics of Data Science but also helps guide your learning through practical projects.
Start a career in Data Science with a comprehensive Data Scientist Training Program!
Get in touch with us for more information about our Data Scientist Certification Course.
Related Articles
---