Ever wonder why all the companies are turning customer-centric? Whether it is a technology firm or a typical manufacturing business every company wants to maintain relationships with its customers. The idea of customer acquisition is being replaced with customer retention and loyalty. This change of ideation has led to the development of CRM tools fully dedicated to serve the customers 24x7x365.
Watch this video on Salesforce by Intellipaat:

Some of the interesting Salesforce CRM features are-
Salesforce CRM software was initially deployed in Amazon for cloud services
This CRM software is the world's first company which launched App stores in 2005
Voted as world's most innovative company by Forbes four years in a row.
Spends a huge amount of funds in acquiring unique domain names like work.com, social.com, data.com, database.com, etc.
Growth and market share of Salesforce
According to Gartner, the CRM software market reached $27.5B in 2015, up from $23.8B in 2014, representing a 12.3% annual growth which is further supposed to reach $36.5 billion by 2017.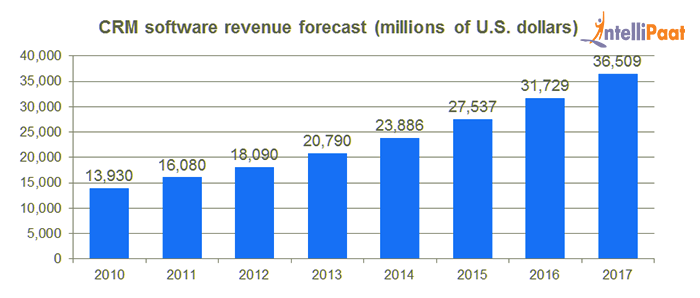 However, the pinnacle company which redefined the CRM market is Salesforce. A CRM tool offering its services completely on cloud is what we never imagined before. Ranked as the leader in the CRM market for the four consecutive years Salesforce CRM is driving the digital world with its unparalleled services.
Unlike many of its competitors, Salesforce has captured the maximum market share giving a tough competition to some of the largest vendors of the world like Microsoft, SAP, Oracle, Adobe, etc.
Forbes mentioned in one of its reports published last year that Adobe, Microsoft, and Salesforce are growing faster than the market. As per a report by Gartner in the year 2016, Salesforce CRM tool was ranked as the top company serving in the domain of CRM with much higher revenue than the giants of technology.
Why is Salesforce preferred by the enterprises?
Salesforce has managed to remain the most preferred CRM tools for the enterprises over the years and the reason behind this fact is its broad spectrum of services available for firms of every kind and size.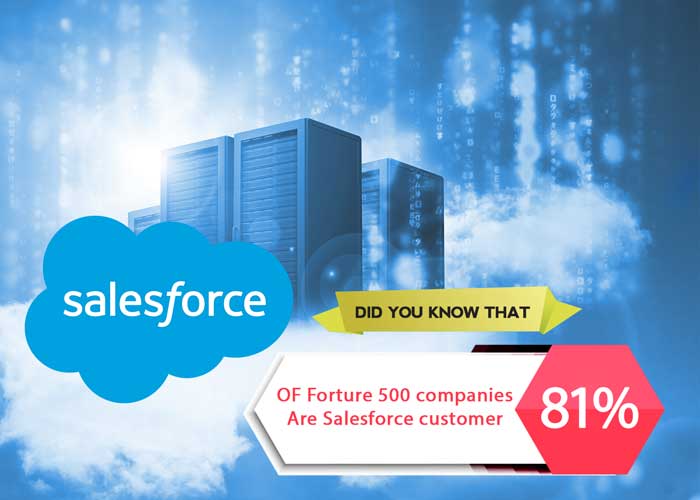 As per Gartner's analysis, Salesforce is the clear CRM software market share leader. During the prior year, the company grew faster than the market, and nearly three times the rate of its next three competitors.
Want to learn in detail? Check this extensive Salesforce Tutorial!
What are the benefits of Salesforce CRM? Let's take a moment to find out:
Revenue growth – Gone are the days when just managing contacts were sufficient to maintain a long-term relationship with the customers. Today the companies need more than just a tool. They want a smart service that can identify the potential customers and tailor the services based on insights. Salesforce allows the companies to increase their revenues with their customized services as per the need. Today over 100,000 of world's top-notch companies form its customer base.
Increased customer satisfaction – Customer satisfaction is the prime goal of any business. Salesforce addresses all the needs of its customers in a mobile fashion making it a highly modernized service platform in affordable prices. The companies which have implemented Salesforce CRM tool report that it has increased the customer satisfaction quotient by 45% which directly related to the profit incurred.
Amplified ROI – Salesforce assists its users in numerous ways ranging from generating leads, anticipating customer behavior, monitoring the business to increase customer loyalty. The users need not download any hardware or software as the entire tool works on the cloud. These features make it lead the CRM market. All of its users have reported a growth of over 43% in their ROIs after implementing this technology.
Want to grab a Salesforce job? Prepare yourself with these top interview questions!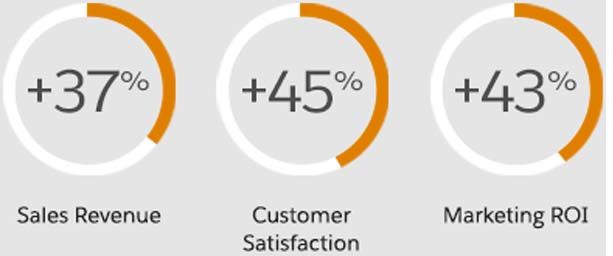 Do you need certification?
If you want to launch your career into CRM space you definitely need a certification. Whether you are a beginner or an experience holder, getting a certification will always make you stand out from the crowd. How will Salesforce certification help you excel in your career?
Huge job opportunity– The companies which implement this technology typically need certified professionals to do the jobs. These professionals fulfill some of the complex responsibilities being-
Technical Architect
Salesforce Consultant
Salesforce Project Manager
Salesforce Business Analyst
Salesforce Developer, etc.
Attractive salary- These highly skilled individuals get a handsome salary package which is equivalent to or more than the software developers and Big data professionals. An overview of salary packages offered to the Salesforce professionals are-
| | |
| --- | --- |
| Technical Architect | $130,000 |
| Salesforce Consultant  | $114,000 |
| Salesforce Project Manager | $94,000 |
| Salesforce Business Analyst | $90,000 |
| Salesforce Developer  | $87,000 |
| Salesforce Administrator  | $64,000 |
Consistent Growth- As market gurus predict Salesforce is one of the leading CRM organizations providing a broad spectrum of facilities to its users and hence growing tremendously over the years. Moreover, the way every company is focusing on its customers, it is certain that this CRM tool will remain in demand in many more years to come creating a huge pool of job opportunities for aspirants.
Nevertheless merely getting the knowledge never works in practical scenarios making it essential for the candidates to have a certification.

Bottom line
If you want to kick start your career, enroll yourself in the Salesforce Online Training Course provided by Intellipaat today. Industry-standard training along with practical sessions conducted by the professionals will enhance your concepts of CRM and prepare you to get the high-paying Salesforce jobs.
Connect with Intellipaat to get an industry-recognized Salesforce CRM Online Training course. Enroll now!
Related Articles
---