What is Salesforce CRM?
This tutorial talks about the hot buzz in the market, Salesforce CRM. Wait, what is Salesforce CRM? Well, CRM Salesforce is owned by salesforce.com which is a Cloud Computing company headquartered in San Francisco, California. It is a cloud-based CRM that doesn't require IT experts to set up or manage the cloud. One can simply log in and connect to the customers directly.
Learn How to install App Exchange applications.
Following are the topics you'll be learning by the end of this tutorial:

CRM is an acronym for Customer Relationship Management which enables companies to have an interaction with their customers and gather information from anywhere they want over the Internet. CRM Salesforce system is a well-organized platform which is a cloud-based system providing information to its customers from different sources. It is a customer-centric system that integrates customers' information for an organization's benefit.
Wish to crack Salesforce job interviews? Intellipaat's Top Salesforce Interview Questions are meant only for you!
Major reasons why Salesforce is ideal for a business are as follows:
Adaptable: Since it is a cloud-based CRM, there is no requirement of downloading or installing any software. One can simply log in to their Salesforce account and enjoy the services according to their subscription plans.
Cost-reduction: One of the major reasons why companies are shifting to Salesforce CRM is that with the traditional CRM, they had to invest in infrastructure, developers/coders, and hardware requirements. With CRM Salesforce, they just need to have a Salesforce account with a proper subscription in order to work with the world's #1 CRM company.
Customizable Products: Salesforce CRM provides an AppExchange system that grants access to numerous applications. It provides users the ability to customize their applications according to their requirements.
Learn more about Salesforce from this insightful Salesforce blog on How will Salesforce boost your career in 2020?
Easily Accessible: Salesforce CRM is easily accessible as it is available over the cloud, and this the reason why Salesforce is gaining so much popularity. Customers can access their information in real-time and make orders anywhere at any time. They can also make purchases and decisions without making trips to the company. Managers can track all the activities they wish to in a single dashboard.
After learning the basics of the topic, 'What is Salesforce CRM?', now check out what Salesforce actually does
What does Salesforce do?
Now, you must be wondering what Salesforce does and for what reasons it is used by so many companies. Actually, Salesforce can be used for almost all business processes.
Here is a brief list of uses of Salesforce:
For customer support: Salesforce is widely used in the customer support domain. You can easily resolve customers' queries and complaints. Salesforce service cloud can provide you with service delivery to your customer or support the customer operation.
To manage accounts and contacts: Salesforce allows you to save all your contacts and account details to be saved in a particular centralized place provided by Salesforce itself. Your vendors, customers, or clients can view all of this information if it is shared with them. Salesforce also allows you to synchronize all the data from your account.
Go for the most professional Salesforce Training Course for a stellar career now!
For lead capturing: You can connect to your new leads through lead generation. New leads can flow automatically without any involvement. Lead sources can be inbound calls, website chats, text messages, events, webinars, or conferences.
To build customer apps: Customized apps can be built using Salesforce. In case there isn't any application that can fulfill the requirement of a client, the custom app feature in Salesforce helps the business organization in providing one. Customized apps like these live within Salesforce along with their pre-built sales, service, and marketing applications. Salesforce provides a platform called AppExchange which provides customized apps. Any customized apps can be accessed through AppExchange.
To track customer interaction: Just in case, your customer hasn't been in touch with you for the past few months, chances are that you're losing the customer. Salesforce doesn't let that happen; you can track your customer interaction by simply searching the last date of contact with the customer. You can automate this process so that it is brought to your notice on a weekly or monthly basis. And whenever required, you can check back with your customers based on the previous interactions.
How does Salesforce CRM work?
By now, you are equipped enough to answer the question: 'What is Salesforce CRM?' So, CRM Sales is built on the force.com platform and is considered as the #1 CRM in the current market. It has the ability to manage customer interactions of an organization through several methods such as phone calls, email inquiries, communities, media, and social media. Salesforce is said to handle all customer relationships by focusing on sales, support, and marketing processes. All of this is done by working with the standard objects such as account, contact, lead, product, opportunity, etc. and advancing relationships between them.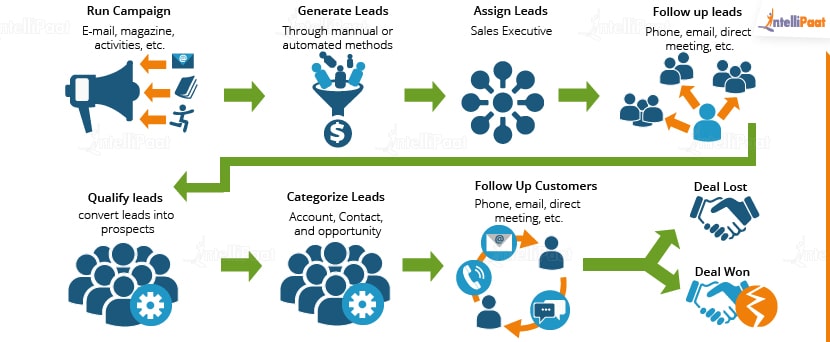 Salesforce CRM is hosted on the cloud which makes it very easy to use and readily accessible from anywhere. This CRM has an easy-to-understand infrastructure that helps developers. Applications can be built in just a few days or a few weeks, which is definitely an advantage of Salesforce CRM. Since there is no need to set up hardware or software, it is very cost-efficient too.
Want to know more about Salesforce? Read this extensive Salesforce Tutorial and enhance your knowledge!
Who should use Salesforce CRM?
Salesforce CRM can literally be used by anyone. This is because Salesforce provides various editions like Professional, Developer, Essentials, Unlimited, and Enterprise. All of these are made available so as to suit the customers' needs. An organization or customer can select whichever edition they want according to their requirements. Each of these editions has a different price range as well. Since Salesforce covers all areas of customer relationships, any organization can subscribe to Salesforce CRM without having to pay for the development and infrastructure of the application.

What makes Salesforce the leading CRM?
Salesforce CRM has been the #1 CRM for five years in a row. Wait, What is Salesforce doing right that SAP is not? And the reason for so many organizations liking it is not because of its marketing strategy; rather, it is obvious that Salesforce has actually proved itself to be the best among the rest.
Major reasons why Salesforce is the best are:
Strength: Salesforce, in all these years, has strengthened its leadership among companies by adopting CRM technologies. Since Salesforce reduced the time period of building an application to a few weeks, as compared to other systems that used to take months, these companies have been sticking onto Salesforce for a really long time.
Cost reduction: Since there is no need to set up infrastructure, many companies have already proven that the cost of building an application has reduced. Additionally, the productivity and efficiency of employees have also increased. Especially, in the sales domain, Salesforce is doing a great job.
Are you interested in learning Salesforce from experts? Enroll in our Salesforce Course in Bangalore now!
Adaptability: Since all the information is on to the cloud, there is no need for installations in computers. This saves the expenses in purchasing hardware.
Customizability: Salesforce very well knows the needs and preferences of customers along with their purchasing habits, which indicates how to make sales campaigns more personalized and effective.
As you have come to an end of the Salesforce CRM tutorial, hopefully, you are in a position to answer the question, 'What is Salesforce CRM?'. Some of the major points considering Salesforce CRM has also been covered in this tutorial session. The next session is on the robust architecture of Salesforce.
Visit our Salesforce Community to get answers to all your queries!