It has been a while since Microsoft launched its Power BI tool and the way things are going for this fabulous Business Intelligence and Analytics tool it seems it's only a matter of time before Power BI became the tool of choice for BI and analytics in majority of forward-thinking enterprises.
Power BI is a powerful tool in the hands of enterprises that want to extract data from multiple disparate sources in order to derive meaningful insights out of it. It offers unprecedented interactive visualization opportunities along with true self-service analytics capabilities. All this helps to look at the same data from multiple angles and also the reports and dashboards can be created by anybody in the organization without the assistance of IT developers and administrators. Some of the Power BI advantages that give it a competitive edge are –
Powerful dashboard visualizations that are top-notch and are being continuously updated.
In-memory analytics feature and columnar database supporting tabular data.
The best of both worlds when it comes to simplicity and performance in a single BI tool.
Interactive geo-mapping powered by Bing Maps.
Data Analysis Expressions (DAX) scripting for creating measures and columns.
Want to become master in Power BI check out this Power BI Course in New York?
Check this insightful Intellipaat Hadoop video :
It has been a while since Microsoft launched its Power BI tool and the way things are going for this fabulous Business Intelligence and Analytics tool it seems it's only a matter of time before Power BI becomes the tool of choice for BI and analytics in majority of forward-thinking enterprises.

Though aforementioned benefits clearly highlight the reasons why it is a preferred tool among the buisness analysts, following key Power BI features will make it further clear to you –
| | |
| --- | --- |
| Key Power BI features | Description |
| Interactive dashboards | Multiple data visualizations in a single interface |
| Customizable visualizations | Wide range of visualization features available |
| Connectors | Connect with other services |
| Live connectivity | Ability to live connect to SQL |
| Sharing | Cloud-based analytics platform allows sharing anaywhere, anytime |
| Time and effort saving | Quick extraction of data |
Global Business Intelligence and Analytics market to reach $16.9 Billions in 2016 – Gartner
If you have any doubts or queries related to BI, do post on BI community.
Leading the way in Cloud Business Intelligence & Analytics
Power BI offers the services which can be directly harnessed from the cloud and it is a big plus point when it comes to how BI can be deployed. It also has a desktop version called the Power BI Desktop. The whole range of usual tasks can be performed with Power BI namely data preparation, discovery and designing of interactive dashboards. Microsoft also went one step ahead by offering the embedded version of Power BI on its highly popular Azure cloud platform.
71% enterprises to adopt hybrid or cloud-only analytics by 2018 – IDG Research Report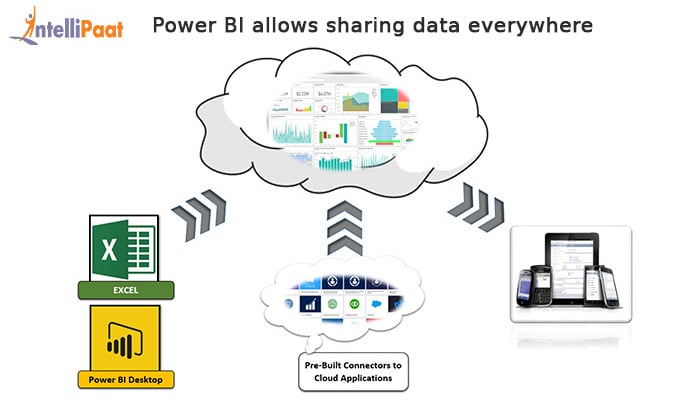 Microsoft has MS-Excel then why Power BI?
Microsoft already had a very prominent presence in the data analysis segment with its popular SSAS (SQL Server Analysis Service). But it did not have a strong presence in the Business Intelligence delivery or OLAP (Online Analytical Processing) segment. Excel has been for long Microsoft's attempt at being a presentation layer for its data analysis tools. But it had some drawbacks like limited memory, and data integrity issues that make it not very appealing to enterprise clients.
But Power BI is a tool that takes what is best about MS Excel and takes it to a whole new orbit. It is a whole new experience to working with tools like Power Query for data extraction and transformation, Power Pivot which is deployed for data modeling and analyzing, and finally Power View to distinctly map the data and visualize it in unprecedented ways. Power BI puts all these tools into a consolidated manner and makes it easier to work without having to depend on MS Office.
Cloud-based BI is fastest growing BI segment; to reach $2.94 billion by 2018 – Redwood Capital Report

Power BI is Firmly Putting the Power in the Hands of the Customers!
This tool firmly puts the power in the hands of the users with powerful features and applications like changing data dimensions and measures in the fly and coming up with calculated columns. It is much better than working on a data warehouse tool which exclusively requires the whole gamut of processes involved in Extract-Transform-Load for uploading data, then coming up with data cubes and finally making sense of it. Thus Power BI makes it simpler, more agile, faster time to delivery and removes the various bottlenecks involved by removing unnecessary dependencies on IT staff.
Want to know more about Power BI? Read this extensive Power BI tutorial and enhance your knowledge!
Customers demand business insights and they want it now. Power BI helps you by setting priorities that can be easily deployed and you are able to concentrate only on the metrics that matter to your business. Create personalized dashboards, charts, reports and graphs that specifically match your needs and by using data that really matters. Centralizing all dashboard views from one place is a distinct possibility.
Predictive forecasting as the weapon of Power BI
Power BI raises the analytics feature several notches up by providing predictive forecasting. It is vital in today's business scenarios where businesses need to be informed at all times about the multiple opportunities and risks that are lurking. You can easily visualize what the future holds for your company in terms of business sales and performance too. All this is seamlessly delivered thanks to Power View which offers charts and reports for predictive analysis. You can access your business intelligence features easily on any device of your choice be it on the desktop, mobile or tablet devices.
Natural Language Processing (NLP) flourishing this tool
A powerful feature of Power BI is its addition of the Natural Language Processing (NLP) layer. This makes it absolutely simple to query for any information required by using natural human language. Power BI is more about the art of what is possible. You take your data, deploy machine learning on it, build it into an app and convert it into hardcore business intelligence.

Why businesses love Power BI?
Power BI lets you bring all your data together and gain meaningful insights out of it without having to manually extract, organize and visualize the data. Getting data from diverse databases and the data which is in disparate formats is a breeze with Power BI. The entire process of working with data gets completely automatized in order build impressive charts and data visualizations. There is ever increasing emphasis to pull data from multiple open source and proprietary cloud platforms and services. You can even use the Power BI REST API for pushing data from any cloud setup. Get interactive charts and graphs as the perfect answers to questions posed in natural human language.
Power BI makes creating business insights into an everyday routine and one which can be done by everybody. It is no longer about people who are database professionals or administrators or those who have an in-depth knowledge of data cubes, OLAP models and so on. You don't need to install a database to create analytical reports. Thus Power BI is firmly on its way to global dominance when it comes to Business Intelligence and Analytics tools being deployed by aggressively growing and ambitious business enterprises regardless of their size. So a Power BI career can definitely help you get ahead in life as a forward-thinking IT professional!
Did you like this post? Provide your feedback on the comments section below!
Related Articles
---