Tableau Bin
Sometimes it is very useful to systematize the values of a measure into bins. For e.g., if you have a measure that holds the ages of clients ranging from 18 to 90. If you wanted to examine how the client's value breaks down by different age groups, you would bin the data. Also, to create a histogram you must first bin data.
Learn more about Tableau in this insightful Tableau certification blog!

Example:
Let us evaluate the percentage of total sales for each item in a product category
Step 1 – Open a new workbook and connect to the Superstore sample.
Step 2 – From the Dimensions pane, drag Product Category and Product Sub-Category to the Rows shelf.
Step 3 – From the Measures pane, drag Sales to the Text shelf on the Marks card.
Step 4 – On the Text shelf, right-click Sales and select Add Table Calculation.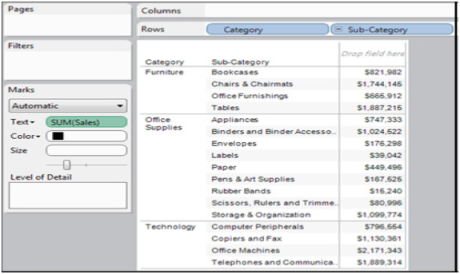 Step 5 – In the Table Calculation dialog box, in the Calculation Type list, select Percent of Total.



Step 6 – In the Compute the total within the list, select Pane (Down).
The resulting view will look like this: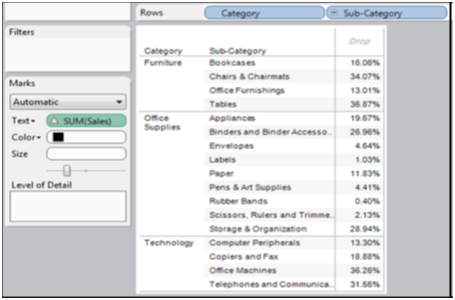 If you have any doubts or Queries related to Tableau, get it clarifies from Tableau Experts on Tableau Community.
Once you are done with this tutorial, you can check out the list of Tableau interview questions prepared by the experts, which will help you to crack any Tableau interview. And if you are interested in doing an end-to-end Tableau Training, Intellipaat has curated just the right course, so that you gain all of the requisite skills in Tableau BI Tool.