Starting with Tableau Workspace
It includes toolbar, menus, Data window, cards that hold shelves and legends and sheets. Sheets can be dashboards or worksheets.
Worksheets hold shelves which are where you drag data fields to build views. You can alter the default layout of the shelves and cards to suit your requirements including resizing, moving and hiding them.
Learn more about Tableau in this insightful blog on Tableau certification!
Dashboards hold views, legends and quick filters. When you first make a dashboard the Dashboard is empty and all of the worksheets in the workbook are displayed in the Dashboard window.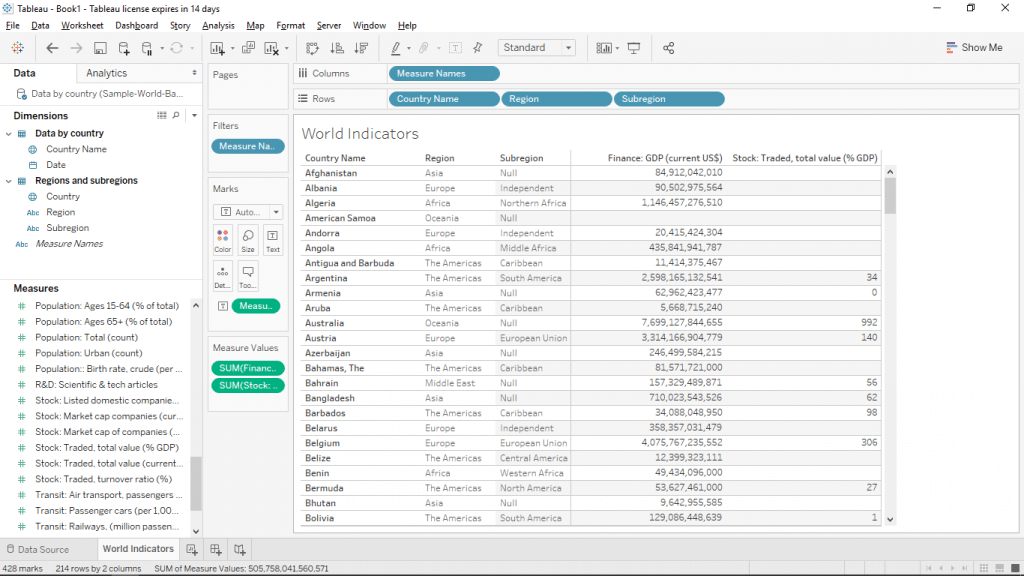 Data Window
Data field appears on the left side of the workspace in the data window.
You can hide and show the Data window by selecting window > Show Data Window.
You can also click the minimize button in the upper right corner of the Data window.

Toolbar
Tableau's Toolbar contains a command like connect to data, New sheet and Save.
It also contains analysis and navigation tools like Sort, Group and Highlight.

Mastering Tableau is easier than you think with the right Tableau training !
Status Bar
 It is located on the bottom of the Tableau workbook.
It displays descriptions of menu items as well as information about the current view.


Figure States:  Status bar shows that the view has 131 marks shown in 3 rows and 11 columns. It also shows that the SUM (profit) for all the marks is $785,604.
If you have any doubts or Queries related to Tableau, get it clarifies from Tableau Experts on Tableau Community.
Cards and Shelves
 Every worksheet contains a variety of different cards that you can show or hide.
Cards are containers for shelves, legends and other controls.
It can be shown and hidden as well as rearranged around the worksheet.