Tableau Data Source Connection
If you want to connect to a Data Source in Tableau there are many ways. In this session, we will take a glance at Basic as well as advanced connection types.
Basic Connection
To examine your tableau data, firstly you have to connect Tableau to one or more data sources.  A Tableau data source can be as easy as an Excel workbook, or as elaborate as a SQL Server or Oracle data warehouse. After connecting, the data fields become presented in the Data window on the left side of the workbook. This connects to Tableau data sources tutorial explains the kinds of data supported and how to build and maintain a basic connection.
Supported Data Sources
Tableau supports many tableau multiple data sources like multi-dimensional databases, SQL databases etc. 
If you have any doubts or Queries related to Tableau, get it clarifies from Tableau Experts on Tableau Community.
How to connect to a Tableau data source?
To build views of your data, you must first connect Tableau to a data source.
You can connect to any supported data source with the Connect to Data dialog box.
Select Data > Connect to Data or press Ctrl + D on your keyboard. You can also select the Connect to Data option on the start page.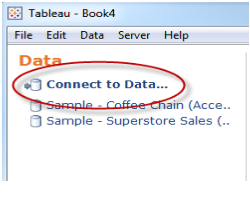 In this connect to the data page, select the type of data you want to connect to and you will also select a saved data connection (TDS files) open a Tableau Server Data Source.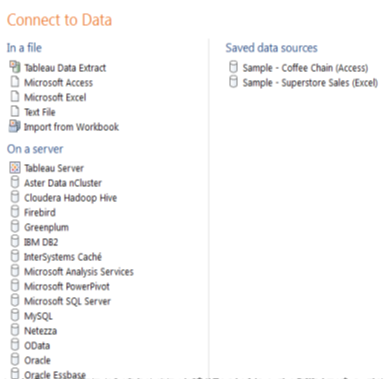 A data source specific dialog box opens that allows you to complete the connection process.
To connect to tableau data in another way you have to import from a workbook. A workbook has several worksheets, each of them can be attached to a different tableau multiple data sources. To import a connection from a workbook click the Import from Workbook button at the bottom of the Select Saved Connection tab in the Connect to Data dialog box.
Once the connection is set up the tableau data sources fields show on the left side of the workbook in the Data window.
Go through these Interview Questions on Tableau by Intellipaat.
Connecting to a Custom SQL Query
Relational data sources you can connect to a specific query rather than the entire data source. This can be useful when you know correctly the information you require and understand how to write SQL queries.
Select Custom SQL in the connection dialog box.
Type or paste the query into the text box. The button in the upper right corner of the text box opens a larger editing window for more complex queries.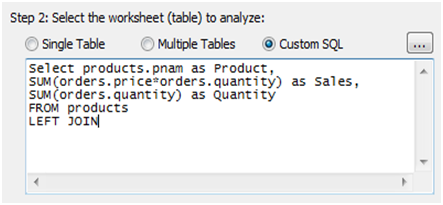 Only the suitable fields show in the Tableau Data window when you end with the connection.
If your SQL query indicates duplicate columns, you could get errors when you are trying to utilize one of the columns in Tableau. This will also happen even the query is valid.

Go through the Tableau certification online courses to make an informed decision now.
How to export database connection to Tableau
After connected to a Tableau data source now we have to export the connection data as an alternate route which permits rapid connections without opening the connection dialog box.
If you frequently connect to the similar data source several times or if you have joined custom fields to the Data window like calculated fields, and binned fields or added joined tables. For the following connections to that source, use the alternate route or shortcut so that you don't have to re-establish the custom fields.
Note that: By saving the workbook or by creating a bookmark file you can also save custom fields.