A Complete Walkthrough of GCP Certification
Google has given the world yet another quality product, Google Cloud Platform. Being the biggest name in the Internet industry, Google entered the cloud race in 2011, after the current leaders AWS and Azure. Since then, GCP has been growing at an incredible rate. Most of the Fortune 500 Companies are now using GCP for their cloud needs. Want to get GCP Certified? In this GCP Certification blog, we will guide you on how to start your journey into GCP, and of course how to get GCP certified!
We will be covering the following topics in this GCP Certification blog:

Why Google Cloud Platform certification? 
If we know the answer to why then we have travelled half of the path! 
Keeping GCP aside, why do we need any certification? Certification provides visual proof for an interviewer, who will judge you in a fraction of a second that you have the knowledge required to take up and fulfil the job requirements. The same applies to GCP certifications, right?
Let us take an analogy of a heart surgery situation. So, there are 2 guys who offer to do the surgery and say they have done a similar surgery before. But person 1 has a medical degree from a reputed university and person 2 does not. Who would you prefer?
You would have already come to a conclusion, who will be preferred. Similarly, the same applies to a Google Cloud job position.
One might know how to create an application architecture on GCP but might fail to prove it to the interviewer. So, if you think you know GCP very well, then why not grab the certification and have a better probability of getting hired? 
Check out the top 10 reasons to learn GCP in 2019:
How to get a GCP certificate?
Cloud Computing is the hottest technology right now and will be for a long time due to the number of businesses migrating to a cloud infrastructure. So, this is the right time to be a cloud professional. Therefore, you can follow this path to clear the GCP Cloud Architect certification:

There are no prerequisites in becoming a professional Google Cloud Architect, so you can choose any path which you are comfortable with.
Direct Path
Learn the Cloud and GCP fundamentals
Understand how to architect using GCP
Start architecting complete applications: designing and processing
Take up the Cloud Architect Examination and get certified!
Alternate Path
Learn the Cloud and GCP fundamentals
Understand how to architect using GCP
Take up the Cloud Engineer Examination and get certified!
Start architecting complete applications: designing and processing
Take up the Cloud Architect Examination and get certified!
We will choose a path, but how to prepare for it? We will discuss it further in this blog. Now, let me give you an idea about the different certifications available.
Wish to crack GCP job interviews? Intellipaat's Top GCP Interview Questions are meant only for you!
Different GCP Certifications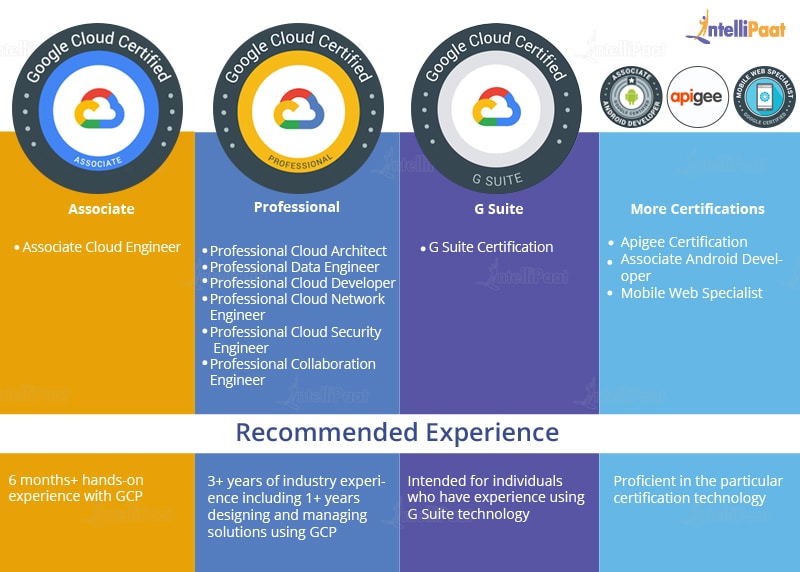 Associate Cloud Engineer Certification
The only associate certification provided by GCP is the Associate Cloud Engineer certification. If you are new to the cloud, you can first take up this certification and then after mastering GCP, you can move on to professional courses
This certification intends to show the examinee's capability of using GCP using the console interface as well as the command-line for deploying, monitoring, and managing solutions and services
Google suggests anyone who takes up the exam to have 6 months+ hands-on experience on the Google Cloud Platform
This would cost you US$ 125 to register for the exam

Professional Certifications
These certifications will test your knowledge on the advanced architecture design and implementation skills based on the job role which you have developed from theoretical and hands-on experience.
Recommended experience to take up the certification exam:

3+ years of industry experience
1+ years of experience in designing and managing solutions using GCP

These certifications will cost you US$ 200 to register for the exam
There are six different professional certifications available, they are:
Professional Cloud Architect
This certification is intended for cloud architects who want to build complex cloud solutions and services using GCP
As per Global Knowledge, Google Certified Professional Cloud Architect is the highest paying certification
Professional Data Engineer
Data Engineers who want to design and build data collecting and processing machine learning models on GCP
Professional Cloud Developer
Software developers who want to build full-stack scalable applications on GCP can take up this certification exam
Professional Cloud Network Engineer
Take up this certification if you want to design, implement and manage network architectures on GCP
Professional Cloud Security Engineer
This certification is aimed at security engineers who want to build, implement and maintain security services, also secure your company's cloud infrastructure by using GCP security technologies
Professional Collaboration Engineer
This is the next level in becoming a G Suite specialist and to take up this exam, Google suggest at least 3+ years of industry experience and 1+ years of G Suite administration
G Suite Certification
This certification assesses an individual's ability to use the core tools and services of Google

It is for individuals with experience in the G Suite technology. The person who applies for the certification should be able to collaborate with colleagues using cloud-based tools provided by Google to communicate effectively with email, documentation (Google docs, sheets) and online conferences
More Specialist Certifications
Apigee Certification
This certification is to assess an individual's knowledge and proficiency with Apigee products, APIs, and processes and practices
Google Associate Android Developer
This certification shows that you are competent and skilled enough to do the tasks an Android Developer needs to know.
Google Mobile Web Specialist
This certification shows that you are a Web Developer with the essential skills to build and deploy responsive and flexible web applications regardless of the platform
Visit our GCP Community to get answers to all your queries!
Tips to Crack a Google Cloud Platform Certification
Have a complete understanding of cloud computing fundamentals
You must know how GCP uses its architecture to efficiently utilize its resources to deliver quality services
Understand how organizations use GCP and how the project folders are structured in those organizations
Take up the practice exams as many times as possible to learn the question pattern and also you can practice managing time
As all organizations provide you IAM user credentials, learn how IAM roles and policies work
Practice using hands-on for all the GCP services which are in the exam curriculum
It is a Pass/Fail exam, marks are not provided. So, if you fail the first time, you can take up the exam after 14 days. If you fail the second time, then you will have to wait 60 days to take the certification again
When you pass, you will be given badges that can be put up on sites like LinkedIn and likewise, you receive a GCP hoodie. This is not much of a tip, but good to know
Check out this beginner-friendly Google Cloud Platform tutorial:
Frequently Asked Questions about GCP Certification 
Let us start with the most frequent question.
What is a Google Cloud Platform certification?
The Google Cloud Platform certification program is a way to demonstrate your technical skills on particular GCP job roles or technology. The GCP certification exam assesses the examinee's Google Cloud proficiency as per the standards that surely creates a better professional.
How long is a Google Cloud certification valid?
All GCP certifications are valid up to two years from the certified date. Due to the ever-changing nature of the cloud industry, candidates must recertify themselves.
Is there an age requirement in order to be able to take a GCP certification exam?

EU test-takers should be older than 16 years of age

Test-takers from the rest of the world should be older than 13 years of age

How much do the GCP certification exams cost?

G Suite Certification:

US$7

5

Associate Certification:

US$

125

Professional Certification:

US$

200
Recommended GCP Certification Exam Training
Intellipaat is offering a well-built industry-designed training on Google Cloud Platform Cloud Architect which will take you further in your career. The training is only provided by professionals who have industry experience in the GCP domain in top companies. Most noteworthy is that, as all the trainers are industry professionals, you will be given a real-world comparison of the theoretical concepts as well.
GCP Associate Cloud Engineer is the course that Intellipaat proudly provides because this is the basic certification which shows you know to handle the Google Cloud Platform completely. As previously mentioned in this blog, to take up professional certifications, the suggested experience is 3+ years of industry experience and 1+ year(s) in GCP.

For taking up professional courses, the associate course will give a head start but it is not a prerequisite. Professional certifications can be taken directly if you think that the associate certification is too easy for you and you are confident enough.
Production-level projects are added with the course according to the module which is being taught and with multiple projects at the end of the course. Completing this course will be equivalent to have 6 months of GCP hands-on experience and therefore, you can take up the certification exam and clear it.
Intellipaat's GCP certification training comes with high-quality videos, along with online instructor-led training which will help you completely grasp the topics and become a master of the GCP domain. Above all, you have lifetime access to the course content, i.e., whenever it gets updated, you will still be able to access it.
Check out the industry-designed Intellipaat GCP Certification Training and excel in your career now!
Related Articles
---